So I got an email asking me if I was still interested in writing a blog for The Frederick News Post. "Well duh," was what I said to myself. It's always on my to-do list, post a blog, and I even send emails and messages to myself on topics. But when the email said, "I see you haven't written anything since August," I was like shut the front door. I knew I was busy but was like "really?" and as I looked at the calendar in the kitchen, the calendar on my phone, the calendar in Outlook I realized that maybe I've been a bit busy.

 

I knew I was going to be busy this year; all the minions are in school of some kind. The Teen is in his last year at SJRCS. Anakin started kindergarten this year and Potus started the two's preschool class (note: three different schools) So I decided to make me a calendar and color code it.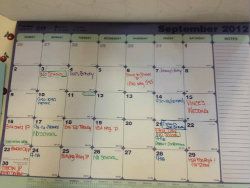 I worked it all out, I put it in the kitchen, I had gotten myself on a schedule, them on a schedule…I was going to have 2 hours to myself on Mondays and Fridays. That? That is awesomeness.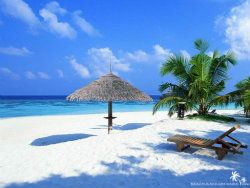 In a quick, unexpected decision we decided to bring Grammy up here to recover after her full knee replacement surgery. She went in on a Tuesday, I visited her on Wednesday and decided on Thursday that I would bring her home on Friday. In the hopes of keeping world peace, I shall not post pictures from the hospital visit. 
It took a few days to get acquainted and figure out the flow of things. It was a great few days. Then all my roles in this world collided. At once. 
A week after Gram came home was Potus' third birthday! Dinner, immediate family party and presents.
We were half the family up the next day for a party. Gram & I decided grinding our own beef for hamburgers would be awesome.
It was a lesson learned but once we fix that lesson, it'll be awesome. But we also needed a cake, right? I wasn't that ambitious to the grocery store helped us out. We decorated the house & the cake and partied.
Since he's now in school we needed to celebrate his birthday with his friends. No, I wasn't going to have a bunch of three-year olds running around the house. Potus is one of the older ones – he turned three, rather than two - so I just bought some cookies for the class. I was kinda starting to stress out and birthday alley in our family was just beginning. So I bought them – nothing but the best, I say.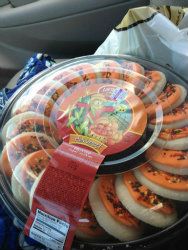 Since Gram couldn't drive I'd chauffer her around to her appointments in the party van. The van earned her mileage and I got my Starbucks.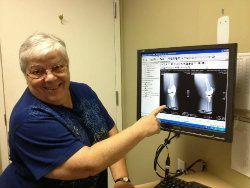 The following weekend was our first ever Fall Fest with the other half of the family. We combined a hella ton of birthdays (someone laid claim to a birthday every day in the first week of October). Since my front closet renovation project I started in August (to help keep the kids (and me) organized) wasn't complete and making a mess, we finished that up. Like that morning.
A few days later we were all kinds of excited for the premiere of Castle. Gram found her way downstairs so we could all watch together. This is when I realized she was trying to win over The Beagle's affections.
The next day I get a call. The Tween was injured while playing football in gym. Yes, we should go to Urgent Care for X-rays.
Then it was presidential debate time! We all differ politically so we stayed on our separate sides of the house. But Techie and I did tweet the whole time. The best tweet that still leaves me giggling:
Time for my birthday weekend celebration! To kick it up Gram treated me to a fall fest decoration party at my house!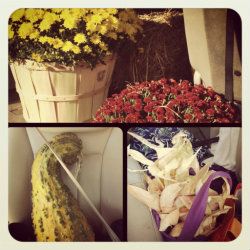 And then Techie surprised me with my favorites –
And yes, it involved Old Bay.
Then Gram and I went up to the Gettysburg Outlets for a little shopping. Her first real outing since her surgery!
The next day, on my official birthday, I was showered with goodies!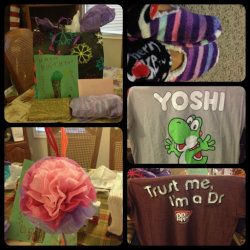 We then went out to PF Changs for dinner.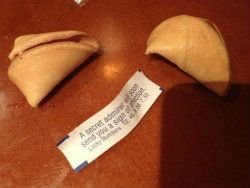 The next day was The Beagle's birthday. She didn't do much.
A couple of us wanted to be adventurous Haus Fraus and tried Bingo for the first time in a public arena other than a county fair. Yeah…I think we're banned from the event. People get so angry over a few premature shouts of "Bingo!"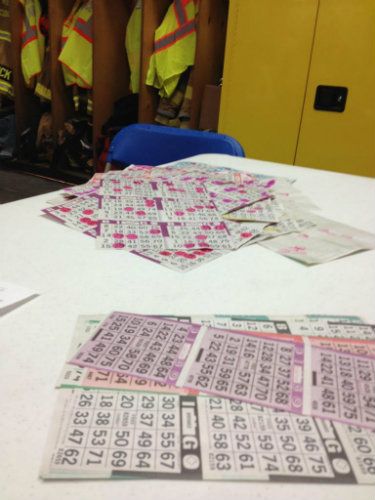 Then it was time to say goodbye to Gram & we dropped her off at home to find her way.
Techie decided he wanted to take advantage of Colorfest weekend so we had a one-day yard sale. That required pulling everything down, washing it, labeling it and setting it outside. Oh yeah – and shopping to prep for it.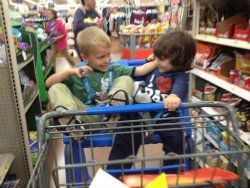 The Tween went down to OC with friends for the weekend and I got to get my craft festival game on. My sleepy little town welcomed waaaaaay too many people.
The end of September and early October kicked my anxiety into high gear. I mean REALLY high gear. We had applied for a passport for The Tween back in August. His uncle's wedding was in Jamaica in October. Too much red tape, too much failed communication and I was about to open a can of whoop it on a Federal Bureau. Daily calls, poorly set-up web searches – I still don't comprehend why it was so insanely difficult to get a passport for an American-born citizen. The hotel and plane ticket was bought and paid for – just needed the legal allowance for him to travel overseas. It almost didn't happen. But when I called for the 1,001th time and was able to log-on (they spelled him name wrong), I received this:
While he is away in the tropics, we had our annual corn maze and pumpkin patch even with my brother and sister-in-law, Skippy. Sadly, because of my passport panic, I moved our original corn maze date from the 13th (beautiful and sunny) to the 20th, which was days after horrible rainfall. So yeah, it was muddy. FML.
So the roles seem to have reversed. Instead of my spa time it turns out I use that time to schedule everything that is easier to do without kids. So while The Teen was off eating and drinking his keep at the all-inclusive resort…
 

…I was at the best darn foot doctor in the world (Hi Dr. Ho!) getting three shots in mah foot. ANOTHER cortisone shot and two numbing ones so I could have an ingrown toenail removed. I guess my foot was all kinds of jacked up.
It was then I started to see and hear huffs about a hurricane. I had to go grocery shopping on Friday anyway. Just to plan, I picked up extra food and chatted with all my farmers. While at Sam's Club to pick up some donation stuff for Anakin's movie night, I figured I'd pick up some other stuff for us – just in case. Yeah, I wasn't the only one.
But at least we were prepared!
 

We wanted to get out of the house on Satuday, knowing we were going to be housebound for the next several days. I also figured Halloween was going to be a washout. So we went down to the Air & Space museum near Dulles for their Air & Scare event. At least I'm the only awesome one in the family.
My panic of this being a really horrific event amped up and decided that Sunday I just needed a few more things…good thing neither of them were bottled water and break.
Then we were on lockdown.
Watching Twitter and Facebook, hearing and seeing about the devastation…yeah. My heart just couldn't handle it. It was then that I started to see posts that Halloween was on like Donkey Kong. 

*gulp*

 

But we pulled it off!

 

Favorite book character dress-up day: check. The Pokey Little Puppy FTW!
 

Can't leave out the littlest one…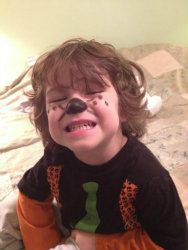 I took Potus out for some quick Halloween candy recon and last minute costume outfitting.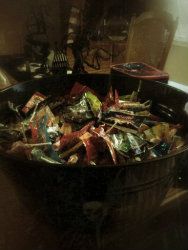 It all worked out!
 Don't leave me out!
And then it was over. It's November! Whew! Except that some friends started a new gaming website – one for the all-around gamer – which includes gaming parents, comic book fans, movies, novels, etc.
I happen to be their community manager and I've written a few articles including how to manage M-rate games in your family and how I never get to watch TV anymore.
So I needed to sweat a bit and do Da Butt.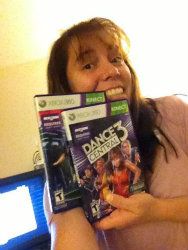 I had one day – one day all to myself. So I took a load off and indulged in Twilight. Yeah, I got the OFFS all over Twitter.
While all this goes on, I still have to contend with homework for TWO kids, pictures, back to school night, volunteering, keeping this house from being condemned by the state and the fact that NONE of the kids has actually been in school a full 30 days and that I will never, ever have a regulated schedule for anyone that last longer than 2 weeks in a row and the fact that Techie installed Windows 8. Umm…
And then we have the election coverage, which I'm watching like a hawk. Go on and git - go exercise your right to vote.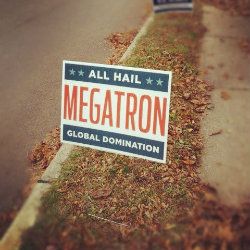 We can always stay connected here but if you want to come along for the ride come visit me on Twitter – both personally or my geeky gaming side – and on Instagram or Foursquare.