During a vacation to Chattanooga, Tennessee, Kara Norman discovered a design competition to enliven public spaces, an idea she decided to bring back to Frederick.
Long after that discovery, Norman, the executive director of the Downtown Frederick Partnership, watched the installation of a new piece of public art this week in an alley along East Patrick Street in Frederick.
Designed by Brooklyn, New York-based architect and designer Kiki Goti, Happy Stripe features tall steel pipes that create a winding frame, from which brightly colored pieces of nylon rope are suspended over the alleyway.
"We were looking at ways to activate our alleyways and encourage people to travel a little further, to explore a little farther," Norman said Thursday morning as the structure was being assembled next to JoJo's Restaurant & Tap House.
"It's a fluke that I happened to be there on a family vacation and happened to see [the design competition] and then later happened to meet the staff person who planned it."
The idea Norman brought back evolved into a project called unchARTed, which was launched in November 2019 and is now seeing the first of three public works aimed at engaging downtown visitors in a way an otherwise unexceptional alley would.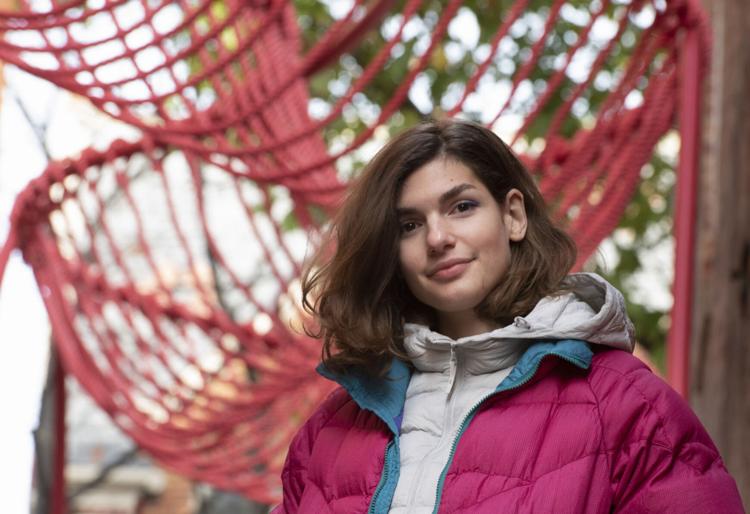 Goti, who is originally from Greece and also teaches at the Carnegie Mellon University School of Architecture in Pittsburgh, hopes her piece — and the two that have yet to be installed— will help people feel more comfortable being out in public.
"For me this kind of project is — especially right now during the pandemic — I think it's important to just encourage people to again use public space because we got so afraid of being in public for so long," she said. "So we wanted to have something that is going to kind of like, attract people to go and pass through the alley."
On Thursday morning, Steven Rumbaugh of Fire & Wire Welding, with the help of his wife Krystle Rumbaugh, scaled a ladder and welded together the wframe, which would then be bolted into the concrete walkway.
Goti said she was pleased to contract with a local firm to do the fabrication and welding portion of the project.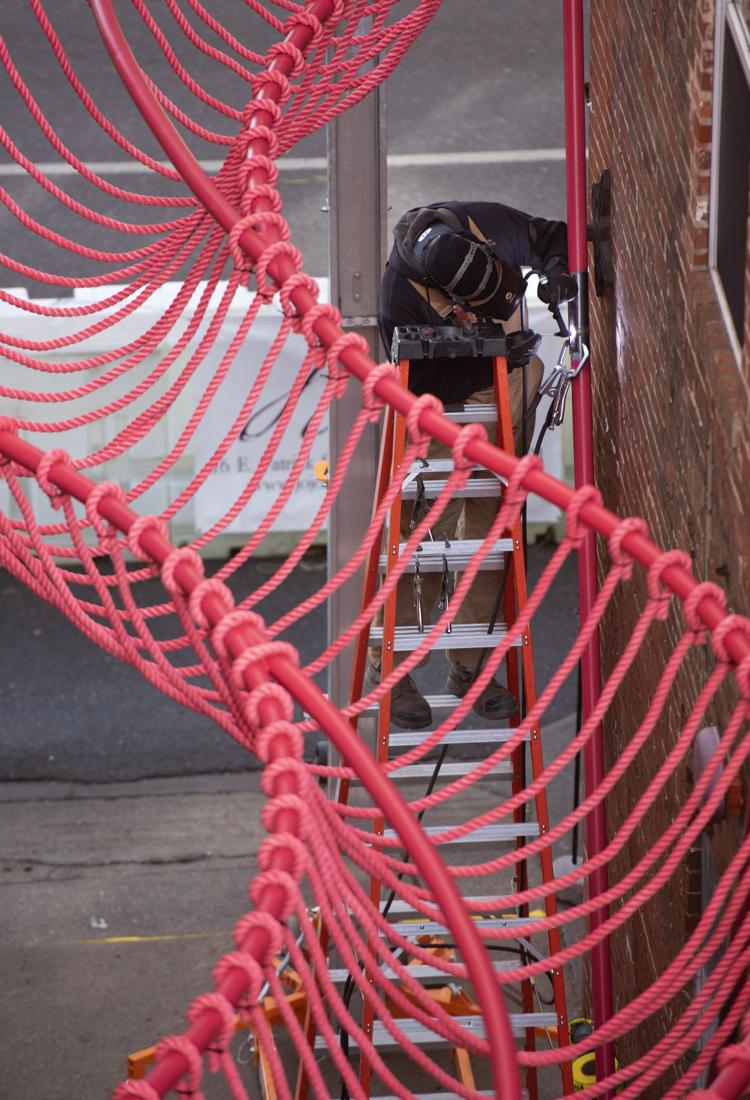 The entire piece has a pinkish red color, which Goti said was chosen as a way for the piece to stand out from but not contradict the deep reddish-brown of the surrounding brick facade.
For pedestrians walking on the south side of East Patrick Street, the installation will be difficult to miss. A portion of the brightly-colored frame protrudes out over the sidewalk, beckoning for passersby to engage with the artwork.
"I just hope they have fun with it," she said. "I'm sure some people are going to love it, [and] some people are gonna be like, 'What exactly is this thing?' But I just hope that it's intriguing enough for them to go and check it out, take a photo with it [and], you know, maybe think about what the space was before."
Unlike a lot of public art, Happy Stripe also offers a virtual experience by way of a phone app called Happy Stripe AR.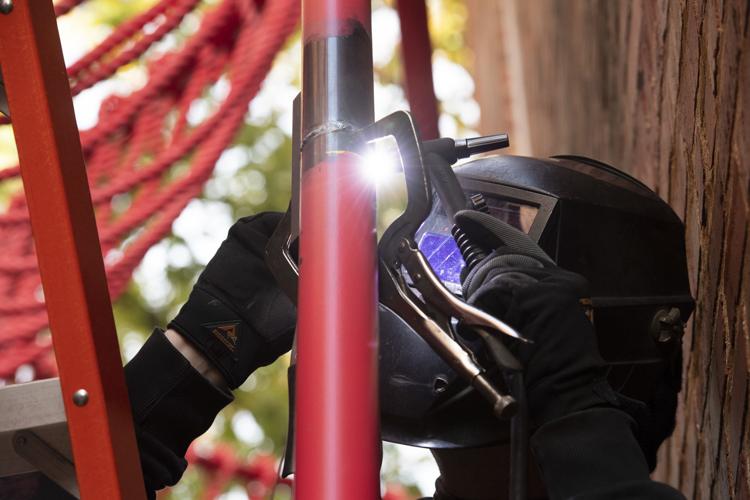 The app uses a phone's camera to create an augmented reality feature that allows users to toss virtual balls into the structure, which then roll through the curvy-linear design. Goti said her design studio collaborated with Jeffrey Anderson and Ahmad Tabbakh of the New York-based design firm Mancini Duffy.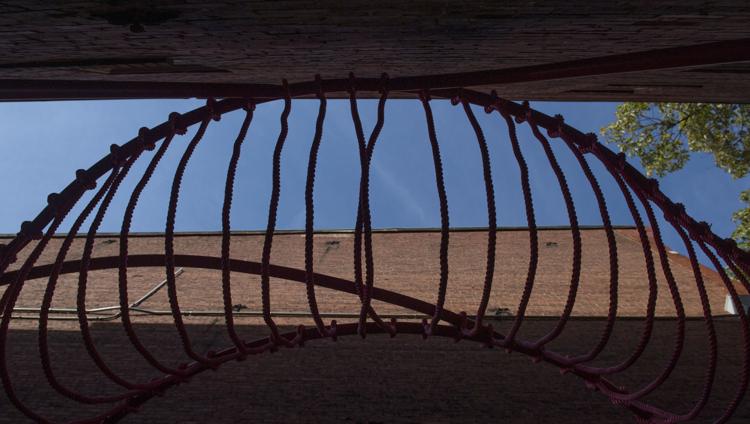 Originally, the app was intended to be a sort of guide to a now-canceled festival that would have introduced and highlighted the three public works. But as with so many plans during the era of COVID, things changed.
"So we ... changed the goal of this," Goti said. "Kind of like a virtual version of our structure, more of a game that creates kind of like a digital community, brings people together, but at the same time being distant and being safe."
The two yet-to-be installed works will be in the alleys leading to the Carroll Creek Parking Garage and the C. Burr Artz Public Library.
The installation that will lead to the library is titled Maxwell Flow and was designed by Graham Coreil-Allen of Graham Projects in Baltimore.
The other is called Colorful Frederick and was designed by Volkert Inc., which has offices around the country and will be installed by Morgan-Keller Construction.
Both remaining pieces are slated for installation by spring.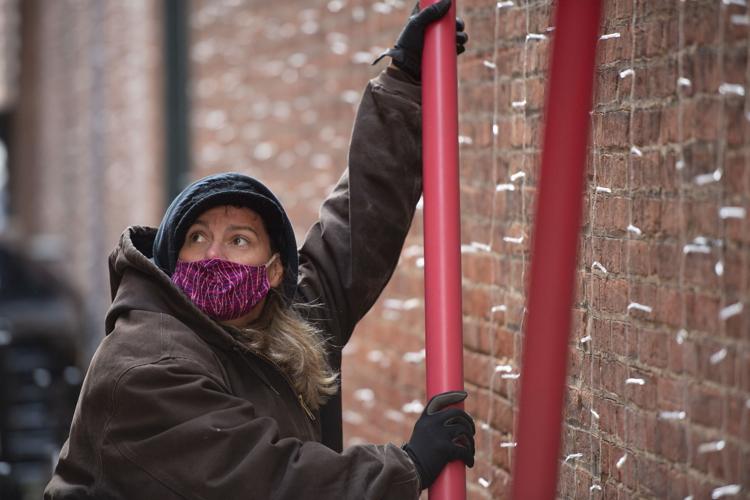 The original idea was for all three to remain in place for one year, but because of the COVID-related delays, the timing of how long each will be on display has yet to be settled.
The unchARTed design competition and installation was sponsored by Downtown Frederick Partnership in cooperation with the Potomac Valley Architecture Foundation, AIA Potomac Valley and the Frederick Arts Council.
Goti, who is 30, said Happy Stripe is only her second public piece of art; her first being for a design festival in Los Angeles.
"I'm really happy to see that places like [Frederick] really make an effort and care about the public space and care about art," she said. "And you know, do their best honestly to bring things here and kind of like, make this urban environment much more vibrant and happy."