When starting out at a pit inside Stumpy's Hatchet House in Frederick, many patrons think they have to throw the ax with maximum force to lodge it into the wooden target.
That's actually not a good strategy.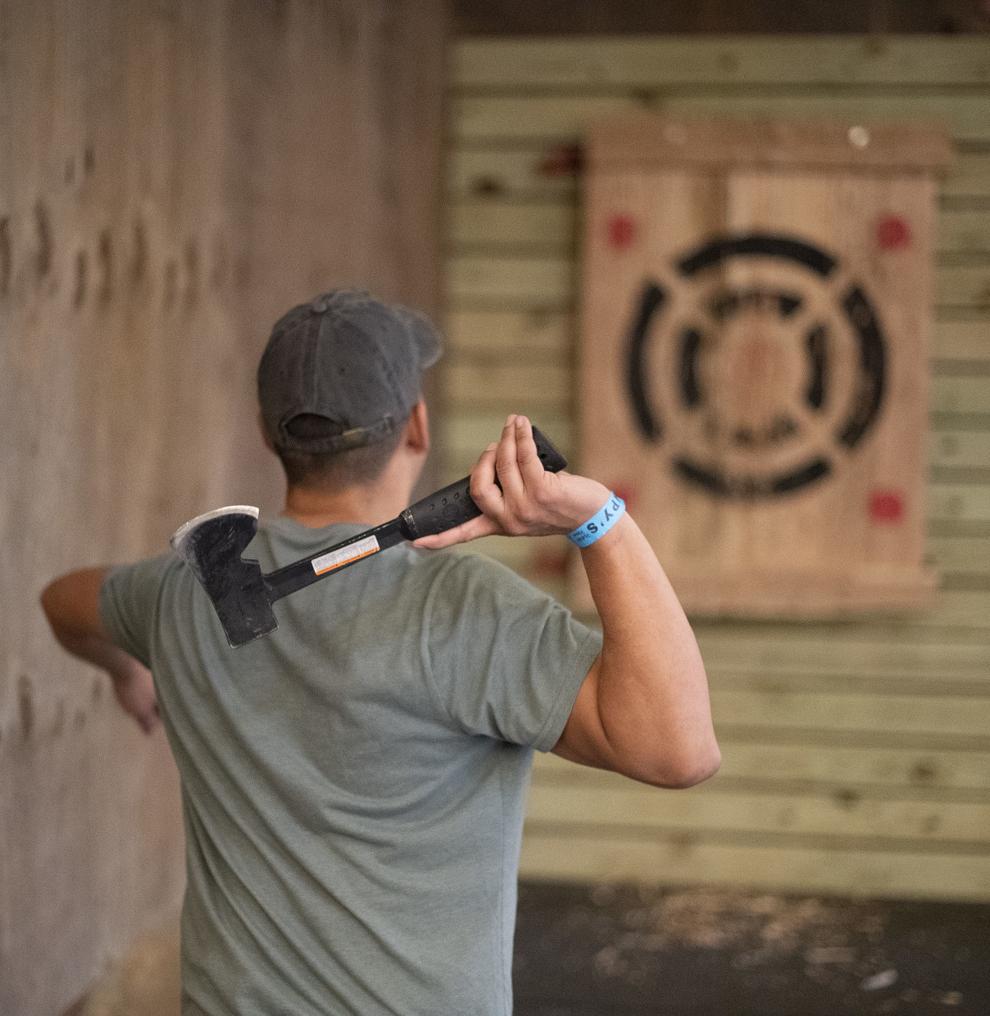 "I tell everybody it is not force," said Sarah Simpson, Stumpy's Frederick general manager. "It is finesse. It is not about how hard you can throw it. I've seen it with both men and women. They come here and want to throw it as hard as they can and then it hits but it doesn't [stick]. But if you take your time to get your form right and focus on what you need to do, [you can do it.]"
Originating in New Jersey in 2016, Stumpy's now has more than a dozen locations across half the country with another 25 locations set to open soon including in Leesburg and Arlington, Virginia, and Columbia. The Frederick location opened its doors across from a.k.a. Frisco's Restaurant and Catering Company in late September. A 21 and over establishment, patrons thus far have included couples, groups, corporate team building organizations and members of bachelor/bachelorette and birthday parties.
"We really want to focus on giving the people of Frederick and the area an alternative (night out)," Simpson said. "Come here and then go to Downtown Frederick. ...We definitely want to be a part of the community. (For adults) we want something to do other than just go sit at a bar."
For those in the northern part of the county, Back Alley Axe in Gettysburg opened its doors in August. Owner Josh Keeney got the idea for the facility after participating in an ax throwing event at his church on Father's Day and a corporate retreat for work that offered the activity.
"I just loved it so I thought Gettysburg could really use this," he said.
Keeney added that he enjoys the stress release the activity offers as well as the camaraderie of playing with friends.
"It is something fun to do that gets you out of the house," he said. "I love competition. Any time I can do that is always fun. It is not explainable. I don't know what it is. There is just something about grabbing an ax, throwing it and hearing it hit the wood. It is just a feeling you can't really explain. Satisfaction."
Each facility pairs participants with a coach — or "axpert" as Stumpy's calls them — teaching the basics of feet placement, distance to the target, gripping the ax and the forward momentum needed to hit the target.
"You are not using your hands," Keeney said. "It is basically just your arms. It's like a fishing lure casting it. Not much really goes into it. It is hard to perfect but it is not hard to get down."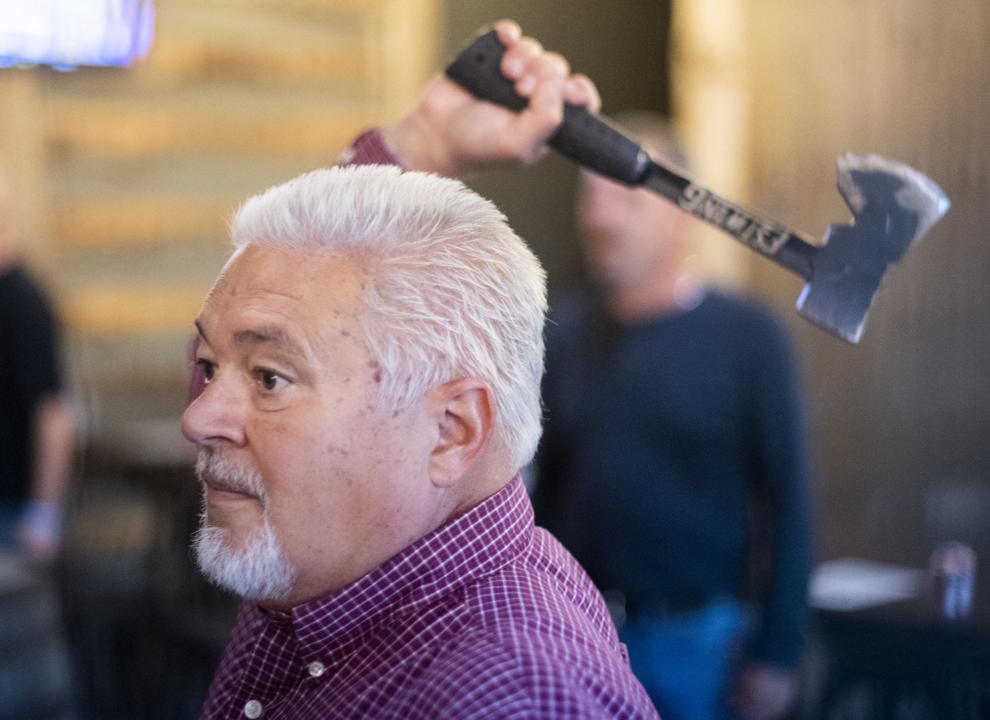 Stumpy's teaches folks to start with a two handed grip before moving on to a one handed grip because it offers more control.
"The biggest thing about throwing is keeping your form and holding your wrists tight," Simpson said. "You don't want to be loose."
On a recent trip to Stumpy's, Simpson was showing a visitor how to throw with a two handed grip.
"I'm just going to throw and release," she said. "It is not about power. I'm not winding up. If you wind up, you are already losing some of your control. If I just throw and release, it goes in."
With a one handed grip, patrons are told to step with the opposite foot from their throwing hand. Simpson demonstrated with her ax hitting the target.
"There wasn't a lot of strength there," she said. "I just use my body. ... When you go, just throw and release. Don't push it too hard."
Both ax-throwing establishments allow patrons to bring their own food and beverages including alcohol but they will take your ax for safety reasons you are impaired by spirits. They also require guests to wear closed toe shoes in order to participate.
Back Alley has leagues and allows children ages 13 and up to come and throw with their parents or guardians. Stumpy's plans to add a league and a family throwing night for teens with their parent/guardian sometime after the new year.
"As humans, we used to chop our wood," Simpson said. "We used to kill our own food. We used to do all these things and we have gotten so far away from that but there still has to be a primal instinct in us to do something that is primal."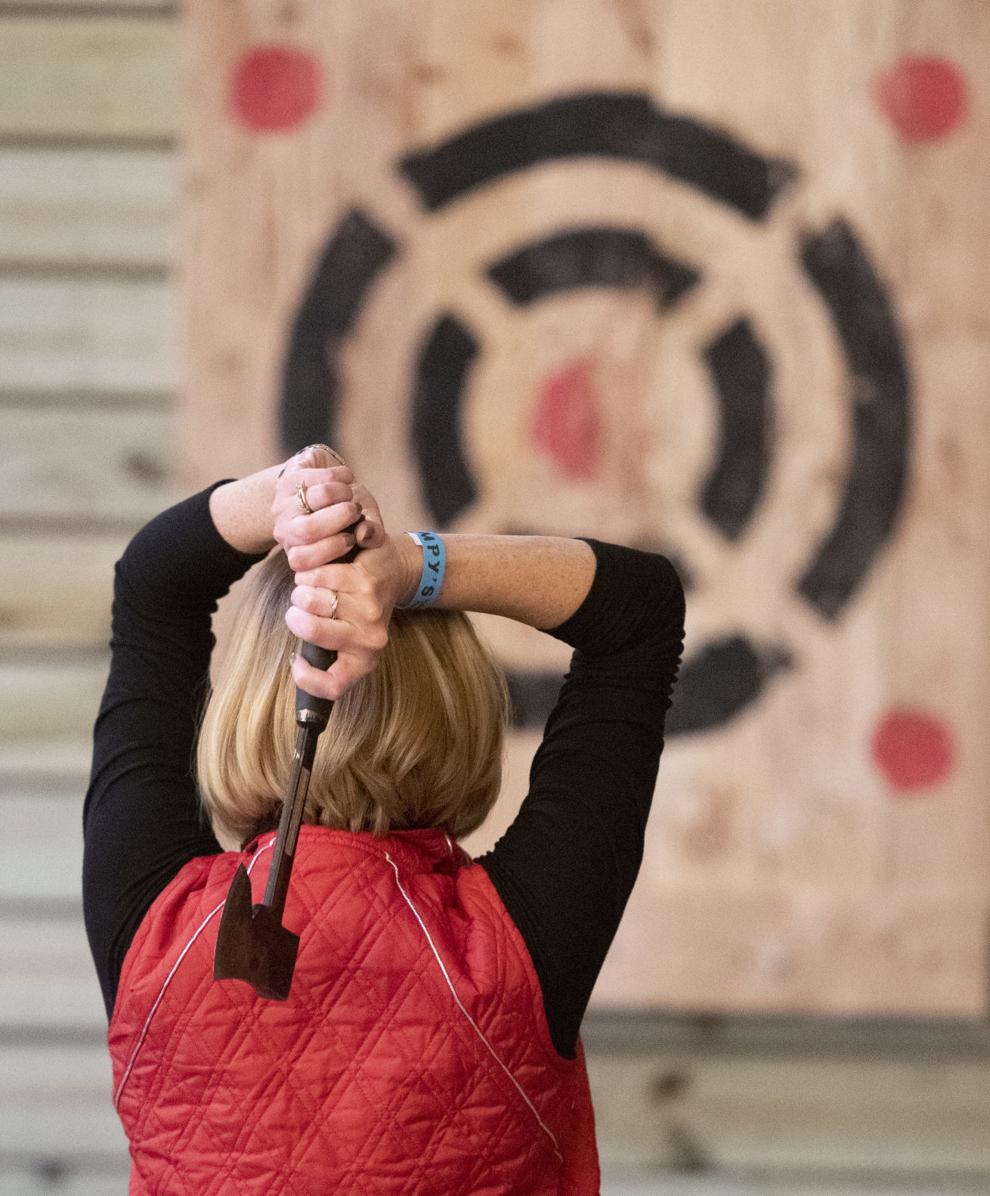 Ax throwing offers a unique activity for folks. Simpson said that when people play darts or pool, there are usually players there who are very good at the sport, which can be intimidating.
"Here you don't have to be good at it," she said. "We are going to teach you. ... It is giving people an opportunity to do something indoor that is fun and you use a little bit of energy and it brings people together versus just sitting at home watching TV or sitting at a bar."
Simpson, who has a background in human resources and was formerly a dog trainer, most enjoys the release when throwing the ax.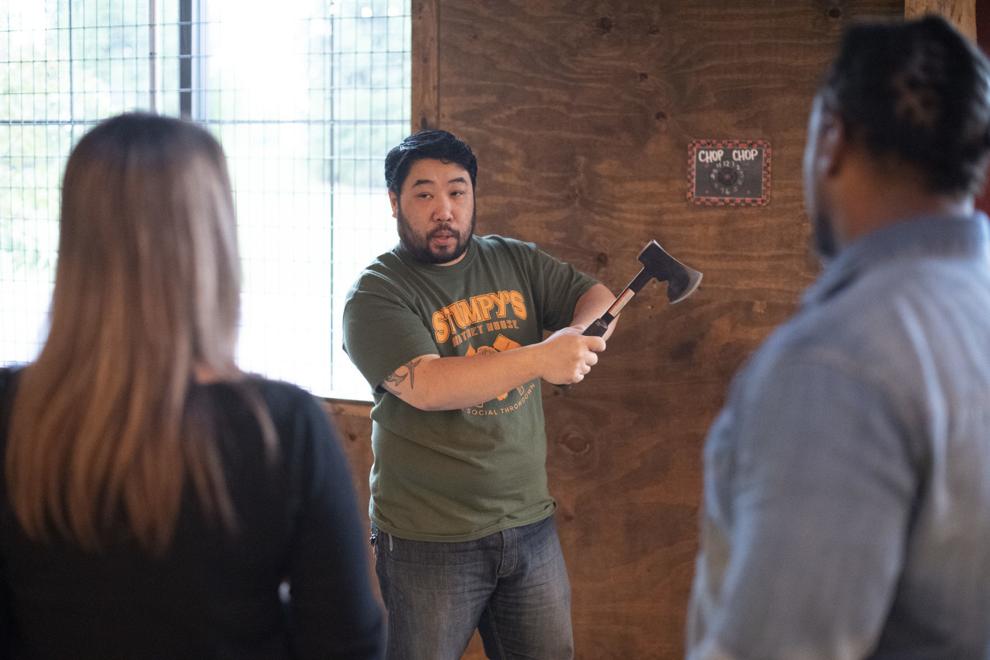 "In my life, I never thought I would throw an ax. Ever," she said. "... It is just really satisfying. I don't know. It just makes me smile when I hit it. When I don't hit it, I'm like 'You've got to hit this thing.' It's definitely a challenge. It is not easy but when you do get it, it is really, really fun."