Though many states and communities are reopening in the midst of the COVID-19 pandemic, it's still tough for musicians who relied on playing music in live settings. Because of as much, we've been checking in with various artists throughout the area to see how they've been coping.
This week, we caught up with the wonderful human beings in local rock group Santa Librada, which features former News-Post reporter Kelsi Loos on guitar, Colleen Pelser on bass, Sharon Santos on drums and Rahne Alexander on vocals. Among the many things we discussed were why one member of the band turned to pop-punk to help cope with the pandemic, the amazingly prolific art that Alexander has been producing (even while the world has pressed pause) and, of course, the value of being in the same room together to write music. To learn more about the band, check out their Facebook page at www.facebook.com/santalibradarocks, or head on over to their website, www.santalibradaband.com.
1. What were you listening to while self-quarantining and what about it made you want to listen to it during a pandemic?
Loos: Now, I'm pretty much listening to podcasts all the time, but at the start of this, I went back to all the silly punk bands I used to listen to as a teen. The Offspring, Bad Religion, Blink 182, Green Day, stuff like that. I was drawn to it as pure comfort food.
Pelser: Some comfort food (Built to Spill) and some that I've never listened to before (Joe Lally's solo stuff).
Alexander: I've been listening to a lot of live recordings — live albums and bootlegs I've collected over the years from Velvet Underground, Otis Redding, Joni Michell, Prince. I seem to have a lot of albums recorded at Carnegie Hall: Nina Simone, Dory Previn, Kiki & Herb. I miss live music so much!
Santos: I've been doing the AI rabbit hole thing with Pandora stations. Enjoying the degrees of separation between Donna Summer through Billie Eilish. The twists and turns are intriguing and many times unexpected.
2. Have you come across any livestreams/internet-based performances throughout the pandemic that have stuck out? If so, which ones and why?
Loos: Our friends over at This Could Go Boom! have done some really neat virtual listening parties. I thought that was a great way to social distance but celebrate music. Another good series was an idea our buddy Jim from Tomason had, which was to get people to do performances of songs only from their old bands. That was on Instagram at @quarantunesshows. Again, I just thought that was a unique take. Rahne has done some acoustic performances on various virtual bills that have been great!
Pelser: I like Ellen Cherry's Facebook live performances. And the Crowded House video conference streams were great, too.
Alexander: My friend Karen Pittelman, who leads Karen & the Sorrows, has this great show called Queer Country Quarterly (http://www.gayoleopry.com/) that features queer artists from all over the place. Usually, the show is a live quarterly show at Branded Saloon in Brooklyn, but since quarantine started, the show has gone streaming online and is happening monthly. I got to play a set of my sad songs in June, which was a blast and I'm discovering so many good acts from across the country.
Santos: The other ladies have this covered, but I'm personally just floored by the sheer amount of creative juice out there right now and the willingness of fellow creatives to just lay it out there. Our own Kelsi Loos posted some rocking solo covers during lockdown.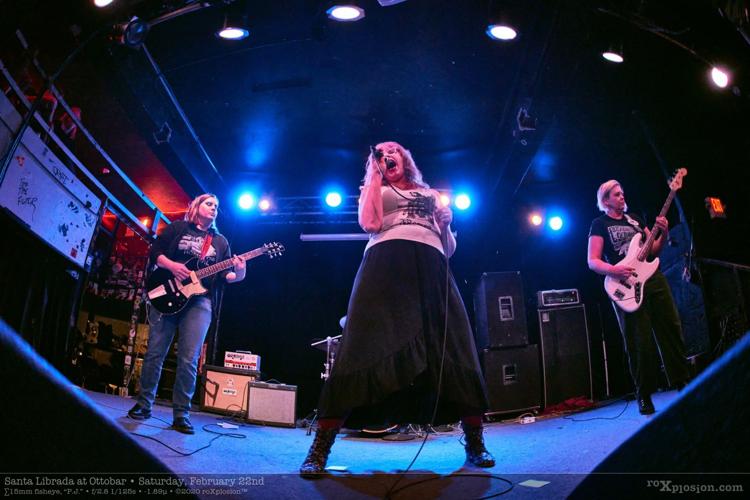 3. What's up with Santa Librada these days? Have you been able to write on any level throughout these odd, uncertain times together? Or are you eyeing a time when you want to start things back up? I would imagine this could be a pretty inspirational time for writing.
Loos: We were able to record a few songs just before the shut down so hopefully that will be ready to release soon. As far as writing goes, we're definitely still working on how to tackle this. I find that trying to write without the rest of the band doesn't really go anywhere, so I'm definitely looking forward to when it's safe to get together (miss you ladies!). I've gone back to listen to scraps of ideas from our old practices hoping that will generate ideas.
Pelser: I think others have answered this, but we did some recordings right before the pandemic hit. Most of our good writing comes from spontaneous live collaboration, so I really miss that.
Santos: It's been a bummer as we seem to do our best work together, collectively in the rock lab. I'm looking forward to hearing what riffs and lines everyone has come up with when we get back to it. My strongest beats have come from reacting to what the others lay down.
4. What's the most positive takeaway you've been able to experience from all the self-quarantining and the art world being on pause for the time being?
Loos: I've seen so many great performers come up with really creative ways to safely perform and share their talents. Music is so much stronger than crisis.
Pelser: I finally had enough space to start picking up my instrument regularly again, just for its own sake.
Alexander: What's funny is that there is no art world pause for me; I'm working harder than ever. So I take that as a positive — art doesn't stop! I have work up at the Baltimore Museum of Art right now in their online exhibits The Necessity of Tomorrows, and I am in a group show that is going up this fall at the Greater Reston Arts Center. I'm in the final year of my MFA program at UMBC as well, so I've got quite a bit of work ahead of me! The challenge is having to do all of this from our little home!
Santos: Life is short, push forward and make stuff.
5. If there's one song that you think could help everybody get through these uncertain times, what would it be and why?
Loos: Uff! So hard to pick one. 'Keep Me Up' by DoubleMotorcycle has been a good reflection of my anxiety and not sleeping too great, so that one's definitely cathartic.
Pelser: There's no one song for everybody (laughs)!
Alexander: I keep coming back to Nina Simone for emotional restoration and a reminder that you can channel your political anger into your art and make it almost timeless. I especially adore '22nd Century,' which paints a pretty bleak future — it's a great introduction to Afrofuturist/Afropessimist ideas — but that song has become a staple of my musical life in the last couple years.
Santos: This line is cliche, but it's working for me: 'It's the end of the world as we know it and I feel fine.' It's taken me a while to get here, but after grappling with what's going on, I've come to understand that all of the anxiety in the world isn't going to get us out of this one, there is no pause button and you're not getting this time back. Stay as safe as you can, love each other and enjoy your life. I'm hopeful that we're going to come out of this stronger than we were before.