For the last 10 weeks, I've been asking local musicians about how they have coped with the COVID-19 pandemic and being quarantined. This week, however, I decided to switch things up to help bring awareness to an event I'm hosting this weekend: The Frederick Music Showcase Relief Edition.
What's that? Well, along with Scott Marceron, leader of Frederick's Let There Be Rock School, and Shawn Hocherl, vice president of Showtime Sound, we wanted to do something to give back to Frederick during these unprecedented tough times. To do so, we are enlisting a plethora of Let There Be Rock School students — and their accompanying bands — to perform at the Showtime Sound studios at 7:30 p.m. Friday and Saturday nights.
Those performances will be livestreamed on various Facebook pages across the internet. Through it all, viewers will be able to donate online, with proceeds going to the Frederick Food Bank and the Hartley House. Over the last few weeks, we've been able to amass a good number of sponsorships, getting us a head start toward our $10,000 goal. Will we manage to get there by the end of Saturday night?
In the meantime, I caught up with Scott to ask him five questions (and, of course, one bonus inquiry) about the event this weekend, how the plan came together, and what he's had to do to adjust to giving music lessons online as a result of the pandemic. We sincerely hope you'll stop by (virtually) on either or both nights, and one place you'll be able to find the stream will indeed be the Frederick News-Post's Facebook page. The News-Post, along with Key 103, are serving as in-kind sponsors by streaming the event on their websites. I'll be doing my best to keep the trains running (while maintaining a social distance, of course), and hopefully we can bring a little bit of light into these dark days with some live music from these incredibly talented kids.
Now, onto my chat with Scott!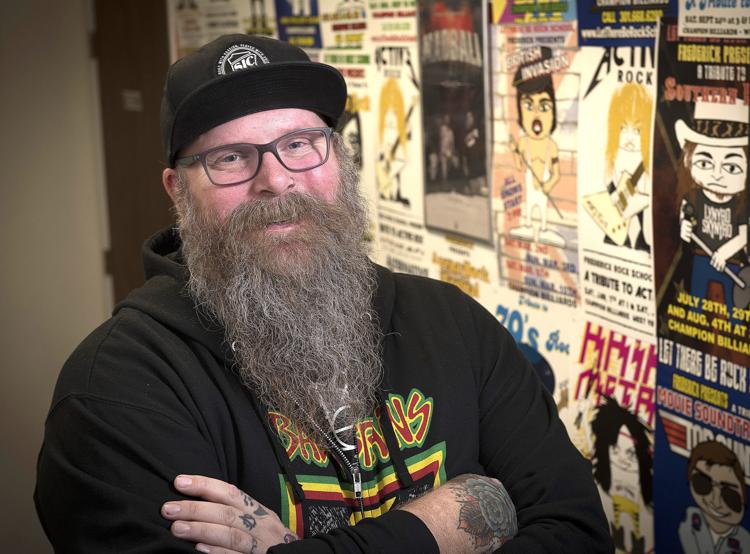 1. How did the idea for this come together? Did it initially begin with you, and if so, how did you assemble the team you assembled?
Marceron: The idea for the event was something I have been thinking about since the pandemic started. Watching everything going on and especially locally I wanted to do something for our community — the same community that has supported Kela and I and our business the last 10 years. The Let There Be Rock School mission from day one has been to give back to our community by performing at charity events, fundraisers and supporting local underprivileged students that wanted to learn or continue their musical journey. I reached to some of my local friends and people like yourself that I know support local music, but also share in my same vision. Shawn and Scott from Showtime Sound was my first call. They have been friends and supporters of not only our school but the Frederick community. They have set up an unreal virtual showroom that is really going to blow people away.
2. What have you been doing to keep busy during the pandemic? Are there any records or songs you've been listening to more than most? What are they and why?
Marceron: We have been very busy since March 16, switching all our lessons and band rehearsals online. We have the best students and families and have been overwhelmed by the response and the love we have been receiving from all of them during this. We are very thankful and proud to have them be a part of our Rock School family. When reaching out to 24 bands that will be a part of this amazing event, they without hesitation said yes to perform and raise some money for these two great causes locally.
3. What's your ultimate goal with the event? Is there an amount of money you could raise that would make it a success?
Marceron: The ultimate goal of this two night event is to raise some money for these two amazing organizations that give back so much to our community. They truly are so essential. If we could get to $10,000, I would be ecstatic! However, I think any amount of money raised will be a success.
4. How has the Let There Be Rock School adjusted to the pandemic life? Have you seen an increase or decrease in classes, assuming you've been able to keep up with them digitally?
Marceron: We have adjusted incredibly well to the pandemic situation. We could not be any prouder and inspired by our amazing instructors with how they have transitioned. We truly have the most incredible, talented and creative crew at the school. Everyone has come together to make this as smooth as possible. That includes the students, parents and supporters of the school.
5. Do you envision this type of approach to live music being the new norm for months to come? Also, do you think this will be the first of many similar events that you and the school will want to be part of moving forward?
Marceron: I think we will see more of this as a way to reach a bunch of fans of music and be able to log on at once and have a great online experience. Until we can get back into a room, this is great way to stay connected. We are planning another two day event for July already.
BONUS QUESTION: What artists, local or not, do you think have done a great job staying engaged musically online and what about what they're doing sets them apart?
Marceron: Clutch has been doing a great job staying connected with the fans. They do live streams from the band's rehearsal space here in Maryland. It is a very cool look into how the band rehearses and gets ready for the live shows.