Calorically, the Burger King Impossible Whopper is nearly identical to its meaty counterpart (630 versus 660 calories, with a full 100 milligrams more sodium).
Price-wise, it's a little more than double that of a classic Whopper sandwich ($6.29 apiece at the Burger King closest to my office, which happens to be the one on Buckeystown Pike).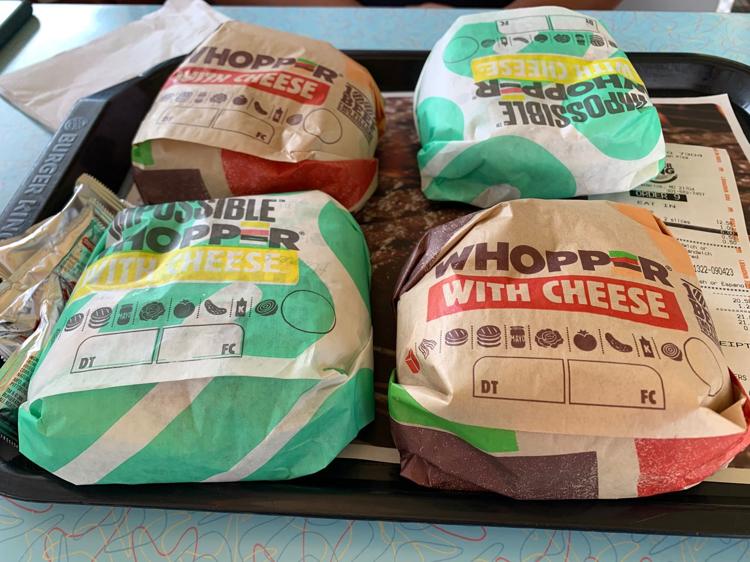 Aesthetically, I couldn't tell the Impossible Whopper from a regular Whopper if it robbed me at gunpoint and stole my identity. The uniformity of the gray-brown patty — scorched with the same light broiler marks as the chicken sandwich and the sausage Croissan'wich and the rest of Burger King's trademark flame-grilled menu — is indistinguishable from the regular beef burger without close, discriminate examination.
That's what I was there to do, with help from our new food writer and education reporter, Katryna Perera (more on that later). Together, we were going to put the culinary ingenuity of Burger King — the only chain restaurant currently offering Impossible meat — to the test.
Why? Because it is my sacred duty to impart my subjective opinions on food to you, the loyal readers of The Frederick News-Post. Because the adoption of Impossible burgers by a chain with more than 17,000 locations is the most glaring sign that the cult-favorite meat alternative, once relegated to a select handful of ultra-trendy urban restaurants, has finally hit the mainstream. Because I'm in a privileged position to order two Whoppers and send the bill to my company. But mostly because in April, my former roommate called me and pitched a helluva 72 Hours story: that the two of us should road-trip to St. Louis, Missouri, to try the Impossible Whopper at one of 59 chain locations test-driving the new menu item. We did not end up doing this, largely because the drive from Frederick to St. Louis is 24 hours round trip and we both have lives. But I at least wanted to honor the spirit of her request when the new burger launched locally.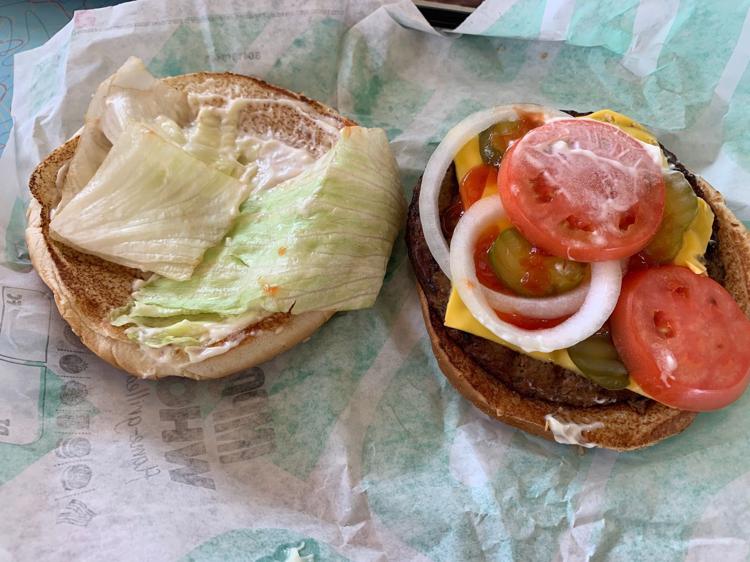 My roommate was interested in the Impossible Whopper from an environmental standpoint. In case you've managed to stay blissfully unaware of the current climate forecast — news flash: it's not looking so good — greenhouse gas emissions are rising, according to the National Oceanic and Atmospheric Administration. There's a demonstrable impact from industrialized beef production, which produces far more methane, carbon dioxide and pollution than other forms of agriculture. The catastrophic fires currently engulfing the Amazon rainforest are largely due to cattle ranchers in Brazil — one of the world's largest exporters of beef — who habitually burn parts of the forest to create grazing land for livestock.
In 2018, the United Nations Intergovernmental Panel on Climate Change reported that eating less meat could substantially aid efforts to keep global temperatures from rising 2 degrees Celcius. And the soy-based Impossible Burger, which uses plant proteins to replicate the texture of real beef, has a carbon footprint that's 89 percent smaller than a real burger, according to an analysis by the consulting group Quantis.
That's good, because it's not actually much healthier (see the stats above). It's also not strictly, totally vegetarian, as Burger King notes in a small footnote on the Impossible Whopper webpage. Those uniform patties are slapped on the same automatic broiler as the chain's regular burgers, so you have to make a special request for a fully vegetarian sandwich.
"But luckily it's Burger King, so you can have it your way," my co-worker Jeremy deadpanned when I told him the news.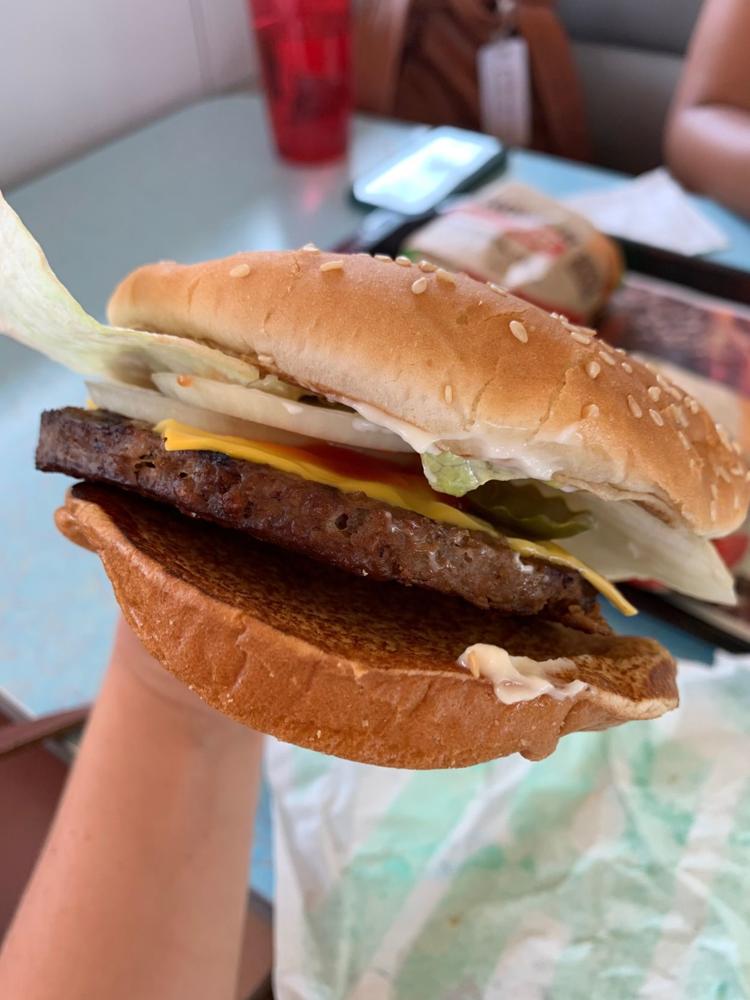 In the spirit of science, both Katryna and I ordered an Impossible Whopper and a regular Whopper in order to make a thoughtful comparison. Neither of us could remember ever eating a Whopper, period, so it was also a fun bonding project. I was surprised by how, um, whopping the sandwich was until I learned that Burger King co-founder Jim McLamore specifically invented a big burger to compete with a rival restaurant. That was in 1957. And here we were, more than six decades later, eating a Whopper patty made by isolating the leghemoglobin molecules found naturally in the roots of soy plants. American innovation is truly a beautiful thing.
But make no mistake! The Impossible Whopper is to a regular Whopper what an orange La Croix is to a full-calorie Fanta. The texture is so reminiscent of chain-quality ground beef that your mind convincingly makes up the difference. "To be honest, I'm mostly tasting bread," Katryna said after we gingerly unwrapped both burgers (the Impossible version encased in jaunty green-and-white paper). Both sandwiches were dominated by mayonnaise, American cheese, and raw white onions. The difference lay mostly in the aftertaste: a distinct iron tang, in the case of the standard Whopper, versus a nuttiness that could only come from a plant-based product.
Keep in mind, though — that's based on a calculated bite-by-bite comparison. If someone randomly handed me an Impossible Whopper and told me it was a regular burger, I can 100 percent guarantee that I would eat the whole thing with absolutely zero questions. And isn't that what fast food is all about? Eating without much discernment? At any rate, you'll save 30 calories. And if you buy enough of them — if you really change your eating patterns, in other words — you could help save the planet.
Follow Kate Masters on Twitter: @kamamasters.