If you're going to play not one but two parts in "The Office: A Musical Parody," you need to be a fan.
Patrick Constant, who plays both Jim and Andy, is truly an "Office" fan, or Dunderhead, as fans are affectionately called.
"I've adored the sitcom, I always have. It got through college, watching it through Netflix all the time," he said during a telephone interview while walking back from rehearsals in Manhattan.
Although, he admits he didn't realize there was an unauthorized musical parody of the documentary-in-a-comedy TV show until his agent told him.
"I didn't expect much out of the sitcom-musical parody that nobody asked for, but I needed a job," he said with a laugh.
Constant's tune changed when he read the script and landed his first touring company.
"I realized this was actually really well done," he said.
"The Office: A Musical Parody" will be staged Tuesday at the Weinberg Center for the Arts in Downtown Frederick.
Authors Bob and Tobly McSmith aren't new to musical parodies about both TV shows and pop-culture events. They also wrote "Full House! The Musical," "Bayside! The Musical Parody" and "JonBenet! Murder Mystery Theater."
Constant said it also posed some challenges because at one moment he's Jim, then walks back on stage a few minutes later as Andy.
"Me being a young actor and trying to hone my craft, I was really looking for the challenge of not only being two people, but being two people at almost the same time," he said. "To change on a dime like that. I've never had to do that before. It really has been a thrilling challenge to overcome."
To prepare to become two characters, Constant said he first found Andy to be the easy one because he liked the physical comedy, and Jim, who is more reserved, to be more of a challenge to play.
"But now after months of practice, I found the roles to be completely reverse," he said. "Now I find Andy to be much more difficult, and Jim much more natural."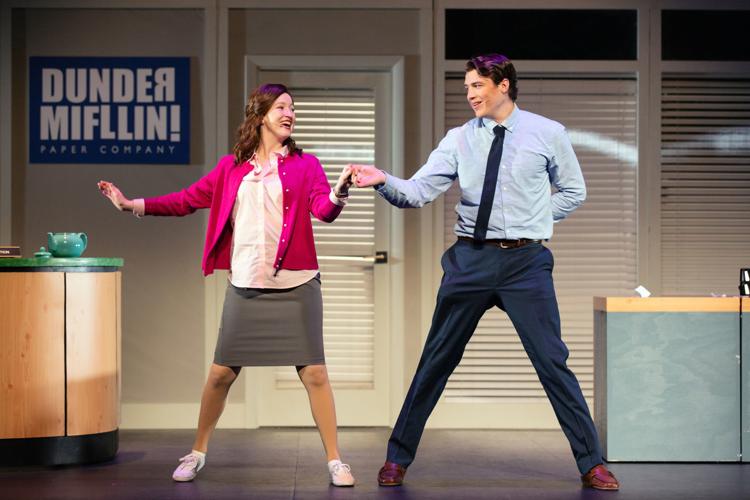 Throughout the rehearsals, he said he got more into his characters, learning how each one stood and delving into each one more.
Constant is not the only one doing dual roles. All of the cast members, except for Sarah Mackenzie Baron who plays Michael, picks up a minimum of one other role.
The unusual casting came through a call for anyone to audition for the role. Baron was an early favorite for the part, Constant said.
"You might come expecting to see a repeat of your favorite episode, but when you see that Michael Scott is so blatantly not Steve Carell, he's played by a woman, you suspend your belief that much more quickly and you're that much more responsive to our show earlier when you realize Michael Scott is not a man," he said.
Although Constant has performed in several off-Broadway productions, being on a tour comes with some challenges.
"Being on a tour, there are a lot of quick changes in the show, and quick set changes, and we're the ones moving the set," he said. "Even though we have our sets, we have our beats, we have our timings, everything is planned out. The backstage show will change every single time we change our location. We don't have a chance to work in that stage often until showtime."
For instance, when they played in a stage in New York, they had all the room they needed backstage. When they hit Toronto, the stage didn't have the backstage room they had expected. But, Constant said, they had to adjust.
"It really introduced us to what would remain a unique challenge touring would often be," he said.
"The Office" still remains one of his favorite TV shows.
"There was something about the physical comedy. The lines themselves are so mundane and there really isn't any direct comedy in the spoken word," he said. "You can only get why it's funny while you're looking at the screen."
He said he encouraged his parents to watch the TV show before coming to see him in the show to see why the show is funny. He was surprised when they told him they didn't get it.
"Then I sat with them to watch an episode and Mom is on the phone the entire time and Dad is on his laptop the entire time. They're just listening. You don't get the comedy of 'The Office' unless you watch it," he said. "As an actor, I like to study instead of just watch it and enjoy it. It's so interesting for me to watch these actors and how they got laughs out of these lines with subtle glances and directional changes, the littlest nuances in their voice."
And that's why Constant loves the show.
"It's so smart yet simple enough that you don't have to analyze to get it," he said.
Follow Crystal Schelle on Twitter: @crystalschelle.