Monica Gabriel sat before a judge in Frederick County Circuit Court for yet another contempt hearing in her divorce.
On Dec. 18, 2018, she was in the courtroom because her ex-husband, Curtis Williamson, had failed to pay alimony. Monica was awarded indefinite alimony in their divorce six years ago. Williamson owed her more than $90,000.
His failure to appear did not surprise Monica. Williamson has a history. Not showing up for hearings is his modus operandi. During their divorce in 2012 and the years since, Williamson filed nearly a dozen motions to combat the divorce and alimony. When a hearing was scheduled, he never turned up.
Monica, who had no contact with her former husband for several years, did not know where Williamson was. She had not seen him in years, except when she called the police on him in October 2018.
Williamson had been arrested in October 2018 on a body attachment from years earlier. He was held on $5,000 bail, 10 percent of which had to be paid for him to be released. He failed to appear at his bail hearing four days later because he was in the hospital. Williamson's attorney told the judge he had leukemia. There is no evidence that he was ill.
The judge released him without bail. Mail from the court to the address listed for Williamson was returned. He has not shown up for a number of hearings since, including the one on Dec. 18.
Monica told the judge she was skeptical of the illness Williamson's attorney mentioned in October. She said he had said he was sick to get out of other commitments, she said.
The judge presiding over the hearing issued another body attachment for Williamson. This time, Williamson needed proof of any illness if he sought to be released from jail for a medical condition. There is not much the judge can do, Monica said, but in her mind, this was a positive step.
It is the third body attachment issued for Williamson, according to electronic court records. As of April 16, police have still not contacted Williamson.
Local police cannot serve a body attachment on a man who is not in Frederick County or the state of Maryland. Because while Monica sat in courtroom six at the county courthouse, telling the judge about her abusive marriage and divorce from Williamson, he was about 320 miles away, in North Carolina.
Petrina Mattia received an odd message on Facebook in early 2019. A woman in West Virginia wanted to warn her about her current boyfriend, Curtis Williamson.
Petrina was already suspicious of Williamson. He had used her debit card to purchase items without her permission, but he said he had used her card accidentally. When she looked him up using Maryland Judiciary Case Search, he explained the bench warrant for him was a mistake and just had not yet been cleared up in the records.
He always had a reason, Petrina said. And she believed him.
When Petrina told Williamson about the weird message, he asked who sent it. He then explained the woman was the aunt of his ex-partner Stephanie Furr, a vile woman trying to keep his son from him, he said.
Then the message disappeared.
Petrina believed Williamson. Why would she believe a stranger over the man living with her?
Williamson met Petrina in Frederick in 1997 when they worked together at Wells Fargo. They were good friends, Petrina said, and there were some romantic feelings. They talked every day at work. She was with another man at the time, and Williamson never pursued her.
"And the funny thing is I never knew he was married at the time or that he had a son with the first wife," Petrina said. "The way he portrayed himself was that he was a single man."
By the time Petrina met Williamson, he had been married not once, but twice — first to his high school girlfriend Teresa Seilhamer, in 1984. The two had a son together. He left Seilhamer for Traci Williamson, his second wife, in 1990 and had two more children.
Williamson moved to Iowa, and he and Petrina lost touch. Nearly 15 years later, a Facebook message appeared in her inbox.
"How the heck have you been?" Williamson wrote to Petrina on Nov. 30, 2018, according to screenshots of the messages.
An hour and a half later, she replied she was "awesome" and asked how he was. He was good, but he was back in Maryland taking care of his sick brother, he told Petrina.
Williamson told Petrina he finished law school, and his Facebook profile listed his school as Mount St. Mary's University. His page said he worked at the Department of Homeland Security and lived in Williamsburg, Virginia.
From Facebook messaging, they switched to texting. Williamson told her about his marriage to Stephanie Furr and that they had a child together. But he did not tell Petrina that Stephanie was his fifth wife, and their child his fourth.
Monday marks eight years since Monica Gabriel's death. No one knows what killed Monica on April 15, 2011. No one except, perhaps, her husband, Curtis Williamson. Her marriage was less than 2 years old when, in early 2011, Monica noticed something weird. Two months later, Patricia Gabriel learned that her daughter was dead. Monica was never buried, never eulogized, never mourned. Most people didn't even know she died.
He also did not tell her about his criminal record.
Williamson faces five felony charges from his time in West Virginia. He is accused of financially exploiting an elderly person, embezzlement by misuse of power of attorney, fraud, fraudulent schemes, identity theft and conspiracy.
He misused Stephanie's power of attorney over her grandmother to steal from her grandmother's bank accounts and open several credit card accounts in her name, according to charging documents.
He also stole from Stephanie, Stephanie said, leaving her with a dollar and a handful of change when he was arrested in West Virginia. He declared both Stephanie and her grandmother dead, although they are alive, she said. He has a history of doing that to ex-wives, also declaring his fourth wife deceased twice.
He had been released on bail from the Berkeley County Detention Center in West Virginia, then again from a Maryland jail a month before he contacted Petrina.
But he did not tell Petrina any of this. He told her he was working for the Department of Homeland Security as a lawyer. A previous wife had worked for a company with a DHS contract when she was married to Williamson.
In Williamson's telling, Stephanie was not a victim, but an attacker who aimed to keep his child from him.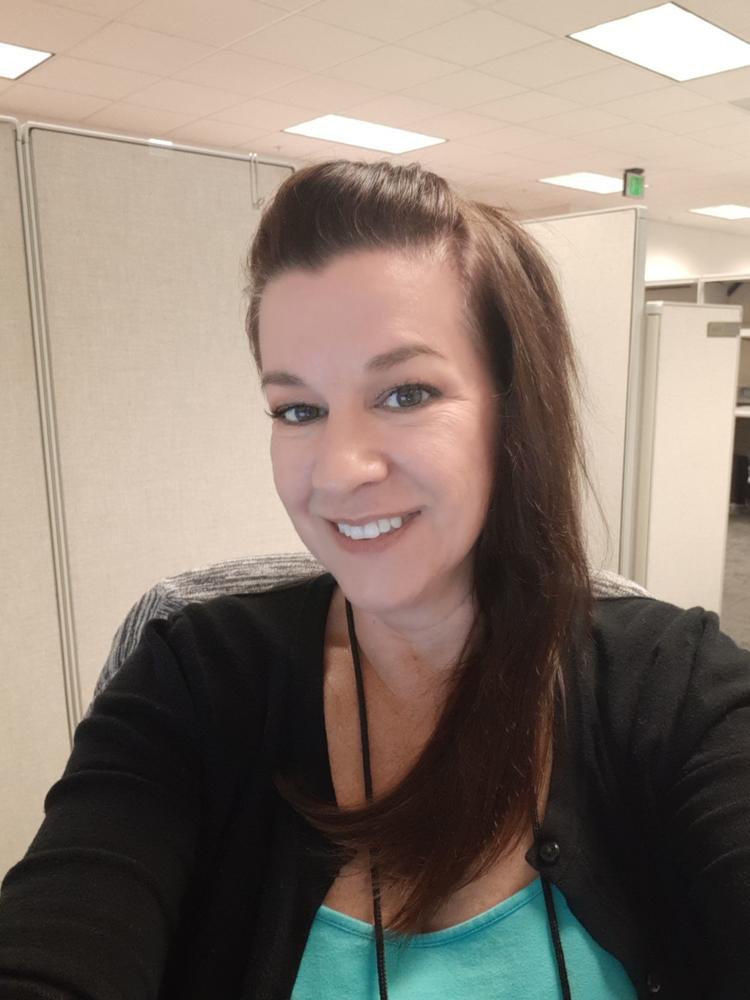 He texted Petrina that Stephanie lied on their marriage application. That she was still married to her daughter's father. That she, her mother and sister were all con artists. He did not know if he was legally married to her.
"Came home from a family funeral she moved to Florida ... Everything is gone," Williamson texted to Petrina, according to screenshots of their conversations.
Petrina was sympathetic to Williamson's story through text, asking if something was preventing Stephanie from moving to Florida.
A year before reconnecting with Williamson, Petrina enrolled in school to become an esthetician, a skin care specialist. The timing was perfect, she said, because she was so busy and the two could connect by phone or FaceTime at night after her classes.
They talked every day, Petrina said. He said he wanted to see her, so they made plans for him to visit in the second week of December. He arrived on Dec. 12 or 13 in a white Mitsubishi with West Virginia license plates, she said.
"The whole back of his car was filled with stuff strewn about. He wasn't really packed or anything. He just had stuff all in the back of his car and his car seats were down. It kind of looked like whatever he owned was in the back," Petrina said.
Williamson told Petrina that he could work from North Carolina because his job let him work remotely. But he did everything from his phone instead of a laptop. Petrina was skeptical.
"To me, it did not look like he had a job at all," Petrina said.
He was going to come for a week to spend Christmas with Petrina. She was scheduled to graduate from classes a few weeks after Williamson left, she said.
But Williamson never left.
Tara Mattia knew something was off when her mother, Petrina, reached out in early December to say she wanted to see her daughter and talk.
Her mother had news to share.
Petrina was getting married.
"And I was just like, 'What the hell?' I didn't realize she was talking to anyone. She had never brought up anyone's name," Mattia said.
The private investigator had been hired by a couple in West Virginia. Curtis Williamson had stolen money from their mother, and they were not sure if Williamson's wife was involved. Monica Gabriel was scared. What happened to her was happening again. Another wife, a fifth wife, Monica wanted to help. She might have learned something that could help. She was willing to help anyone in a situation similar to hers. The private investigator wanted to know who Williamson is. But who Curtis Williamson is depends on who is talking.
Petrina told her daughter about Williamson, saying they had been dating for several months but knew each other for years. He was a lawyer who worked for Immigration and Customs Enforcement and had a 4-year-old son. Williamson was coming to visit around Christmas, and his son would join him, Mattia said.
When Mattia asked her mother more about the situation with Williamson's son, Petrina told her that Williamson asked her not to talk about it. That was the first red flag for Mattia, she said.
Mattia met Williamson for the first time when he came down in December, she said.
"It was really weird, because he had no discernible personality. I could not put him in any specific box," she said.
She looked him up, and while it appeared he had a lot of money, the photos he posted on social media seemed to be stock photos. He said he drove a Nissan Altima, but the car at her mother's house was a Mitsubishi SUV.
Her husband described Williamson as a "placard of a person," she said.
Williamson told Mattia he had a brother and sister in Hagerstown. Williamson told her that his brother has cancer and he was helping him, she said. 
But while Williamson at first seemed like a nice guy who was taking care of family, Mattia found it suspicious that Williamson came down to North Carolina to stay. She wanted to know why he would not want to get back to his sick brother, the one he was supposedly supporting.
Williamson also spoke about his son and the plans for him to come visit. Mattia said she remembered three times Williamson mentioned his son was coming. The plans fell through every time. Williamson always had a reason, such as his son was sick, for why his son never arrived.
And he would talk about his ex-wives and girlfriends. All the women just wanted him for his money, she recalled him saying. But she never saw any evidence of the money he said he had. He always seemed to play the victim, she said.
"No one has that much bad luck," Mattia said.
But the biggest red flag was her mother's impending marriage. Mattia works at a jewelry store, and Williamson was supposed to come and buy a ring for her mother. He never came.
In Mattia's opinion, her mother had always been independent. She did not date often. It was alarming that she was moving so quickly with Williamson. Mattia said she could not see any reason for her mother to be with Williamson.
"So for her to say, 'Yeah, I'm getting married, and I've only been talking to this guy for a couple of months' is very odd. Very out of character for her," she said.
She asked her mother to reconsider.
"I felt crazy. I thought the whole situation was weird," Mattia said. "No one talks for a few weeks and then gets married."
But Williamson and Petrina were already planning their life together.
Williamson had asked Petrina to marry him even earlier on in their relationship, she said, but she was able to put him off, telling him she did not want to marry until Williamson's son could join her two children at the wedding.
He did not push her just to get married. He wanted to purchase a house with her. They went to look at homes, and Williamson told her that he bought one the two of them liked. He never did, Petrina said.
"This is part of the other thing Curt does. ... We were moving into a new home, a home he told me he had already purchased and a home that he had gone to close," Petrina said. "But that house, he never purchased it. He lied to me."
He was never abusive, as he had been with other wives, Petrina said, although he once asked if she had a life insurance policy, a question she found interesting. Unlike his other wives, he never had control over her bank account. To take money from Petrina, he had to be more creative than in previous marriages.
Soon after he started living with her, she noticed $3,000 missing from her bank.
"He had been with me two weeks, and he started stealing from me," Petrina said.
He offered to run errands for her, and she gave him her Target debit card so he could return some items for her. She trusted him, and he did make the returns.
She never felt like she had to ask for the debit card back because of the trust.
Then she saw her bank account. Her Target debit card was linked to her checking account, which was set up to draw from her savings account if it ran low. Her savings account balance had dropped.
"And I was like, what the hell just happened?" Petrina said.
She went to Target and requested the receipts for the items he was buying. She learned he would purchase big-ticket items, like multiple pairs of $400 headphones. Then he would return the items for cash or gift cards, Petrina said.
When she confronted him a week later, he admitted it. He said he used her debit card by accident, but he argued that he did not spend $300. Or if he did spend that much, he did not realize it, she said.
Stephanie Furr was giving her son a bath and dying her daughter's hair on May 31, 2018, when police knocked on the door of the home she shared with her husband in Berkeley County, West Virginia. She told them her husband handled her finances. He could explain the discrepancies. Months earlier, she said as much to the state trooper investigating the case when he came to speak with her. But still, law enforcement arrested both Stephanie and her husband, Kurt Williams. It was the last time she would see her husband.
He promised to pay her back. She believed him.
Williamson had expensive tastes, she said. He cared about his appearance. He got his hair cut every few weeks.
When he arrived, he had brought three duffel bags of clothes in his car. He told her all he needed to buy was underwear. Later, she noticed he had bought all new clothes. She said she believes he bought them with her money.
He picked up a black coat with a red spider on it at Costco. She said he kept his wallet, documents, everything stuffed into the coat.
The supposed mistakes and excuses began to add up. Petrina decided to look into the man living in her home. She used Maryland Judiciary Case Search and found his divorces from Teresa Seilhamer and Monica. She saw the open body attachment for him.
The more she learned, the more disturbed she became. She found different names for him. She began to wonder whether she was losing her mind, she said.
"I was sick to my stomach," she said. "I honestly didn't know what to believe, except that I had someone who was not honest or trustworthy in my home. I quite honestly wasn't sure how I was going to handle the situation."
Petrina had questions for Williamson. She asked him about the divorces, the open body attachment. He told her that it had already been addressed in court, and that he was handling it.
"He would always explain things away," she said. "As much as my gut might tell me he was lying, he always seemed to have a plausible explanation for what was happening."
She kept checking the file. The body attachment remained open. When he'd catch her checking, he'd ask why she was looking him up.
"He blew it off like it was nothing," she said.
He also explained the Facebook message she received from Stephanie's aunt. He told her that Stephanie was abusive. He told her to block the aunt and Stephanie.
He had also told her he lived with Monica. But he never mentioned he was married to her. When Petrina asked him about Stephanie and Monica, based on the Facebook message, he had an answer for everything.
After the charges at Target, he stayed away from her finances for some time, she said, but toward the end of the relationship, she started to question him again. The two planned to go on a vacation, a cruise. Charges appeared on her debit and credit cards. For their vacation, he told her.
She noticed her mail arrived already opened, so she closed her one checking account in case someone had seen her bank statements.
She kept her wallet close to her, she said, but somehow, he was still able to access her credit and debit cards. Her accounts started paying for his accounts, such as his Netflix membership, without her knowledge. When she asked him how that happened, he said he did not know.
"All my accounts have been canceled. All my credit cards canceled. My bank account was canceled," she said.
While her mother was planning vacations and to move into a new house with Williamson, Mattia's unease only grew.
"Every time I met him, he just seemed weird or off," Mattia said.
He never looked her in the eye when they talked. He always looked at his phone during conversations. Or she would say something to him and it would be a minute before he responded.
She did not believe he worked for the government. She saw no proof he was employed.
"It was all of these little things that seemed off and not right," she said. "But I didn't want to look too far into it. I'm trying to give [my mother] space."
A friend of hers recommended she listen to the "Dirty John" podcast produced by the Los Angeles Times. The podcast was a scary listen, she said. She could hear similarities between John Meehan, in Christopher Goffard's series, and the man currently living with her mother. Both men claimed to work but never left the house.
She told her mother about the podcast hoping she might recognize the similarities, she said.
"I think in our culture everyone is obsessed with love," she said. "And when it comes to matters of the heart, people don't think logically, even when you have a third party stepping in and saying, 'hey, I need you to think about this logically,' you can't see it that way."
But it was not just Mattia that was skeptical of her mom's beau. Petrina's mother did not like Williamson either. Her mother would tell her she had a bad feeling about him, Petrina said.
Mattia knew about Williamson stealing the $3,000 from her mother around Christmas, she said. She was worried about her mother going on a trip, especially a cruise, where Williamson could have a chance to harm Petrina. In February, her grandmother approached Mattia and said Mattia's uncles looked into Williamson.
Her uncles could not find Williamson's law degree, but they did find three wives. Mattia knew about Stephanie but did not want to contact her, in case she was in on Williamson's schemes. She connected with Williamson's first wife, Teresa Seilhamer, by text. She found a landline phone number for Monica. She left a message.
Mattia contacted Monica again. When Monica picked up, she said she heard a young voice on the other line say she thought her mother was dating Monica's ex-husband.
Monica told Mattia everything and sent a picture of his mug shot, Monica said.
She warned Mattia not to let Williamson cook for her mother, Mattia said.
Mattia knew she had a limited amount of time. Williamson was planning to make Petrina his next wife. He was talking about a new house, vacations. She needed to get to her mother.
"Someone like Curt is a complete and utter [expletive] sociopath," she said.
By the middle of February, Petrina was beginning to suspect Williamson again. She thought he was back to trying to steal from her.
Her daughter had been afraid to tell her about the concerns the family had with Williamson. But now Petrina was ready to listen, to see if Tara's information confirmed her suspicions. Mattia told her mother about Williamson's ex-wives and what each of them had said. Petrina's brother had also reached out to say he was concerned about their safety.
"And he started to list all the other things I hadn't been able to put together," she said. "It was my two brothers and my daughter, actually, who got the missing pieces together for me."
Petrina contacted the ex-wives herself, she said. Tara Mattia and her uncles called the police.
On March 1, Petrina went to her parents' house. Williamson showed up, demanding to know why she was not at her house yet. She told him she spoke with his ex-wives and she was pressing charges for the money he had stolen from her.
"I kept yelling at him and cussing at him, basically, and he finally after about the third or fourth time I asked him for the key, he gave me the key," she said.
If he wanted to get his belongings, he could be accompanied by police, she told him. Police were on their way to her parents' house and hers.
Williamson got back in his SUV and sped off. Mattia went back to her house. She said he took some items from the kitchen.
She has not seen Williamson since March 1. She does not know where he is. Neither do his previous wives Teresa, Monica or Stephanie.
He vanished. He has stayed out of the lives of his ex-wives. He had not been seen for about a month until April 5 when Petrina got a call.
Williamson was in Hagerstown.
Staff writer Wyatt Massey contributed to the reporting of this article.