An issue many lawmakers in Annapolis have been deliberating about this session is how the state will pay for the Blueprint for Maryland's Future, otherwise known as the Kirwan plan.
Late last week, House Democrats introduced a bill that would eventually raise $2.6 billion by the middle of the 10-year K-12 education overhaul plan, The Frederick News-Post previously reported. It proposes broadening the sales tax to professional services, such as those of an accountant, barber or mechanic, while cutting the overall rate from 6 to 5 percent.
House Bill 1628's lead sponsor is House Majority Leader Eric Luedtke (D-Montgomery). Other major sponsors include Appropriations Committee Chair Maggie McIntosh (D-Baltimore), Ways and Means Committee Chair Anne Kaiser (D-Montgomery) and Economic Matters Chair Dereck Davis (D-Prince George's).
Luedtke said after Thursday's House session that the proposal is one of many options that will be considered to fund the Kirwan plan. He added, however, that it's the responsibility of lawmakers to have the difficult debate about whether to alter the sales tax.
Leading Republican lawmakers, however, including Gov. Larry Hogan, were heavily critical of it. Hogan said in a news briefing the sales tax plan would "destroy everything" his administration has done in five years to rebuild the state's economy.
Outside of how the plan would be funded, the split of state versus local/county share is one area lawmakers are also debating. According to the bill's fiscal note, Frederick County would not need to pay any more local money until an additional $10 million in fiscal 2030.
Some jurisdictions, however, face a greater hole. That includes Baltimore city, which would pay $162 million more in fiscal 2022 and jumps to $340 million by fiscal 2030.
Prince George's County also has to pay an additional $50 million in fiscal 2022, which jumps to $386 million more in funds by fiscal 2030.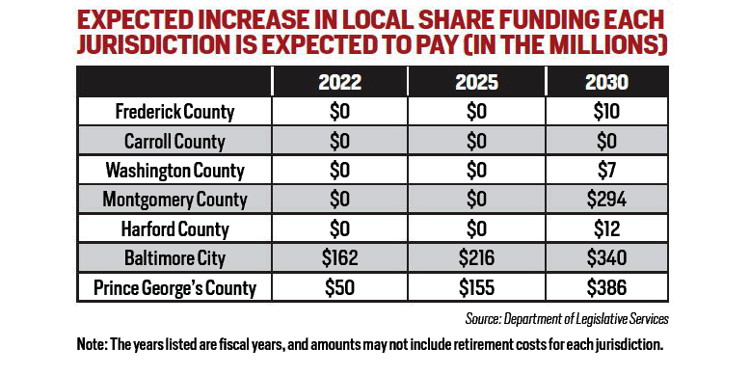 McIntosh, the House Appropriations chair, said earlier this month that the Kirwan Commission — when it adopted its recommendations — "unraveled" a key wealth equalization model statewide, which led to those discrepancies in local share between jurisdictions.
The Department of Legislative Services and other staff are also looking at how capacity might affect how much local jurisdictions have to contribute, McIntosh said.
"It's not just about wealth, it's about capacity. Do you and your jurisdiction have the capacity in your general funds to [pay] and the answer for Prince George's [County] and Baltimore city is no," McIntosh said of one aspect that's being examined.
Some lawmakers, at both the local and state level, have said their jurisdictions shouldn't have to "pick up the slack" or give up its state share for other jurisdictions. Several Democrats in leadership positions, including McIntosh and Luedtke, said they don't want that to occur.
But House Minority Leader Nic Kipke (R-Anne Arundel) had a different perspective.
"I'm not opposed to my county paying a little bit more to help kids in Baltimore city, for example, that are in failing schools," Kipke said. "However, it's a one-size-fits-all plan. … How about we bring more resources into areas that need it and in other areas, we have more flexibility?"
But his counterpart in the Statehouse's other chamber, Senate Minority Leader J.B. Jennings (R-Baltimore and Harford), disagreed. And Del. Jesse Pippy (R-Frederick and Carroll) also had concerns.
"I don't want the bill to cover those other jurisdictions on the backs of Frederick County residents," Pippy said. "So if you have a large jurisdiction and other jurisdictions who have not been paying their fair share, and they have a substantial cost, it's going to be the Frederick County residents that are paying for it, and that concerns me."
And outside of the current projections, revenue could change. Many economists have predicted a recession is looming.
Outside of that, Frederick County Council President M.C. Keegan-Ayer (D) said one of her main concerns is that the state does not push costs down to the local jurisdictions. She pointed to when that happened with teacher pensions funding or other post-employment benefits, or the OPEB, fund.
Council Vice President Michael Blue (R) understands Frederick County is in good shape right now, but he had a conservative approach to the entire 10-year plan.
"I would look at it as I'm one of those counties that's way behind, even though we're not," Blue said. "Because that's only short-term, I'm looking at the fourth year, fifth year all the way to the tenth year, where are we going to be?"
Senate President Emeritus Thomas V. Mike Miller Jr. (D-Prince George's, Charles and Calvert) said many options have been kicked around regarding funding. He's skeptical of taxes, including combined reporting — which could require corporations statewide to pay more in taxes if they conduct business outside Maryland — given how highly taxed Maryland already is.
But the Kirwan bill, and figuring out how to fund it, is why he is currently serving on the Senate Budget and Taxation Committee.
"I'm the oldest of 10 children. We all went to public schools. … We need to make it happen, it's the reason I came back, it's the reason I'm sitting in the back of the chamber rather than sitting at home, and we're going to make it happen," Miller said.