ANNAPOLIS — For Sen. Ron Young, childhood obesity is a real concern.
To combat that, he has filed a bill that would mandate 150 minutes a week of "developmentally appropriate, moderate-to-vigorous physical activity" for all elementary schoolers statewide.
The proposal, Senate Bill 542, is one Young (D-Frederick) believes should be implemented, as a core part of public education.
"I used to joke in school that all our phys ed instructors had bellies," he said earlier this week. "It's not a good sign, and I just think it's really important to get kids eating right and exercising."
Young's proposal is cross-filed in the House, and both bills have been heard in their respective education committees. Del. Karen Lewis Young (D-Frederick) and Del. Carol Krimm (D-Frederick) are local sponsors of the House legislation.
More specifically, his proposal calls for at least 90 minutes of physical education for elementary schoolers weekly, and then recess for the rest of the total 150 minutes.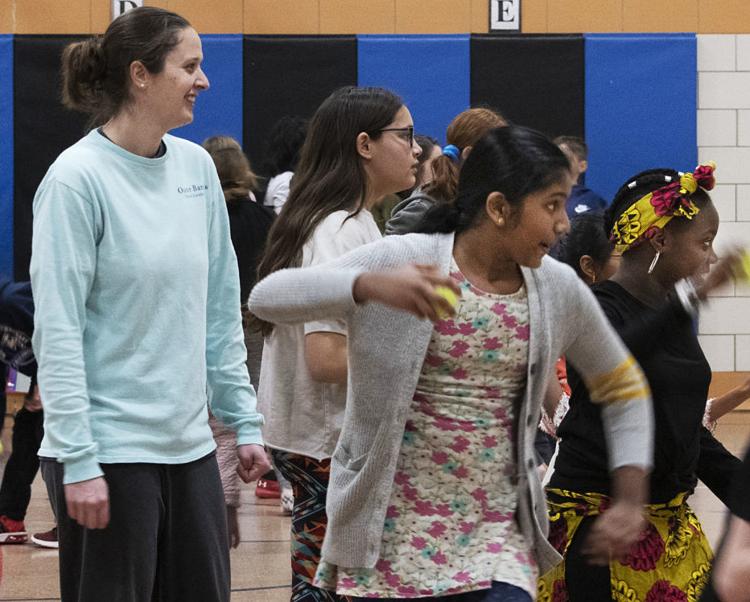 He believes his proposal isn't that difficult to accomplish, but some Frederick County school board members believe they already have a good policy in place.
According to that policy, under the FCPS Wellness section, elementary schoolers are required to have 80 minutes of physical education weekly, and 20 minutes of recess each day, preferably outdoors.
Board of Education President Brad Young said he hadn't read Sen. Young's proposal, but added that he and colleagues have discussed increasing recess time for elementary school students due to the importance of exercise and perhaps increased productivity for students in the classroom.
He added, however, that he believes the FCPS policy is a good one, and the power to govern should rest with an elected body.
"Generally, our stance is we're against the state mandating those types of requirements," Brad Young said of Ron Young's bill and similar proposals. "It's just if you're going to the extent of electing local school boards, you should let them run the school systems."
Board member Karen Yoho said if the bill became law, FCPS would be able to make slight tweaks in elementary schools to make up the difference.
But that's not true for every school statewide, Yoho added. Regardless, FCPS officials have been able to accomplish the intent of Sen. Young's bill without a state mandate.
"My entire teaching career from 1993-2018 there were two 40- or 45-minute scheduled PE classes per week," Yoho wrote in an email. "I can't remember how long the 20-minute recess has been in place, but, having done many a recess duty, it's been the practice of the schools I was at for as long as I can remember."
Aaron Vetter, who has been a physical education teacher at Lincoln Elementary School for about 18 years, said FCPS does a good job of incorporating physical education and recess time for elementary schoolers.
He added, however, that he wouldn't mind Sen. Young's bill becoming law — as the need for physical education is prevalent statewide.
No matter what occurs with Sen. Young's bill, the intent of it is supported by local organizations that work with youth.
Lisa McDonald, executive director of the Boys & Girls Club of Frederick County, declined to comment on the legislation, but noted that one of her organization's "core impact areas is healthy habits."
According to the Boys & Girls Clubs of America's national website, that area is "designed to incorporate healthy living and active learning in every part of the Club experience."
Ken Oldham, CEO of the United Way of Frederick County, said physical activity for everyone, including elementary schoolers, is important to healthy living.
That becomes difficult with Asset Limited, Income Constrained, Employed (ALICE) households in the county, which might face barriers to extracurricular activities outside of school, either because of no transportation or an inability to pay registration fees, Oldham said.
"I maintain that physical education is incredibly important in the school for many, many reasons. … They may not have access to exercise outside the walls of school," he said of elementary schoolers.
Vetter, the physical education teacher at Lincoln Elementary, also serves as executive director of City Youth Matrix. That group is a nonprofit serving several families countywide, connecting kids to extracurricular activities and physical exercise outside of school.
Physical education in school is important, Vetter said, because it's "planting the seed" for healthy habits outside those buildings.
"These kids need to find ways that they can have an outlet to apply a lot of the skills they're leaning during the school day in settings where they can be uninhibited a little bit more. … Beyond the school day, these kids, we're increasingly in a tech-immersed society and the screen time is overwhelming," Vetter said.
Besides that, fighting childhood obesity is also a focus of the bill, Ron Young said.
According to data from the State of Childhood Obesity website, the obesity rate from children aged 10 to 17 in Maryland dropped from 2016-18, from 16.9 to 14.5 percent. The state ranks 24th highest, according to 2018 data among all 50 states and Washington, D.C.
The obesity rate for high school students, however, has remained fairly level between 2005-17, beginning and ending at 12.6 percent. That puts the state at the 31st highest among 43 states, according to 2017 data.
Sen. Michael Hough (R-Frederick and Carroll) said while he hasn't read his colleague's bill, he understands the concerns Yoho and others have about state mandates on local school systems. He also believes, however, that childhood obesity is an important issue.
"I'm raising kids, and you're constantly trying to kick them off their devices and go outside and play," Hough said. "Raising kids now is different in that when I was a kid, your mom was trying to drag you in the house, where now, your parents are trying to push you out to do stuff, and be active. … There's credence to the bill."
Regarding concerns about a state mandate versus local control, Sen. Young replied: "Should we mandate education? Physical education is part of what education is all about. Having healthy food in school and teaching kids to exercise and the importance of it leads to, just, good things. ... It's teaching them exercise is important, through when they get out of school."