Bruce Williams is no longer chained to his laptop the moment he walks through his front door, waiting for the phone to ring at all hours.
It's one of the surest signs of how far COVID-19 testing has come over the past year and where it might be headed in the months to come.
Williams is the director of Laboratory Services at Frederick Health Hospital. Since the pandemic started, he has helped to oversee and manage a testing process that was once maddeningly slow and inefficient — limited access, supply shortages, long wait times for results — and is now much more streamlined and user-friendly — easy access, short wait times, same-day results.
His laptop provides him an up-to-the-minute window of what is going on inside the hospital's microbiology lab. In real time, he knows how many testing samples the lab has, how many are in the queue to be processed and how many are being processed.
The reason why he was glued to the screen the moment he arrived home is because, inevitably throughout the early stages of the pandemic and during this most recent surge of the novel coronavirus, "I get phone calls at 3 o'clock in the morning asking, 'Where is my result?'" Williams said.
It's a question he is answering a lot less these days because, with ongoing vaccinations and fewer occasions for people to gather formally at the moment, the demand for COVID-19 testing has plummeted. With a light rain falling Thursday morning, there was a short line of cars waiting at the drive-thru testing site at the Frederick Health Village off of Monocacy Boulevard as it celebrated its one-year anniversary of being operational. A few months earlier, during the height of the fall surge, the line stretched around most of the turns on the expansive property. At its peak, the drive-thru testing site was administering roughly 7,000 tests per week, according to Sara Littleton, the director of Community Health for Frederick Health Hospital. On some days, more than 800 cars would roll through the tent.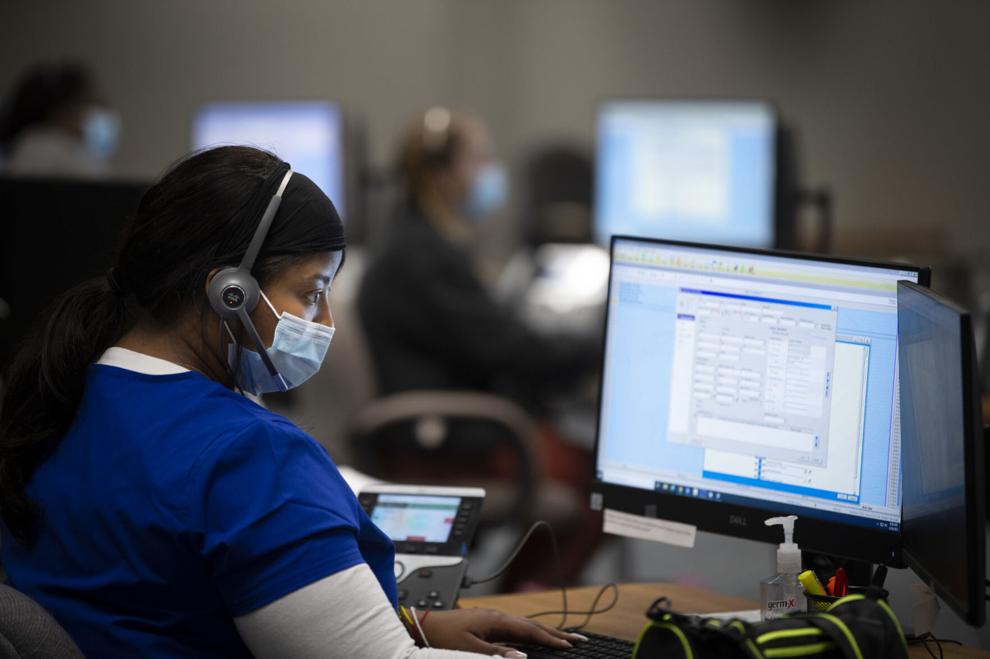 Now, Littleton said the drive-thru is performing about 2,000 tests per week, and the average daily number of cars has dipped to between 200 and 300. The site still operates seven days per week. But the hours it operates have been reduced from six to four hours a day.
"It's hard to say definitively why the numbers have dropped," Littleton said.
She concedes the vaccines and the passage of the holiday season might be driving factors, but adds, "It's really hard to pinpoint trends. There is no rhyme or reason to it."
The Frederick County Health Department said it is performing about 50 tests per day, down from its peak of 150 per day right around Thanksgiving.
The health department does its testing separately from the hospital and sends its samples to an independent lab for processing. Frederick Health Hospital, meanwhile, does all of its own testing and processing in-house.
While testing has lost its place in the national conversation, it remains the best tool to find the coronavirus where it is, and its place in everyday life for the foreseeable future seems secure.
Schools and businesses will still use it to detect cases and prevent possible outbreaks. Individuals who have yet to be vaccinated or travel for work or pleasure will still want to know their status.
"We are going to be doing testing for a while," Williams said. "I don't think it's ever going to go away."
Ramped up capacity
One year into the pandemic, Frederick Health Hospital alone has conducted more than 130,000 coronavirus tests.
"What I found remarkable about this last year is nobody ever said no," Littleton said. "No request seemed over the top. It was, 'Let's see how we can make this happen. Let's see what we can do.'"
Within days of the first case being diagnosed in Frederick County, the hospital had a drive-thru testing site running across the way from its main campus. That would eliminate the need for people to enter buildings and cross paths.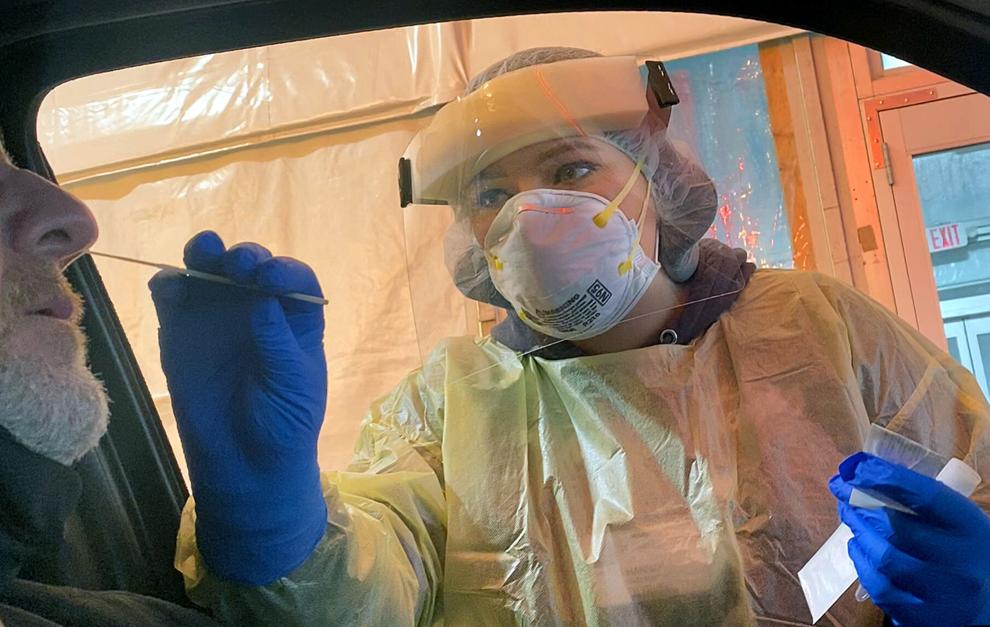 Williams was working the phones, speaking with vendors he had never heard of in order to acquire more supplies, such as personal protective equipment for staff and FDA approved cotton swabs and reagents for tests.
In the initial phase of the pandemic, only people showing symptoms could receive a test. But once the federal government dropped that requirement, the hospital knew it would have to expand capacity quickly.
More people getting tested would lead to a backlog in processing tests. A backlog in processing tests would lead to a longer wait time for results. And a longer wait time for results meant it would be easier for asymptomatic people to spread the virus without knowing it.
"From Day One, what put more gray hair on my head than anything was turnaround time [for results]," Williams said.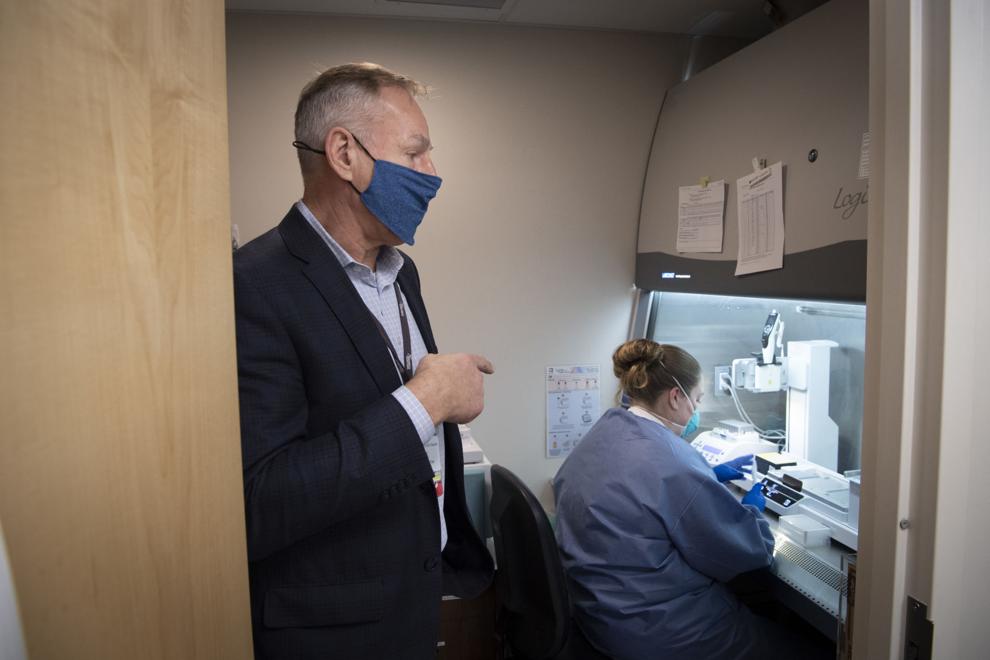 Last spring, Frederick Health turned to new employee Stacie Ellenbecker to help set up a molecular laboratory that would allow it to move the entire testing process in-house and eliminate the need to rely on overwhelmed outside labs to process results.
Ellenbecker had studied forensics at West Virginia University before realizing her calling was in microbiology.
"I liked to see the stuff growing," she said.
Ellenbecker's expertise in the subject and her willingness to accept challenges and work long hours made her ideally suited to stand up the molecular lab. By June, it was up and running, and Frederick Health was running an independent testing program.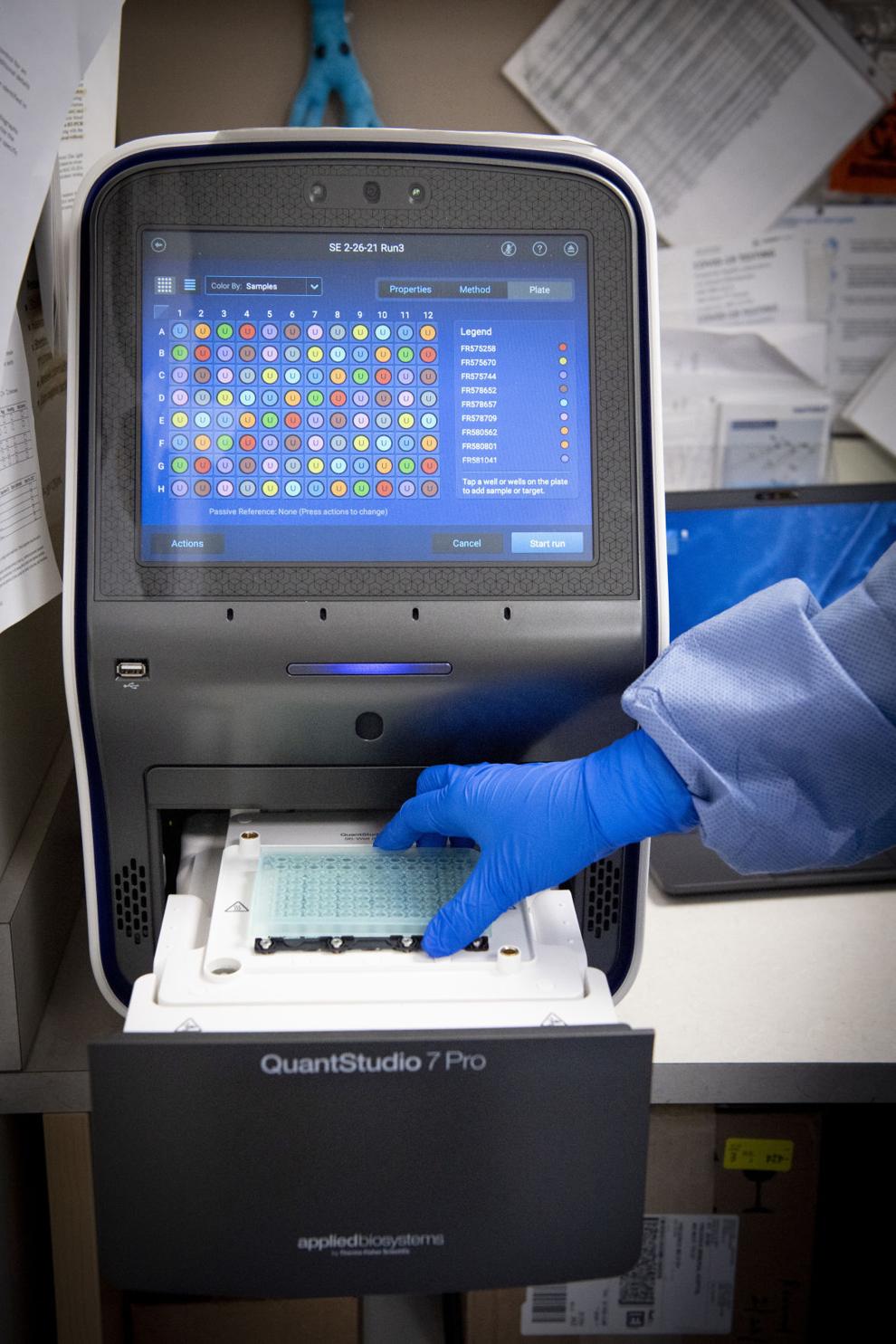 "Stacie is good," Williams said. "She was doing 1,500 samples a day. If someone had told me a year ago that you'd be doing 1,500 molecular samples in a day, I would have said it was impossible. It's not within the realm of possibilities. But here she was doing it every single day."
It was possible because the hospital made a considerable investment in the molecular lab, spending hundreds of thousands of dollars on equipment that would allow it to process a higher volume of tests in a shorter span of time.
"A typical molecular laboratory might do 40 samples a day. One hundred would be a lot," Williams said. "Here, we are doing 800."
With a fall surge of cases looming, Frederick Health realized there would be greater demand on its drive-thru testing site. So, it moved it out to the Frederick Health Village on Monocacy Boulevard, which could easily accommodate a higher volume of cars on the expansive property.
"Everyone that has been a part of [drive-thru], both directly and indirectly, stepped up their game completely," said Tyler Silverman, the COVID-19 screening tent supervisor. "Everyone from the IT department to the technicians being out there in 90 degree weather in PPE. Being out there on your feet, nonstop every day, it shows their resilience."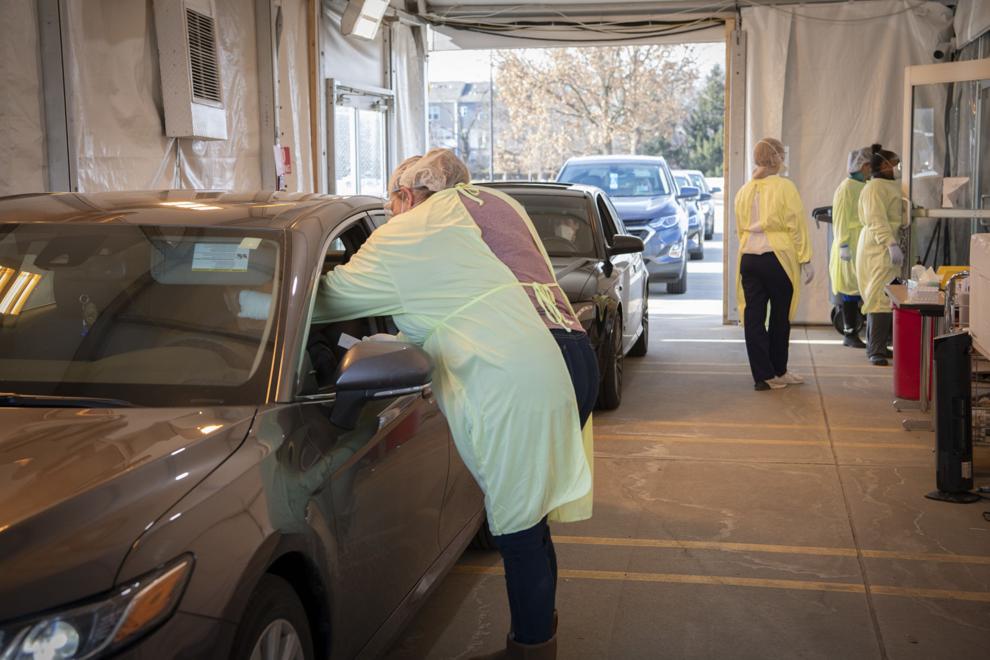 Littleton added, "I can't emphasize enough that it's just not a normal environment. No nurse expects to be standing outside in freezing cold temperatures or high winds or rain or snow. We have been open every day for the past year except for maybe a dozen days where we couldn't operate due to holidays or something else."
She continued, "The staff come and do it every day. There are no complaints. There is a sense of being able to be in the community and contribute something to it."
So, what will the future of testing look like? Littleton says it's too soon to say.
She said there are no plans to change the operation of the drive-thru site. But, if demand for testing continues to decline, she said tweaks could be made such as reducing hours or operating it on fewer days.
The success of the testing site, made possible by the strong synchrony between departments and an organizational willingness to do whatever it takes, has prompted Frederick Health to examine other areas of its day-to-day operation.
"It's hard to say there have been positives to come out of COVID," she said. "But it's forced us to be innovative and to change rapidly and to do things a lot differently than we thought we could do them. So, I think those questions are out there for us to look at to see what the future looks like. How can we continue to innovate the care we deliver for our patients?"