The secretary of the Army visited Fort Detrick on Thursday in order to learn more about the work being done to combat COVID-19.
In a biosafety level 3 laboratory, a scientist with the U.S. Army Medical Research Institute of Infectious Diseases worked with a sample of a new coronavirus, officially called SARS-CoV-2.
USAMRIID received a sample of the virus from the Centers for Disease Control and Prevention, said Kathleen Gibson, chief of the Core Laboratory Services Division at USAMRIID.
Researchers at the laboratory are cultivating the virus in order to have enough for future tests and other needs. That can include making sure a test result is correct. At USAMRIID, the virus is multiplied, purified and then divided among projects, Gibson said.
USAMRIID is part of the Laboratory Response Network, which means it can test samples in a diagnostic capacity, she said.
USAMRIID and the U.S. Army Medical Research and Development Command, which oversees the laboratory, are two tools in the fight against COVID-19, an "extraordinary challenge," said Secretary of the Army Ryan McCarthy at a press conference after his tour.
There will be an infusion of funding for the Army to help address COVID-19, McCarthy said.
Some of that money will likely go toward research conducted at USAMRIID and other units under USAMRDC, such as the Walter Reed Army Institute of Research.
"The heroes in this fight are going to be some of the people we saw today," said Gen. James C. McConville, Army chief of staff.
While there was an infusion of funding going toward COVID-19, and USAMRDC will receive some, $104 million in funding is still being withheld from USAMRIID and the U.S. Army Research Institute of Chemical Defense at Aberdeen Proving Ground, said Brig. Gen. Michael Talley, USAMRDC commander.
USAMRDC is working to have the funding released, Talley said. But in terms of funding to address SARS-CoV-2 research, they are fine, he said.
The coronavirus is handled in a biosafety level three laboratory requires researchers to don a gown, face shield and an n95 respirator mask. It is a step down from the highest biosafety level, BSL 4, where pathogens such as Ebola are studied. Still, most people would not encounter a BSL 3 laboratory.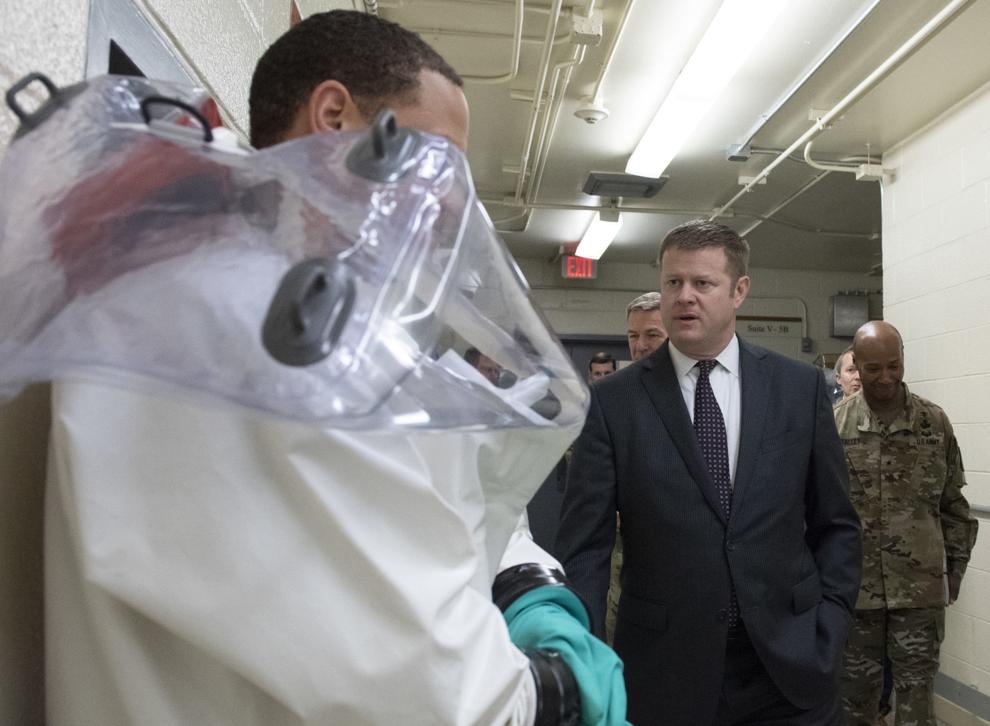 And BSL 3 and BSL 4 work was halted for some time at USAMRIID after the CDC found lapses in biosecurity. Since then, the CDC has visited twice, Talley said, each time allowing more work.
'That's continuing to be a gradual process back to full operations capabilities, if you will," he said.
SARS-CoV-2 is not a select agent, which falls under the Federal Select Agent Program overseen by the CDC, Talley said, which means it does not fall under the same restrictions as other pathogens, such as Ebola, which is a select agent.
"In fact, when it was known that USAMRIID would be involved, the first phone call with the CDC, they assured me, 'No, we absolutely need USAMRIID's help on this,' like they had with other responses," Talley said.
COVID-19 and Fort DetrickFort Detrick is operating at Forced Health Protection Code Bravo, while taking Code Charlie measures, Talley said. That means they are using maximum distance and maximum telework.
Fort Detrick is still open, although its gym is not, Talley said.
There were soldiers who came back from areas with COVID-19 cases that were quarantined, Talley said, and measures are in place if anyone in Fort Detrick housing tests positive for the disease.