The first two times Julius Michael Dunn appeared for bail hearings, a district court commissioner and then a judge declined, keeping him in the Frederick County Adult Detention Center.
Dunn allegedly strangled a woman who was holding an 8-month-old infant while threatening to kill both her and the baby during a domestic assault Feb. 28. The seriousness of the charges and the alleged violence involved were both cited in the most recent denial March 2.
However, during a third appearance Wednesday, Dunn's attorney, Elizabeth Jung, presented a slightly different argument, telling Judge Earl Bartgis Jr., among other points, that Dunn was being treated unfairly due to an order issued March 13 from Chief Judge Mary Ellen Barbera, of the Maryland Court of Appeals. That order closed most court facilities to the public and suspended a majority of cases until at least April 3 due to concerns over the spread of the novel coronavirus.
As a result, Dunn's preliminary hearing, originally set for March 24, was postponed until at least April 22, according to court records.
"I do understand the measures the court has had to take due to the outbreak, but it's honestly prejudicial against my client," Jung said in her arguments, which also included recommending Bartgis agreeing to release Dunn on a $10,000 unsecured personal bail meaning Dunn will not have to pay anything unless he fails to appear for subsequent hearings — with strict penalties if Dunn contacts the alleged victim, goes near her residence or leaves his home without first notifying his parole supervisors where he is going and why.
Jung also secured a pre-trial release service to track Dunn using an ankle monitor to further hold him accountable to the terms.
By the end of the hearing, Bartgis not only agreed to Jung's terms, he also agreed to release Aimee Nicole Seals — also charged with first-degree assault just the night before in a separate incident after allegedly stabbing a man with a pair of scissors — on similar conditions.
While Bartgis offered little commentary from the bench regarding what motivated his decisions Wednesday, the deputies standing guard under a tarp in front of the building, the largely quiet and empty floors and the assistant state's attorney participating in the bail review hearing via speakerphone all showed the novel coronavirus is having a serious impact on local court proceedings.
A jail outbreak
Jung's arguments underscored another concern for people who find themselves behind bars during the public health crisis: What if the virus gets into the jail?
Sheriff Chuck Jenkins, whose agency runs the Frederick County Adult Detention Center, said he was not concerned about an outbreak of COVID-19 in the detention center while speaking at a press conference Wednesday, saying the facility had taken measures to prevent such an event and stressing his confidence in the medical team he contracts with to address further concerns.
"The population is safe, secure, at this point we have no suspicion that there's been any exposure," Jenkins said, pointing out that many of those in the jail had been there for some time before the virus arrived in the country. "... They're probably safer than the folks on the streets to be honest with you. And you know what? [Jail] could be the safest place to be right now."
All incoming detainees are screened at central booking before coming into the jail and, if someone does have symptoms, they will not go into the jail, Jenkins said, saying that the agency would "take other actions." If a person becomes symptomatic or needs to be held, they can be placed in isolation, he added.
Mary Riley, the head public defender for Frederick County, said those measures aren't enough. She said individuals could be asymptomatic when they go into jail and infect others before the symptoms appear. That could be a death sentence for many of her more vulnerable clients, she said in an email.
"Locking people up does not contain the spread of germs, but instead creates conditions where the virus will spread even more rapidly," Riley stated
Riley said her office was advocating for releasing all individuals serving low level, nonviolent offenses, as well as for those inmates who are elderly or infirm, citing a letter sent to state judges by the Maryland State Medical Society outlining a similar request with the same reasoning for juvenile offenders held in juvenile detention facilities.
Such a move would be greatly appreciated by Mike Koob, who has a loved one currently serving time for nonviolent offenses in the Frederick County Adult Detention Center.
"I talked to her this morning and she's reporting to me, and her words were, "We're in overload over here … we're full, we're on overload,' She said there are people sleeping in the hall in her block," Koob said Thursday. He expressed fears so many people living so close together could put his relative, who has asthma, at risk of contracting the novel coronavirus, which can cause respiratory problems. Jenkins refuted those comments saying the jail is under capacity.
While the parole board had approved releasing Koob's relative if he was able to secure her placement in an addiction recovery home — which he recently did — Koob was worried if it is still possible given how few court hearings are taking place now that the virus has reached pandemic proportions.
"If they can justify releasing people, then they should look at doing that," Koob said of state court systems.
Koob may be justified in his concern. When reached for further comment, Jung confirmed several of her clients who had been scheduled to be transported from the jail to treatment centers were denied by the detention center. Part of the sheriff's office's plans to address the virus from spreading was to suspend all transports, according to Jenkins' statements Wednesday.
"I believe everyone is trying to do what is best for safety, but it has certainly affected inmates. ... It is unfortunate because I have spoken to one treatment center directly who was willing to take [an] inmate despite the state we are in — but I couldn't make that happen due to the jail not transporting," Jung wrote in an email response to The News-Post's questions Friday.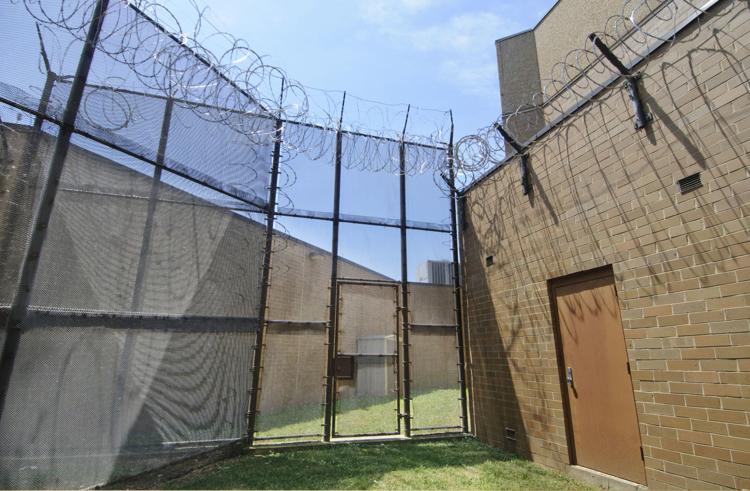 Another take
While the decision over whether or not to release certain inmates from detention centers is not his call, Jenkins said he would oppose any such measure.
"That is not my decision to make, it's the decision of the judge, however I don't recommend it, I would not advocate for it and I think it would send the wrong message," Jenkins said when reached for comment Friday.
The sheriff reiterated the safety precautions undertaken at the facility and said the capacity at the jail was also not a concern, flatly denying what Book heard from his relative in one of the women's blocks.
"It is true, [that block] is full, but inmates sleeping in the hallways is absolutely not true, there is one female who is not in a cell, but is on a bunk in the day room in the cell block, not in the hallway," Jenkins said. "We are well under capacity and we are not overcrowded in any of the blocks and there is no one sleeping in any of the hallways."
Frederick County State's Attorney Charlie Smith also cited the prison's cleanliness and preparedness for weathering the pandemic in an email response to The News-Post's questions on Friday, stating that he had just been to the detention center earlier that day.
Smith contested Riley's advice regarding releasing older and infirm individuals from the detention center, as well as people charged with or serving time for lower level, nonviolent offenses.
"The release of all infirm or age 60-plus murderers, rapists and child molesters is insane. Like that is going to make them or our community safer?" Smith's statement reads in part. "The bottom line is that if a defendant was found to be a threat to public safety and [is] therefore incarcerated, the advent of COVID-19 does not now make that person less of a threat."
Tough choices
The unfairness of a trial or case postponement was only one concern expressed by Riley and others, the other being with the court's decision to allow clients who are offered sentences of time served — meaning they would be released immediately — if they agree to plead guilty.
"For those who have that option available, this creates tremendous pressure to plead guilty," Riley stated. "[But] it is currently [those clients'] only way of practicing the health measures that we have all been instructed to follow. Absent isolation, social distancing is virtually impossible in the jail setting."
Jason Shoemaker, a private defense attorney practicing in Frederick County, said he could think of several examples of his own cases where a positive trial outlook has turned into his clients considering previous offers prosecutors made that were dismissed. Defense attorneys also can't assure their clients that come April 3, the chief judge won't extend the lockdown, given a potential spike in COVID-19 cases, Shoemaker said.
Shoemaker proposed a scenario where a person facing a maximum possible sentence of 18 months and who has been detained for a majority of that time awaiting trial. If that trial was suddenly postponed due the judge's order, that individual might be tempted to reconsider taking a plea — even if they are innocent and have a good chance of winning at trial — in order to get out of jail.
"So now there's a plea offer on the table for 18 months that we may have never even considered accepting before that we're now taking another look at," Shoemaker said.
Smith also objected to these arguments.
"Most likely, an offer for time served is for someone currently incarcerated, so they are getting out of jail—a place that currently has no incidents of COVID-19," Smith's response reads. "One could argue that they would be more fearful transitioning back into the community where they are at a much higher risk of contracting the virus."
Whatever the courts decide on the issues, all parties were in agreement in hoping for a relatively swift return to normalcy, rather than a longer, drawn-out process involving more and more infections and risk. In the meantime, absent a revised order, there isn't much local systems courts can do.
"All I can tell anybody for the next week and a half is that we're in a holding pattern," Shoemaker said.