Families across Frederick County have been forced to figure out ways to address child care needs as schools remain shut down due to the coronavirus.
Some parents, if considered essential employees, have had to call on family members or baby sitters to watch their young children, while others, though lucky enough to be at home, have had to juggle teleworking and keeping an eye on their kids.
"Fortunately, with my job, I can work from home ... but it's still hard because they both need quite a bit of attention," Lucy Mullineaux said of having her two sons at home from school.
Her older son, who is 7 years old, attends Walkersville Elementary and her younger son is in prekindergarten at Hillcrest Elementary.
Mullineaux began working from home a day before it was announced that schools were to be closed. She immediately put a routine in place to make sure her sons adapted well to being home.
"They've done a really great job, actually, kind of going with the flow," Mullineaux said. "I've said OK, mornings are for the kids and afternoons are for Mommy to work. And that's kind of how it's going to have to be at the moment."
She worries about the long term, though, if school closures continue past the original two weeks.
"I'm concerned that my 7-year-old will have a really hard time focusing. ... That will be really difficult, I think, for him. So, I sort of feel like we'll take it day by day if that's what happens," she said.
Her 4-year-old son has epilepsy and some developmental delays. He receives therapeutic services from his pre-K, and Mullineaux said she is unsure how she herself would be able to sustain those needs in the long term.
"I have no idea how I'm going to handle that one, because it's just very much not my skill set," she said.
Although Melissa Conner doesn't have children in the public school system, she feels that she's in a similar but unique situation.
Her 4-year-old son attends the Carl and Norma Miller Children's Center at Frederick Community College. The Children's Center closed when the campus closed, despite many other day care centers around the state remaining open.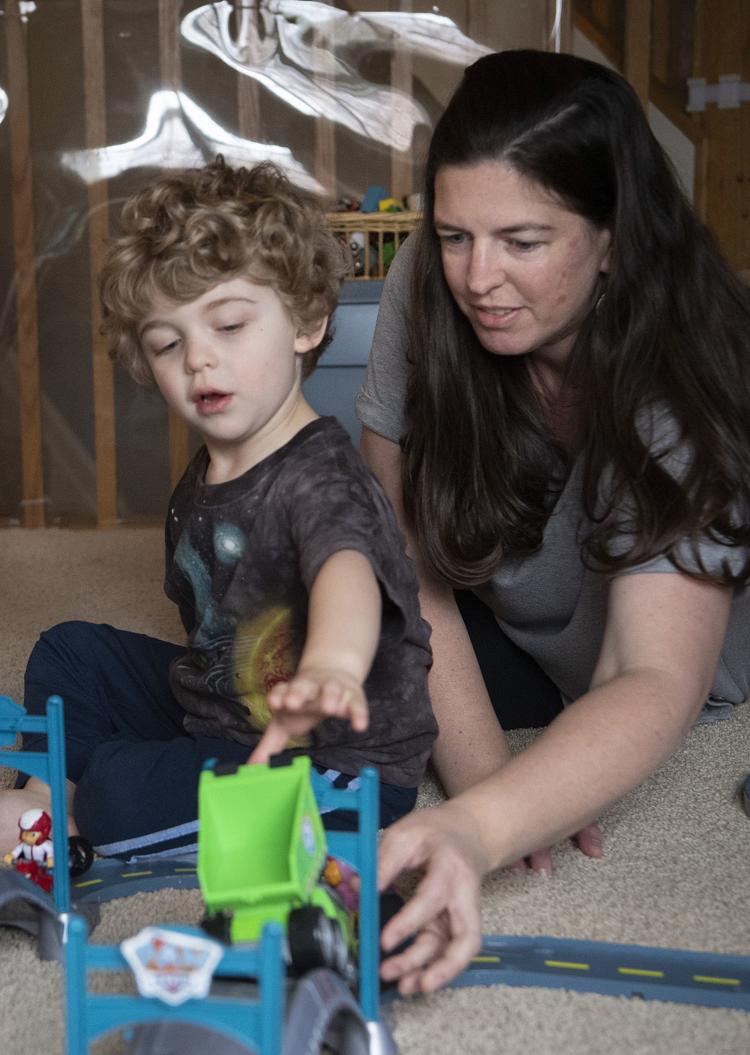 According to Caroline Cole, communications manager for FCC, the center will be closed for the rest of the semester, while the college continues to be shut down.
Cole said in an email that the Children's Center has always followed college policies and decisions regarding closures, and that keeping it closed for the next few months protects the health and safety of the children as well as stopping the spread of the virus.
"We understand this is a challenge for families who still need to work, but given the mandates and recommendations from Gov. Larry Hogan, as well as guidance from the Frederick County Health Department and other leading health agencies, we know this is the best decision at this time," she said.
Although Conner and her husband are working from home, she said it's tough trying to work and take care of a toddler who needs almost constant attention.
"At this age, they are not quite old enough to just give them some work and have them be left alone for hours at a time," Conner said. "So while I'm grateful to have a job with work flexibility and being able to work remotely, it has been a challenge because I can't work remotely with the care responsibilities on top of that."
Conner is an hourly employee and said that if she does not put in the hours, regardless of whether they are done remotely or not, she doesn't get paid. She said she and her husband are coming to realize that they will have to give up one income in order to continue caring for their son at home.
"Even if I were to quit [my job], the extended rules for unemployment [benefits] don't apply for lack of child care. It's only if you're laid off," Conner said. "So it's kind of a bad situation, because I am not able to get the financial assistance that might otherwise be available, but I'm also not able to work."
And with FCC announcing Monday that the campus will remain closed for the remainder of the semester, Conner said she is facing the reality of no child care for at least two months and has no idea what she will do.
"I'm kind of just hoping that leadership at some level will come up with some kind of action plan or resource around the child care question," she said.
The Maryland State Department of Education announced at the start of school closings that child care plans were being put in place for children whose parents were medical professionals or emergency responders. However, the intricacies of those plans have yet to be announced and do not include people like Conner.
Despite these setbacks, though, Conner said she is trying to make sure her son receives academic stimulation.
"I'm trying to continue giving him some activities and not just dump him in front of the screen," she said. "But it is a full-time job, and at least every other activity I have to be involved in or he kind of wanders off. So, you know, we're doing the best we can."
Mullineaux said she has come up with an activity where her sons research a new topic each day, through which she tries to incorporate all the subjects: reading, math, science, etc.
Both mothers said they're trying to make sure their children have everything they need.
For Conner, that includes setting up Skype sessions for her son with his friends to ease some of the anxiety and stress he's feeling about not being in a familiar routine.
"He gets very excited and it's absolutely adorable watching toddlers Skype ... but you can tell things are just off. His eating is off, his napping, his sleeping," Conner said. "And I don't know if that's going to get better or worse as this continues."
While the Children's Center remains closed, Cole said resources are available to families who may still need child care, including free referrals through the Maryland Family Network. And families whose children attended the Children's Center will not be charged for the weeks it is closed. Full-time teachers will still be paid through the end of the semester.