Tucked inside a small laboratory in the Pegasus Court corporate center near Frederick, Vanessa Marcel examined various viruses, working with them in test tubes and seeing which forms of material help block them from spreading.
That work hopefully will lead to knowing what materials might work best at blocking the spread of the novel coronavirus in face masks.
"It's very important work to be a part of, finding solutions for this pandemic ... when you get the results, and they work, you're happy," Marcel said.
Marcel works as part of the team at Integrated Pharma Services, the recipient of a $100,000 state grant earlier this year to help begin mask production during the coronavirus pandemic.
Kelly Schulz, Maryland's Secretary of Commerce, received a tour Friday of the lab and learned about Integrated Pharma's efforts from President and Chief Science Officer Mina Izadjoo and her husband Parviz, who works in Montgomery County but has helped as the company aims to begin producing masks in October.
Before the pandemic, Mina Izadjoo was studying what materials and new technologies might be effective in masks, and help block viruses like the coronavirus. They weren't thinking about manufacturing them.
But when the pandemic hit, they saw a need. The challenge was just raising the funding.
She and Parviz invested about $200,000 of their own money in start-up costs — machinery, space and materials to make the masks. But the state grant, which Schulz said came out of a $5 million COVID-19 Emergency Relief Manufacturing Fund, was crucial to starting the production of masks, Mina said.
"Manufacturing, we never thought of it because it was out of reach. The grant was a jumpstart for us," Mina said. "We started buying the machinery that was needed, and storing material for manufacturing masks. And I have to say, we're so dedicated, and we believe in this."
Making masks in Maryland is important, Mina and Parviz said, because there aren't many U.S. manufacturers of them, outside of 3M.
"That was a vacuum that the state governor's office realized, that there's a big gap in U.S. manufacturers," Parviz said. "That's why I believe the governor is supporting people like this, to make masks."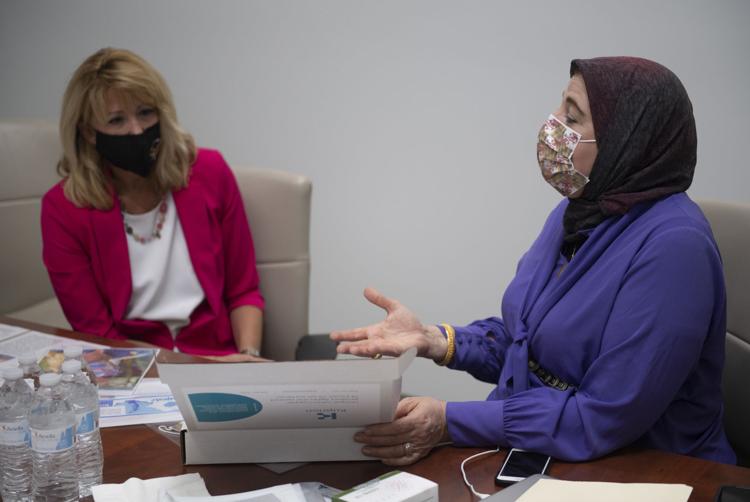 Other companies that make masks, like in China, might be able to sell them for cheap, he added. But Integrated will be a company that makes masks in the U.S., a key selling point once they start production this fall.
Mina said they are planning on signing a lease for a 7,000-square-foot space either in Frederick County or Montgomery County soon, and then produce up to 200 masks a minute and up to 4 million per month, at the beginning of production.
Along with the fact that their masks will be made in Maryland, they will also be able to use new technologies, whether it is nanotechnologies or electroceutical technology.
"Regular blue masks, a lot of people can make them or buy them for pennies from China ... [or] outside the U.S.," Mina said. "But there is no custom manufacturing, so all these new technologies that are coming, someone has to manufacture [those]."
Schulz commended Mina and Parviz's efforts during a sit-down meeting, and said afterward that before March, no one in her office was really thinking about PPE and other coronavirus related needs statewide.
She lauded her staff and other state employees, who had to sort through roughly 30,000 applications from businesses for grant and loan assistance from her department earlier this year.
Those were awarded within just a few weeks, but 150 additional state employees needed to be transferred to her department to help process the applications.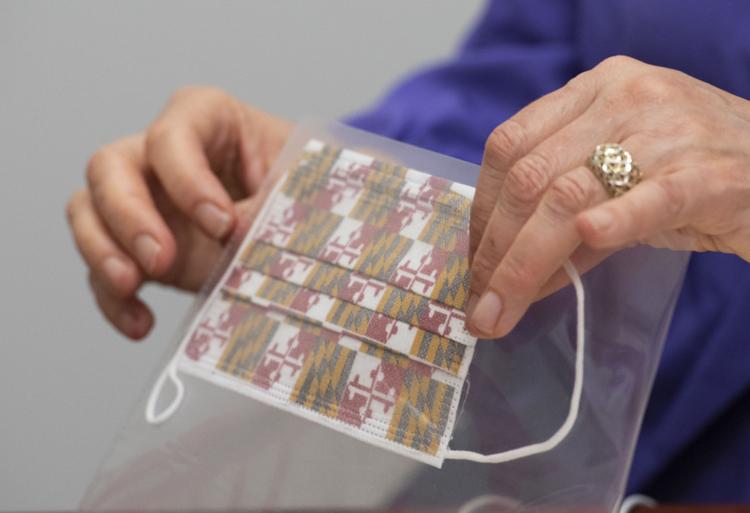 "We were building the airplane while we were in flight," Schulz said of the process.
There are still many questions businesses statewide ask of her office, including how to safely reopen amid a pandemic, what role they have in contact tracing and ensuring employees feel comfortable re-entering the workforce.
And then, there's the question of if more funds will be allocated to states from Congress. The U.S. Senate recently adjourned until September without another coronavirus relief bill.
Schulz said she and staff are monitoring what happens in Washington, D.C., but added it was "completely disappointing" that the Senate and House couldn't pass a bill, given the needs of businesses in the state.
For now, companies like Integrated Pharma play a key role in helping prevent the spread of the coronavirus and reopening Maryland's economy completely. And Mina thinks, because of how viruses change, masks might be around for longer than some may think.
"Hopefully with this new manufacturing in the U.S., we won't face this again," she said regarding PPE shortages earlier this year. "I think it's going to be a cultural change, I think we're going to be using them for a long time ... A vaccine is a good idea but we also have to be careful because the virus has already mutated."