Cars lined up outside the urgent care and medical offices on Toll House Avenue.
First, the cars pulled up to a yellow tent, where by phone, drivers or passengers answered screening questions. If they met screening criteria, they advanced to the next stage.
As each car pulled up, a health care professional, clad in a gown, goggles and an N95 mask, came out and swabbed the nose of the driver or passenger.
This is what drive-through testing looked like in Frederick County on Wednesday.
Frederick Health Hospital has started offering drive-through testing for COVID-19, a disease caused by the new coronavirus. The hospital started on Wednesday with a soft launch for the testing, which is set up across the street from the hospital.
The dry run went "beautifully," said Dr. Manny Casiano, the hospital's chief medical officer.
Not everyone can be tested, Casiano said. People need a doctor's referral for the test, and they need to meet testing criteria, which includes having symptoms such as shortness of breath, fever and cough, as well as travel history, contact with someone with COVID-19 or being at risk due to age or a chronic health condition.
While the hospital is offering testing, materials are limited, which means it cannot test everyone, even though hospital administrators wish they could. People with concerns but no symptoms will be turned away, Casiano said.
When people drive through the testing line, they will be screened, by phone, by an employee using the screening questions. Those who pass the criteria will move to the testing portion. Those who don't will be directed out of the parking lot.
The hospital sent criteria to doctor's offices so that they won't refer people who do not meet the criteria, Casiano said. The last thing he wants is for people to wait 30 minutes or an hour and then be turned away.
"We don't want to waste people's time and get people upset, obviously," Casiano said.
Those who go for the testing will roll down their windows to receive a collection kit. The health care professional swabs their nose. With that sample, the hospital will be able to test for two types of influenza strains and another respiratory disease, known as respiratory syncytial virus.
Those three tests can be done at the laboratory at Frederick Health Hospital, which means results can come back within a day. If the person is negative for those three tests, the hospital will send the sample to Quest Diagnostics, which will test it for COVID-19. It will take three to five days to find out the results, Casiano said.
The hospital does not need to take a separate swab for each of the tests, he said.
"You get everything for one swab," Casiano said. "It's a miserable swab, but it's everything for one."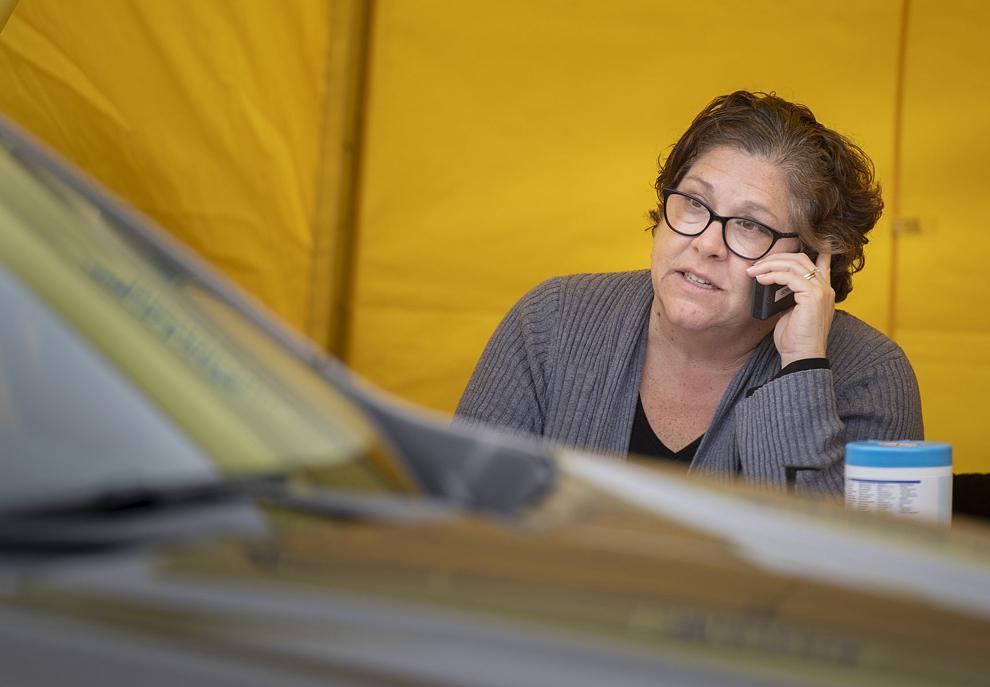 After the swabbing is done, patients are sent home with information about making follow-up appointments, if positive for the flu or RSV, and about self-isolating to prevent the spread of any of the diseases.
While awaiting test results, people are urged to self-isolate.
If someone tests positive for COVID-19 and feels short of breath or has an emergency, they should call 911 or go to the emergency department. Those people should call ahead to let the hospital know they tested positive for the disease, according to the handout.
The hospital will offer drive-through testing from 9 a.m. to 3 p.m., which Casiano admits is limited. Hours will depend on the hospital's supply, he said.
The hospital has a limited number of sample collection kits — about 600. The hospital uses about 40 to 60 a day and plans on using 40 to 50 each day for the drive-through testing, which will allow them to run the testing at the hospital and drive-through site for about a week, Casiano said.
If collection kits run low, they'll have to stop or shorten the hours for drive-through testing, he said. That decision will be made on a day-to-day basis. If the hospital gets more supplies, they can expand hours.
The hospital cannot test the kits itself, as it does not have the materials needed to test them, Casiano said. That's why samples will be sent to Quest.
The tests do not cost patients anything, Casiano said. They do cost the hospital something, but Casiano said he is not worried about that.
"We're doing this because it's important to do and because it's serving our community," he said.
Testing frustrations
As Frederick Health Hospital starts doing more testing, the number of positive cases should rise. This does not necessarily mean there are more cases, just that more people are being tested.
And while testing is now more easy available, there is some frustration with the lack of testing, Casiano said. The Centers for Disease Control and Prevention's stance is that testing is not needed for people with mild symptoms since there is no treatment for the disease besides isolation and rest.
"I'm not sure that that really takes into account the concerns, the worries, the frustration of the public, who really want to know, 'Am I at risk for this'?" Casiano said. "'Do I have this?' 'Am I at risk for giving it to the rest of my family?'"
Besides the 600 sample collections that the hospital has, it is hard to know how many sample kits can be tested in the county or the state, said Dr. Barbara Brookmyer, Frederick County health officer.
"The U.S. has a decentralized, privatized healthcare system, which means that we don't know what tests may be ordered by private healthcare providers," Brookmyer said in an email.
The health department does not have a quota or limit for how many tests it can authorize, Brookmyer said.
Those who have symptoms and want to be tested should contact their primary care provider, or urgent care if they do not have a primary care doctor, she said.
"Providers are able to evaluate their patients and decide if they need to be tested for a variety of conditions that could be the cause of their symptoms," she said.
Those who do not have symptoms do not need to be tested, Brookmyer said.
Testing challenges do exist, Brookmyer said after a town hall last week.
Materials are limited, so while in theory everyone could be tested, that is not the case in reality. Testing, up until recently, has been prioritized for the sickest patients who needed rapid intervention and hospitalization, Brookmyer said.
For people like Mari Ward, a 23-year-old Frederick resident, that means they may or may not have the disease.
Ward's symptoms began on March 10. They felt like allergies, with congestion and an itchy throat. That turned into a swollen throat, heavy, tight chest, chills, sweats and congestion.
"The symptoms were very similar to the flu, except the heaviness in my chest," Ward said in an email. "It didn't hurt to breathe but it felt uncomfortable."
Ward went to Righttime Medical Care on March 12, where she tested negative for the flu and strep throat. The urgent care did not have collection kits available, and the doctor she saw told her to get tested if she began to feel pain in her chest and lungs.
"He said it's possible I may have contracted COVID-19, but there's no way to be sure without the test," Ward said.
Her doctor advised her not to panic or worry unless her symptoms got worse, which they did not. They changed, she said. He also told her to rest and that she could continue with the congestion medication she was already taking, as well as make sure to stay hydrated and eat.
Ward decided to stay home and use her sick time while recovering.
As of March 15, Ward's throat was still swollen, but she was less feverish. She also had an irritating cough.
"I have not been officially tested, to be transparent," Ward said in the email. "Due to my work environment, symptoms, and what I've heard from news and professionals, I think it's very plausible for me to have contracted the virus, however I cannot say with 100% certainty."