In a busy facility, Julee Graham lies in a reclined chair, hooked up to a machine that slowly draws her blood and separates plasma, red blood cells and other bodily fluids.
For years, Graham has driven by the Biomat USA Plasma Center owned by Grifols on Key Parkway near the Golden Mile in Frederick. In May 2019, she decided to stop in and learn how to donate plasma to help those who might need it.
Now, after she and her husband Marcell survived the coronavirus earlier this year, antibodies in her plasma may help save even more lives.
"I've always been someone who's always donated blood, I've always been that type of person and it's just the type of lifestyle that I'm accustomed to," Graham said while she donated plasma Wednesday. "Of course, you're going to get more [money] when you're a convalescent donor [compared] to just a regular donor, but I still would have done it regardless."
Employees at Biomat said there is a need for plasma donations, as the antibodies could help those diagnosed with the coronavirus from further complications.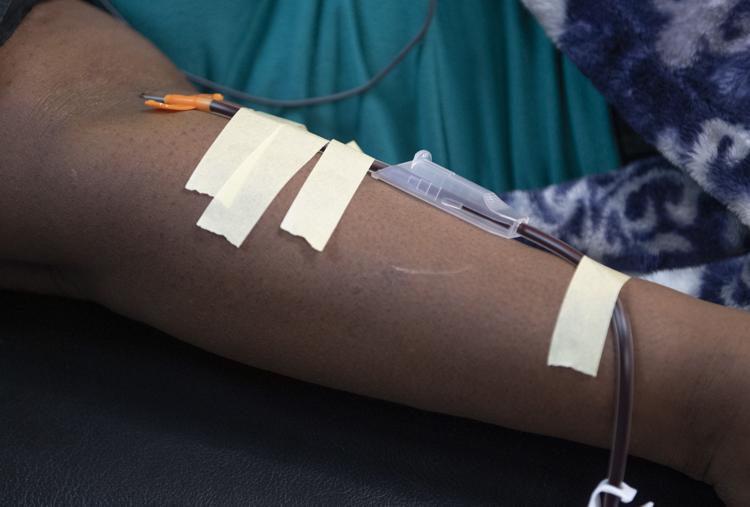 Monica Powell, the center's manager, said there were challenges at the center in mid-March, as donors and the public thought they were shut down. But the center is considered an essential business, so operations continued.
Powell worked in the pharmaceutical industry for several years before coming to Biomat more than a year ago. Plasma collection is needed for things other than treating the coronavirus, but donations for that disease are also vital, she said.
"I think in order for society to get back to the norm, we have to collect plasma from our convalescent donors. We're just not going to get there unless we're able to," Powell said.
There is still a stigma about donating plasma, Powell said, but that has decreased in recent years as the public has learned that it's a safe practice and proteins and antibodies in it are needed to treat diseases, like autoimmune deficiencies.
Dr. Charlotte Nordanlycke Yoo, who works at the center, said there are many questions still remaining about how the plasma may be used to help coronavirus patients. Do young people generate more antibodies in their plasma due to their immune systems? How long are antibodies good after people are infected and recover? How much are needed to help people through the worst part of the illness and to help them survive?
"If you read the literature, you will see there's a lot of debate about how long do you keep your antibodies up, how fast do you drop your antibodies after you have recovered?" Yoo said. "And does everybody make the same kind of antibodies? Are there different types of antibodies? That's the reason they do clinical trials."
But Yoo and Powell said plasma donation is a proven method that helps people recover from multiple diseases. Powell noted its origins go back to the 1940s.
"We've had many different kinds of viruses and everything since then, and it's already been shown that when you give somebody the plasma, regardless of what the virus is, the body learns," Powell said. "It's a very old way, but it's a very tried and true method to be able to get people ... to recuperate and get them back into society."
The actual donation is simple, Graham said. Employees at Biomat do a thorough physical to see if individuals are healthy enough, and if their plasma can possibly be used to treat sick people.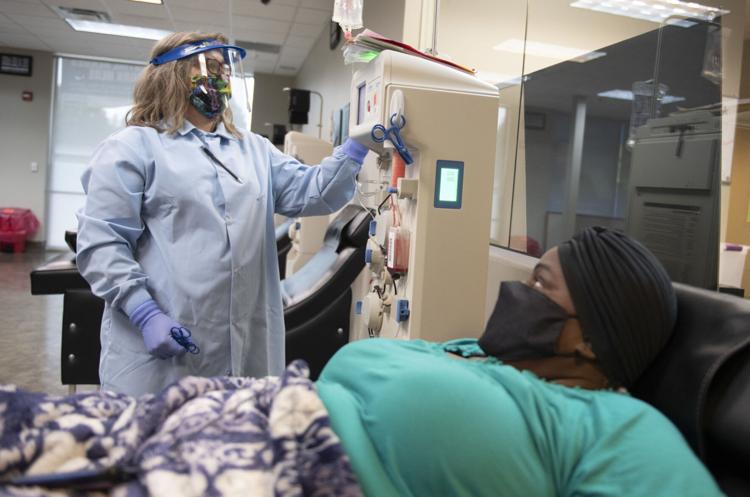 The process isn't much different than donating blood, she added. But she did have to wait 28 days after she displayed any coronavirus symptoms to begin donating again. A plasmapheresis machine collects her plasma in a bottle before it is frozen by Biomat employees and shipped around the world.
Powell said if individuals are approved for donating plasma that could be used to treat coronavirus patients, they get $100 for each of their first six visits. Then, they can earn up to $400 a month if they choose to continue donating.
Graham said when she had the virus, she didn't have a fever, but she did feel tired and felt many aches and pains. Her husband, however, had a much more serious case, spending more than 60 days in the hospital, including some time on a ventilator.
She wants people to treat the current pandemic more seriously: wear a mask, social distance and avoid unnecessary social gatherings.
"You don't want to be the reason that someone is going to potentially lose their life," Graham said. "I've lost family members to the disease. Fortunately, I did not lose my partner ... It was a very, very scary time ... Wear your mask. It's just going to be the way of life for us right now, we're just going to have to get used to it."
She said she's happy to be donating twice a week, and hopefully helping those who are sick.
"I feel humbled and I'm glad I'm able to be able to be a part of that," Graham said. "Of course, it's not something I wanted to end up with, but in the interim, because I am out here doing my due diligence as [an] American, helping my fellow man, in some way or another, hoping they will be able to find a cure."