Steps taken Monday by Gov. Larry Hogan to keep people in their homes were ordered as a way to slow the global COVID-19 pandemic in Maryland.
Staying home and avoiding gatherings of 10 people or more are meant to help "flatten the curve," an idea that likely came from a 2017 Centers for Disease Control and Prevention pandemic guide, said Dr. Barbara Brookmyer, Frederick County health officer.
The idea behind the mantra "flatten the curve" is that the majority of the population will likely contract COVID-19, since there is no immunity to the disease, Brookmyer said. But if everyone gets it at the same time, the health care system will be overwhelmed.
The flatten-the-curve graphs started being used for COVID-19 after people were comparing the disease to the flu and minimizing the severity of it.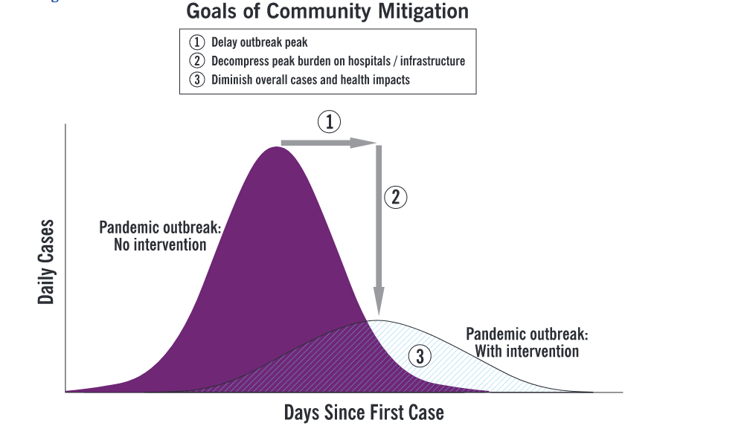 "This graph has helped people understand the idea of a surge to our healthcare system and why we're asking them to stay home now," Brookmyer said in an email.
So flattening the curve would take the same number of cases and spread them out over a period of time instead of letting that number spike all at once.
"If we can successfully flatten the curve, it means that our healthcare system will not be overwhelmed and will have enough staff, beds and equipment for patients," Brookmyer said in the email.
By closing non-essential businesses, fewer people will come in contact with one another, reducing the chance of transmission, she said.
And although testing has been limited, it is still possible to flatten the curve without having confirmed diagnoses, Brookmyer said. Not everyone who wants to be tested can, with tests prioritized toward people who are hospitalized and those who meet certain criteria.
"It is still possible to flatten the curve if people stay home when sick even if they do not have a laboratory-confirmed diagnosis, wash their hands frequently, cover their cough/sneeze and practice social distancing," Brookmyer said.
Frederick County has four confirmed cases of COVID-19 as of 7 p.m. Monday, although that number is expected to rise.
With so few cases thus far, the local health department does not yet know what the curve will look like in Frederick County.