Almost one year to the day later, Barbara Barry no longer goes to bed wondering if she'll see the morning.
Her energy and zeal for life have largely returned. Her body no longer aches to the extent it once did, and the "horrible, debilitating headaches" have largely subsided.
The 68-year-old Barry was one of the first Frederick County residents to be diagnosed with COVID-19, the disease caused by the novel coronavirus, and she, like millions of others, has spent the last year living largely isolated inside her own personal nightmare.
Only in the last month has she been relatively symptom free and starting to feel normal again. After a long separation, she is able to hug and spend time with her seven grandchildren, the pride and joy of her life.
"I was scared," said Barry, who was officially diagnosed with COVID-19 last March 23, seven days after the first known case was discovered in Frederick County and nearly a week before the first related death was announced.
Of all those who have come into contact with the virus in the last year, Barry considers herself one of the lucky ones.
Her daughter, Kelley, is a critical care nurse at Frederick Health Hospital and played a key role in restoring her health.
"My daughter came by one day [prior to the diagnosis] and was horrified," Barry said. "She said, 'We have got to get you up.'"
But not everyone has the luxury of having their own personal nurse.
Frederick resident Kimberly Scott, 53, was left devastated and confused when the coronavirus claimed the lives of her grandmother and two great uncles on her mother's side of the the family during this most recent surge.
They were all in their 80s and in good health, with no real underlying conditions. They also took the virus seriously and followed all of the protocols.
"It's been tough," Scott said. "The only way we deal with it is through prayer and a lot of crying."
Mallory Stanislawczyk, 33, is a pediatric nurse practitioner in Frederick who has been grappling with the coronavirus in her everyday line of work since the start of the pandemic.
"I was [treating] kids who were getting positive test results," Stanislawczyk said. "I was in the face of patients with coronavirus at work."
Her personal protective equipment and general preventative measures allowed her to stave off the virus until early December. That's when the nanny of her almost 2-year-old daughter, Olivia, mentioned she wasn't feeling well and thought it would be best if she stayed away for a while.
A COVID-19 test was administered to Olivia, and it came back positive. That's when Stanislawczyk and her husband, Chris, knew it was only a matter of time before it was their turn.
"Horrendous body aches like I have never felt before," Stanislawczyk said. "I was short of breath. I had a dry cough and a low-grade fever. I started vomiting. I couldn't even keep water down. The first 24 hours were really tough. I took five hot showers that day. The body aches were so intense."
Stanislawczyk is now a COVID long hauler. Many of her symptoms persist to this day, and she now has a heart condition as a result of contracting the virus.
"I was three weeks shy of being able to get the vaccine," she said of the time of her diagnosis on Dec. 5.
Emily Lopez's irregular heart condition was discovered not as the result of having the virus, but rather through her fear of it.
As COVID-19 began to spread rapidly around the world last March, Lopez, a 23-year-old Frederick resident, felt her throat closing up and began experiencing chest pains. She was struggling to breathe.
The chest pains were concerning enough that an urgent-care physician ordered an EKG, which revealed a left bundle branch block in her heart. With this condition, activation of the left ventricle of the heart is delayed, which in turn causes the left ventricle to contract later than the right ventricle.
By itself, a bundle branch block is not dangerous. But it can lead to more serious complications and make other heart conditions and heart attacks more difficult to diagnose accurately.
Had it not been for the fear and anxiety produced by the coronavirus, Lopez said, "I would have never known about the bundle branch block in my heart."
One year into the global pandemic, these stories offer a small sample of how the novel coronavirus has upended life here in Frederick County.
Officially, there have been 17,360 confirmed cases of COVID-19 in the county, and 278 deaths have resulted from them.
There are now three federally approved vaccines that provide some light at the end of a long, dark tunnel, and Frederick County has now fully inoculated more than 10 percent of its population from the virus.
But the numbers can't account for all of the suffering, and the vaccine can't ease all of the pain the virus has wrought.
One of the first
Early last March, Barbara Barry bought a hyacinth, a flower known for its fragrance. A few days later, she could no longer smell it.
She said her joints began hurting like never before, and there were periods where she was grasping for breath.
"It felt like someone was sitting on top of me and pushing on my chest," Barry said. "Sometimes, I'd fall asleep and wonder if I would see morning."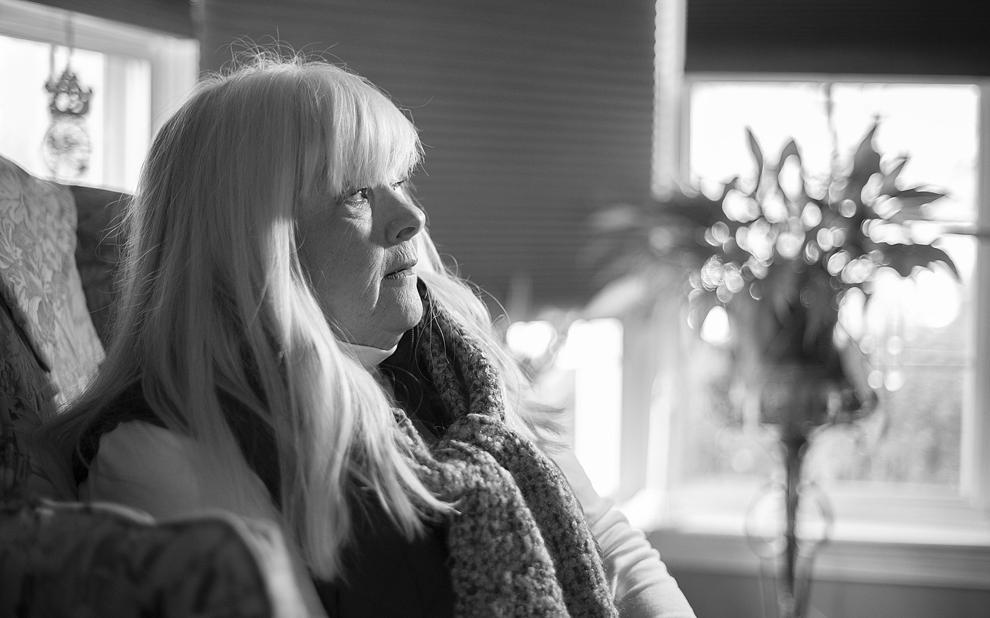 Barry said she was a relatively healthy person and was never compelled to even get a flu shot.
By the time she was diagnosed with COVID-19, the disease had seized control of the world and upended everyday life. It was no longer a mystery to Barry what was afflicting her.
"I feel angry when I see people not wearing masks [in public]," she said. "They are not only exposing themselves, they are potentially carrying it around and exposing everyone else."
"When I first got it, people told me it was no big deal, it was just like the flu," she continued. "That angered me, too."
To help others avoid a similar fate, Barry went to the National Institutes of Health in Bethesda to donate her plasma and antibodies.
"Early on, I had guilty feelings," she said. "Why did I survive this? It still hits me on and off. Why did I get lucky?"
A prolonged storm
Kimberly Scott said the fall wave of coronavirus took her family by storm.
In December, her two great uncles, James, 82, and Paul, 86, a Takoma Park resident, died after contracting the virus. Then, in late, February, her 88-year-old grandmother, Willie Gardner, began complaining about some arthritis on her spine, which began her swift and shocking downfall.
The family took her to Washington Adventist Hospital in White Oak to get it treated, and they spent the ensuing weeks shuttling between the hospital, a rehab facility and the home of Scott's parents, where she lived.
"It was painful because we couldn't visit her [in the hospital or rehab facility]," Scott said. Instead, Scott and her family were left to peer through windows and drop off food on the doorstop of her parents' home.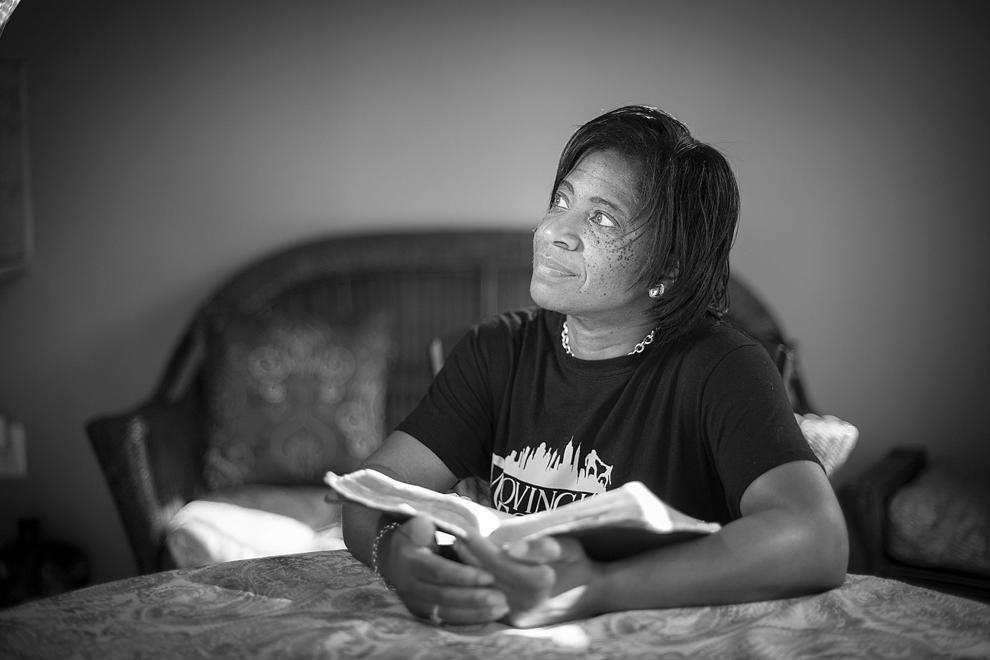 It's unclear exactly how Scott's grandmother, Willie Gardner, contracted COVID-19. But it happened during the transfer process from facility to facility, Scott said.
In early March, her condition took a turn for the worse, and an otherwise healthy person succumbed to the virus. The family spent last weekend honoring and burying Gardner in a limited and socially distanced ceremony in her hometown of Kinston, North Carolina.
"That is what is so terrible," Scott said. "The virus doesn't show you how it is. You might not be affected at all, or you might be healthy and die from it. There is no pattern to it. I tell people it's real."
The long haul
At the onset of her symptoms in early December, Mallory Stanislawczyk locked herself in her bedroom and didn't see her husband, Chris, and daughter, Olivia, for a few days.
After a few weeks of feeling worse than she ever has before, she returned to her nursing job at The Pediatric Center of Frederick.
On the Monday before Christmas, she had to abruptly leave work because her breathing was suddenly very labored.
"I couldn't say a sentence without taking four or five big breaths," she said.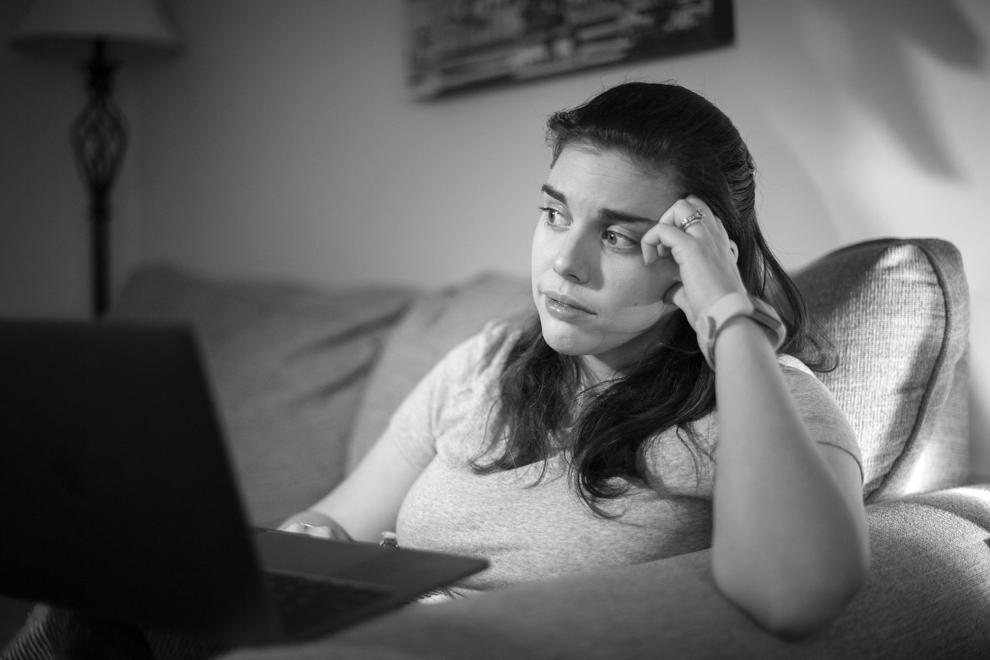 Stanislawczyk went to the ER, where testing complicated the issue she was facing by presenting a conflicting picture. Her struggle to breathe did not line up with her normal vital signs.
Relieved, she went home a few hours later, and that was where she has largely remained for more than three months. A normally active and fitness-conscious person, she has struggled to find the energy to play with her daughter.
"My husband has become the parent in the house," she said.
Stanislawczyk's symptoms are not as severe as they once were, but they still persist. She has yet to return to work, and she is now wearing compression stockings, drinking at least three liters of water per day and increasing her sodium intake to deal with POTS syndrome, a condition that affects circulation of blood that developed as a complication of having coronavirus.
"On Day 15 [following the COVID diagnosis], to have to leave work and not go back, it's something I would have never imagined."
Out of a movie
When Emily Lopez arrived at Frederick Health on March 18, two days after the first known case in Frederick County was diagnosed, she thought she stepped onto a movie set.
"People in hazmat suits, doctors, nurses and staff running around with absolute fear in their eyes as they tried to figure out how the people who had COVID would be isolated," Lopez said.
Six days earlier, she had visited the same urgent care center where the first person had tested positive. Her stomach immediately sank, and she thought about her mother and sister who are in higher-risk categories.
Now, she was sitting in the hospital waiting room because of an abnormality revealed on her EKG. Every chair in the waiting room was occupied, and everyone appeared to be sick, she said. It felt like one of the most dangerous places to be on Earth at that moment.
"We all held our breaths as we watch Donald Trump give a live report on what is to come. 'Two-hundred thousand lives lost by August' was running across the bottom of the screen," she said. "Everyone just looked around and wondered if anyone in that room was going to be part of that statistic."
Lopez's cardiologist confirmed she had the left bundle branch block in her heart and said it shouldn't prevent her from leading a relatively normal life.
The closing of her throat sensation was attributed to general anxiety about the virus, and she began to see a mental health professional and develop coping skills.
"To this day, if something COVID related pops up that is concerning, I still experience the same throat-clenching feeling," Lopez said. "However, each day gets easier and easier to live with this deadly virus, and ways to navigate it safely help me feel more at peace."
Follow Greg Swatek on Twitter: @greg_swatek