Wearing a royal blue shirt with white lettering that declared "A little more love", Josefina Romero, like most people, could use some of that love these days.
The 27-year-old Frederick resident and single mother of three isn't sure how she is going to pay the rent this month.
When the restaurant at Richland Golf Club in Middletown closed in March due to the coronavirus pandemic, Romero was out of a job. And though she was recently brought back, she's only receiving a fraction of her normal hours.
"I don't know what to do," she said Tuesday afternoon at receiving a complimentary bag of food at the Orenda Center for Wellness on West Patrick Street. Her three children and three neighbor children waited in the car.
"I don't want to ask my family for more money because I have already borrowed too much," she said.
With people like Romero in need, the Orenda Center tried to help with a first-of-its-kind event for the year-old organization.
From 9 a.m. to 5 p.m. Tuesday, through intermittent downpours of rain, the Orenda Center provided free COVID-19 testing and substance-abuse and mental health services to anyone that showed up for its "Safe and Healthy During the Pandemic" event.
Through a partnership with the "I Believe in Me" youth empowerment organization, the event delivered food for roughly 225 families, according to "I Believe in Me" founder Aje Hill.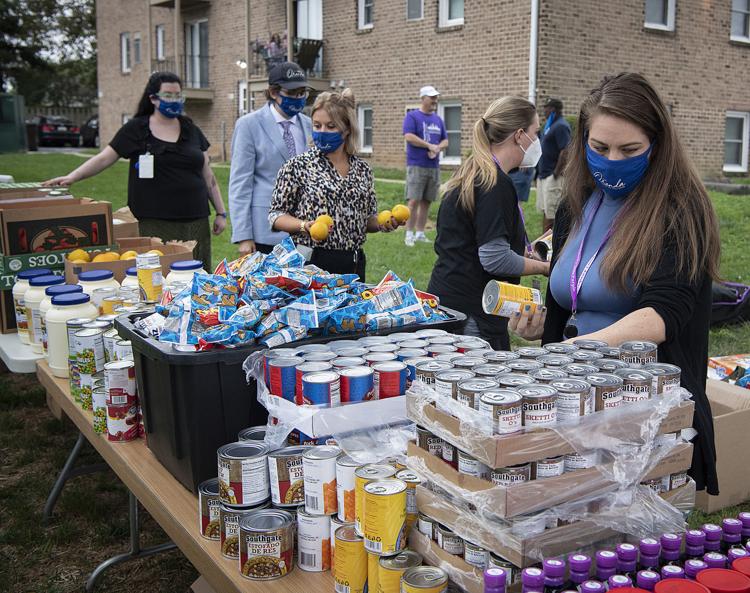 No questions were asked and no information needed to be provided to receive food.
There was even a booth for people to register to vote.
The event was synched up with the start of National Recovery Month, which speaks to the Orenda Center's core mission as a rehabilitation facility for substance abuse and mental health.
"We wanted to do everything we could to help the community," said Kelsea Kephart, the co-founder and executive director for the Orenda Center. "We wanted to show there are people here who care."
Over the course of the eight-hour event, Kephart said about 50 people were tested for COVID-19, both for the presence of the disease as well as antibodies. Another 20 received Narcan training.
The organization distributed approximately 25 masks, 100 thermometers and 100 bottles of hand sanitizer, Kephart said.
"Like I said before, if we were able to help just one person, that could have a huge impact," she said.
For people like Romero, who aren't sure how they are going to make ends meet, the Orenda' Center outreach was greatly appreciated.
It can be hard to keep enough food on the table for everyone, and she's been relying heavily upon "I Believe in Me" food drops over the last five months.
In terms of the rent, Romero received some assistance from the county to pay back what she owes. But it's not enough to cover the entire amount. She's worried about being evicted.
With her children at home trying to navigate online learning, she doesn't have time to work another job to supplement the hours she lost from her regular place of employment.
"I have to do something," she said. "But I don't know what yet."