As cars began arriving at Lincoln Elementary School at 11:30 a.m. Tuesday, Sgt. Rebecca Carrado of the Frederick Police Department stood outside to greet students and their families.
While her colleagues on patrol are busy enforcing the widespread business closures ordered by Gov. Larry Hogan and ensuring public safety is maintained during the growing outbreak of the novel coronavirus, Carrado's responsibilities are a little different. As one of the department's school resource officers, the sergeant has been regularly attending the school she is assigned to during the two meal pickup times set up for students, who have been out of class since March 16, by Frederick County Public Schools.
"Our responsibility in a school is to build relationships with the kids, to help with that trust and that bridging with them and their parents. ... So, a normal SRO duty is lunch and breakfast because normally, SROs do help out with lunchtime," Carrado said of her position. "That's the time where I get to sit down with my kids and talk to them about their day."
Under the school meals program, anyone 18 or younger can pick up breakfast at selected sites such as Lincoln Elementary from 8:30 a.m. to 9:30 a.m., as well as hot lunches and cold dinners from 11:30 a.m. to 12:30 p.m. each weekday. No identification is required, and families can attend any of the locations in the county, so Carrado has seen some new faces along with the children and families she knows from Lincoln.
"I get to meet a lot of people and I get to meet my kids on a regular basis, which is comforting to them to see me every day and know that, 'Hey, it's going to be OK, we're going to get through this together, you're always going to have breakfast, lunch and dinner,'" Carrado said.
Vilma Cortez, whose three children attend another school but live closest to the Lincoln pickup site, said she really appreciates the program for helping her manage daily life under the restrictions of the COVID-19 pandemic.
"It's good because if you don't have anything to eat at the house, you can come here and get something for the kids — at least for them — because you don't know what might [be] outside there in the stores. You might not find anything in them," Cortez said.
Since schools closed, 74 breakfasts, 832 lunches and 151 dinners had been handed out at Lincoln Elementary School alone. At Hillcrest Elementary, another had of the sites, 168 breakfasts, 398 lunches and 360 dinners had been distributed in the same period, Carrado said.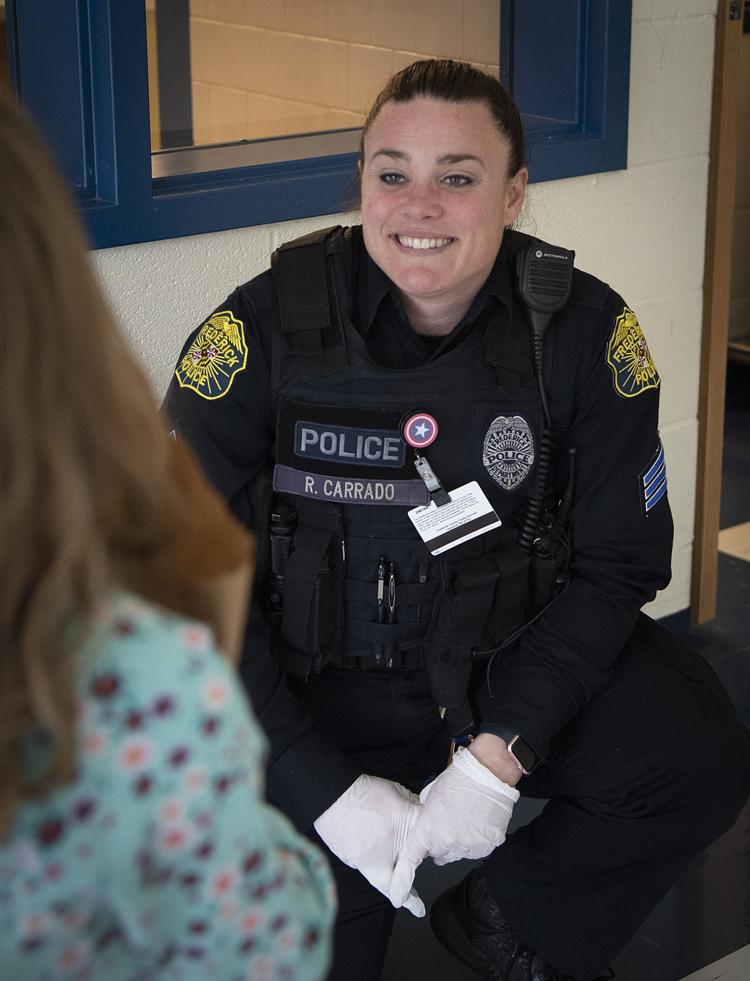 In keeping with precautions urged by health care professionals, it was just Carrado and a food service worker at the site, both wearing gloves. While the food service worker packaged the meals in the cafeteria's kitchen, Carrado handed out the lunches and chatted with the parents and children as they made their way through, but arrivals were spread out enough that a line never formed and the process ran smoothly.
Given the stress of the virus spreading — the Maryland Department of Health announced 349 COVID-19 cases had been confirmed in the state as of Tuesday morning, and four deaths have been attributed to the virus so far — Carrado sometimes finds herself playing the role of amateur therapist, or at least a friendly person to lend an ear, to some of the families who come through.
"I think it's a blessing that I get to do this and I get to see them and I get to talk to the families a little bit about what it's like for them at home, like the parents will tell me if their husband or significant other is laid off, they'll tell me things that are going on and how they're handling it and how they're feeling right now," Carrado said.
It's an aspect of the job that the sergeant is well-prepared for, as she can often suggest other services available in the community that could help with specific problems that residents might not have been aware of, she said. For those who just want to chat, Carrado's previous experience working with the patrol team assigned to downtown Frederick has ensured she is personable and approachable.
As one little girl, who attends Lincoln and is familiar with Carrado, left the cafeteria, Carrado turned back into the building with a bright smile on her face.
"She called me Mom!" the sergeant said with a laugh. "She started laughing when she realized it and said 'I'm sorry!' but I told her it was OK. They're so sweet."