St. John's Catholic Prep announced it would shut its doors due to concerns over COVID-19, also known as the new coronavirus.
The private Catholic high school in Buckeystown was closed starting 9 p.m. Thursday and will begin online instruction on Monday, until March 29.
It joins Frederick County Public Schools, which was mandated by the Maryland State Department of Education to close for two weeks starting Monday.
St. John's President Thomas Powell said the school prepared for a possible closure over the last three weeks and deciding to close at this moment was done out of an abundance of caution.
"We anticipated that this coronavirus is ... going to get worse before it gets better, so this seemed like a good time," Powell said.
He added that closing the school now happened to fall right at the end of the school's third academic quarter, which helped with transitioning to online instruction.
Starting Tuesday, St. John's students will continue course work online through Google Classroom — an online education platform the school already uses — and virtual instruction by teachers through videos or online chatting.
"Teachers have been planning for this for the last week, they've been practicing with their classrooms. I feel fully confident," said Will Knotek, principal of St. John's Catholic Prep. "It's not ideal, but I feel like we're prepared to potentially handle it the best way we can."
Powell said students were made aware this is not an excuse to slack off.
"The students who all heard from me and the principal today know that this is not an off time, this is not playtime," Powell said.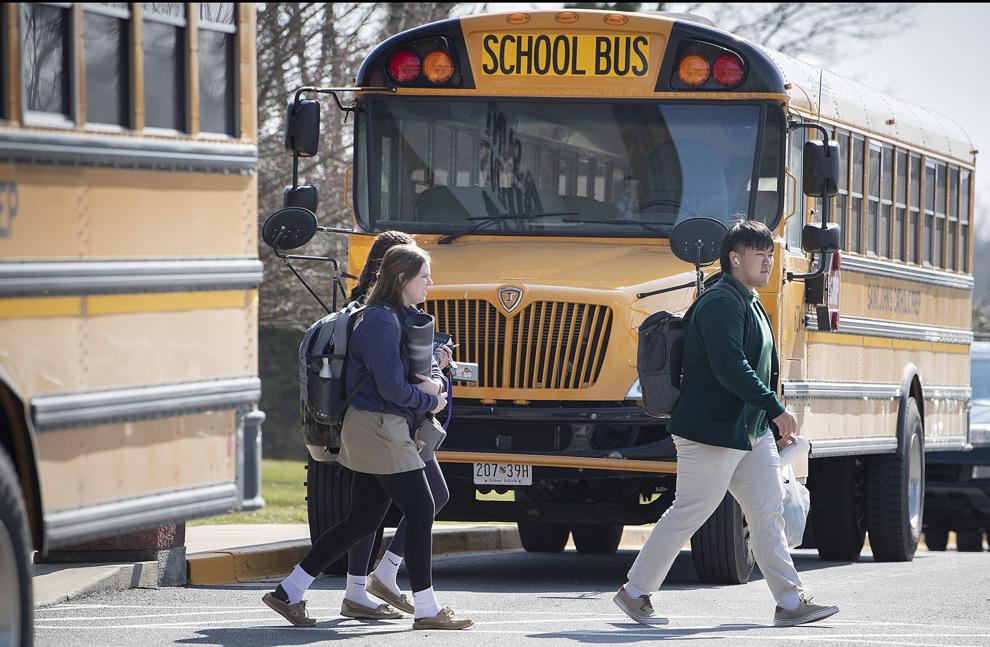 Saint Johns Close COVID
Students leave St. John's Catholic Prep at the end of the school day Thursday after an announcement that the school will close for the next tw…
Teachers will work from home and school administration and office staff will continue working from the campus. All athletic events have also been canceled for the time being.
Powell said they hope the closure will not only minimize the possible spread of the virus but also allow the custodial staff to do a deep cleaning of the building.
All five custodians recently went through training for best cleaning practices from the Frederick County Chamber of Commerce, Knotek said.
Over the next two weeks, Powell said every single surface and piece of equipment in the school will be deeply cleaned and sanitized. The school also bought special soaps and other materials.
"If we discover after tomorrow and starting the cleaning that it's too big a job for our five [custodians], we will talk to companies to come in and do it," Powell said.
 Continuing coverage on the coronavirus pandemic that has upended our lives since March 2020.
St. John's Catholic Prep has 287 students currently enrolled and 16 of them are exchange students from China. Powell said none of them are from Wuhan — where the outbreak of the coronavirus first occurred — and that all have been instructed that if they decide to travel home over the next two weeks, they will not be permitted to return to the school.
When asked if they are concerned about internet access for students during the closure, Knotek said they are certain every student has internet access from their homes and that online instruction will not pose a challenge.
If a student had internet access issues, Knotek said the school would have already been aware of it since they use online instruction regularly.
There has also been talks with the special education staff of the school to determine how to best provide accommodations during the closure to students with disabilities.
Powell said school leadership will continue to monitor the situation daily and will provide an update to the school community by March 25 if the closure needs to be extended, and that at this time, there is no indication that graduation or the end of the school date will be changed.
"There's no real right answer during this time. Every educator in the country is struggling with what to do," Powell said. "Lets hope in two weeks we'll say oh, we didn't need to close ... but we think this is the best decision we can make at this time."