Monica Gabriel picked up the phone. On the other line was a private investigator looking into her ex-husband, a man who had abused her, stolen thousands of dollars, caused her to lose her home and left her with $26 to her name.
Monica had been waiting for the call. Years of being married to Curtis Williamson, and the subsequent divorce proceedings, had made her nervous. So when she learned someone was looking into her, she decided to look back.
The private investigator had been hired by a couple in West Virginia. Williamson had stolen money from their mother, and they were not sure if Williamson's wife was involved.
Monica was scared. What happened to her was happening again. Another wife, a fifth wife.
"It makes me sick to my stomach that this has happened [again]," she said. "And he's brought another child into this world, given false information on the child's birth certificate and everything: his wrong date of birth, his wrong name, one of his aliases. The child even has one of his aliases as a last name, instead of his real name."
Monica wanted to help. She might have learned something that could help. She was willing to help anyone in a situation similar to hers. The private investigator wanted to know who Williamson is.
But who Curtis Williamson is depends on who is talking.
His first wife would call him a liar.
"Well, he was OK at first, but he lied right off the bat, about his birthday of all things," said Teresa Seilhamer.
In 1983, the two met on a blind date while they were juniors in high school. One of Teresa's friends liked one of Williamson's, so the four teenagers went on a double date.
Williamson was born on Jan. 2, 1966, but he told Teresa his birthday was July 2, 1965. He never told her why he lied. They did not attend the same school — she went to Smithsburg High School — but they were the same year.
He was cute, she said, but she cannot remember why they stayed together for more than a year.
Monday marks eight years since Monica Gabriel's death. No one knows what killed Monica on April 15, 2011. No one except, perhaps, her husband, Curtis Williamson. Her marriage was less than 2 years old when, in early 2011, Monica noticed something weird. Two months later, Patricia Gabriel learned that her daughter was dead. Monica was never buried, never eulogized, never mourned. Most people didn't even know she died.
"I was 17 years old, I guess," Teresa said.
Williamson grew up in the Boonsboro area, attending and graduating from Boonsboro High School with his fourth wife, Monica Monica. A Boonsboro High School yearbook from his senior year, 1984, listed no activities for Williamson, although he appears in a picture for the Diversified Occupations program, which gave students experience in the job market as seniors.
His parents, Robert Williamson Sr. and Jackie Williamson, are both deceased and buried in Rest Haven Cemetery. His mother died in 1997, his father in 2009. Two brothers are also dead.
The Frederick News-Post contacted his sister and brother as well as his half sister and half brother. Half brother Gary Brown answered a call and said that he is not close with Williamson. He declined to comment further. A niece said Williamson has not been in touch with her mother for many years.
Williamson could not be reached for comment. His location is unknown. What is known about him can only be pieced together through police reports and what his former wives say.
Teresa has few kind words for her ex-husband. Their marriage was mostly due to obligation.
The two dated for 13 months, she said, and married the week they graduated from high school. She was pregnant. Their son, named after one of Williamson's brothers, was born in December. The two lived in Hagerstown with Teresa's parents.
The wedding in Waynesboro, Pennsylvania, was small, she said, mostly family. Williamson's nephew was in the wedding party. He did not have any friends attend. He was close with one of his brothers, Robert, and his wife.
Teresa met Williamson's parents, she said, as did their son.
He was not excited about the baby, Teresa said. After high school, he started working for Hagerstown Trust, she said, working in the storeroom. He did not go to college while they were married. Williamson would later tell wives and girlfriends that he attended Shepherd University, and a copy of his résumé states that he attended the college from 1984 to 1989.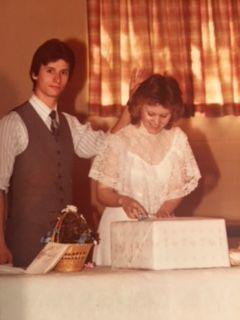 Teresa said the relationship quickly deteriorated. Fighting started right away, although he was never physical. He never wanted to be seen in public with his son, Teresa said.
"He didn't want anyone to know he had a son," she said.
And the lying never stopped. Teresa said he never stole large sums of money or declared her dead, but he would lie about how much he spent. He would say he took out $100 from a bank account to pay for something but in reality take a couple of hundred, she said.
He went to Florida and overdrew her account. He never offered any explanations.
"He's just been a liar his whole life," Teresa said. "Everything he's said you can't believe."
The two legally separated in 1989. There was already another woman in his picture. The divorce was final in 1990.
After the separation, Williamson had a limited relationship with his son. He owed Teresa child support, which he paid until their son was 16, she said. Teresa's son did not want to comment, she said.
Williamson would take his son on weekends, but he never wanted to have much of a relationship with him. Williamson stopped seeing his son when the child was 13. Although he was invited to his son's high school graduation and said he would attend, Williamson never showed up, Teresa said.
"I don't think he was a good father," she said.
Teresa said she knew about the second wife, Traci Williamson. She was already dating Williamson before his divorce was final. Teresa said she believes they met at a work-related conference.
On his weekends, Williamson introduced his son to Traci Williamson, which is one way Teresa learned about her ex-husband's new girlfriend.
Williamson married Traci Williamson on Sept. 15, 1990, nine months after Teresa filed for divorce. He has a son and a daughter with Traci Williamson. His children could not be reached in time for publication.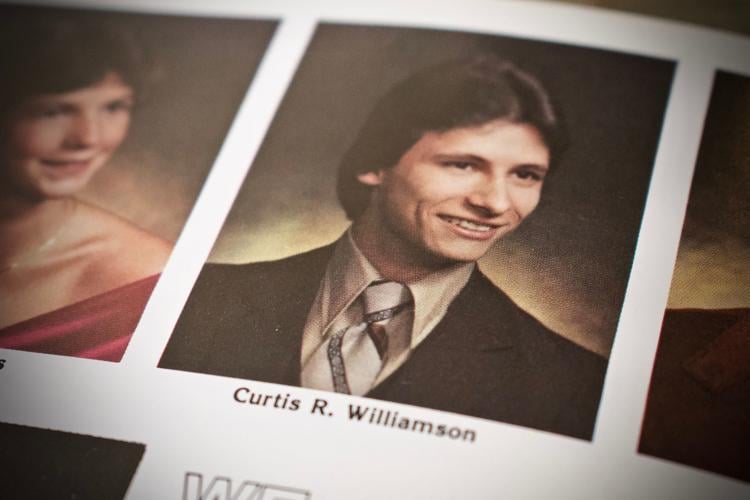 Traci Williamson declined to comment. It is unclear if the two are still married. Nearly 20 years of Williamson's life remains unknown. Despite multiple efforts to reach him, Williamson could not be reached for the story. Numbers he listed on various court records no longer belong to him or are inactive. Family members said they have not been in contact with him for years.
Monica, Williamson's fourth wife, can piece together where Williamson lived and worked before he reached out to her in 2009 from the documents he left in the shed at the house they shared.
By 1997, Williamson worked for Wells Fargo in Frederick. The company relocated Williamson and his wife, Traci, to Iowa in 2001. He began dating another woman there, Monica said.
The woman, who asked that her name not be mentioned, confirmed she dated Williamson from 2003 to 2004. They were engaged to be married but never did. They met through a dating site.
He opened up a Kohls' credit card in her name, as well as one other, leaving her with thousands in debt when they broke up, she said.
It is unclear when he stopped working for Wells Fargo, and the company did not respond to requests about his employment history. By 2005, Williamson was working for Hearst Communications, according to documents Monica found.
Monica found tax forms suggesting that Williamson owed the IRS thousands in back taxes, she said. Williamson filed for bankruptcy in Iowa in 2007, according to the documents she found.
Williamson and his wife, Traci, moved back east to Butler, Pennsylvania, on Feb. 15, 2007. Monica found a letter from an attorney about moving fees in 2009.
Traci Williamson still lives in Butler, Pennsylvania.
Monica said she believes between 2007 and 2009 Williamson married another woman from the Hagerstown area. It is unclear if he was with his second wife at the time.
The alleged third wife did not return calls for comment.
When Williamson wrote to Monica in 2009, he said he was still in Pennsylvania, she said. She looked him up when they started talking and saw on Maryland Judiciary Case Search that he had been married to and divorced from Teresa and that the two had a child.
She did not see anything about his marriage to Traci Williamson or their two children. She thinks that is why her marriage to him had to take place in Virginia. Clerks in the state are not required to confirm the termination of previous marriages.
After Monica filed her protective orders and divorce against Williamson, she went out to the shed in their backyard. Williamson had always demanded she stay away from it, she said.
Inside she found a "treasure trove" of documents detailing more about her now ex-husband than she learned from their two years of marriage. Together with the bank records she received as part of a subpoena in the divorce hearings, she was able to piece together some of what Williamson was up to before and after their marriage.
To start, the bank account she thought she shared with Williamson was listed to a post office box in Butler, Pennsylvania. Her name was not on the account. But Williamson's second wife, Traci, was.
Through bank records, she saw that Williamson paid for parking at a hospital when his son was admitted. He paid for the son's high school ring with their account. And he bought memberships to dating sites, Monica said. Williamson had spent thousands of dollars from Monica's account, court records show.
He was looking for other women to date, using online dating or even reaching out to former friends and colleagues.
In 2011, while married to Monica, Williamson matched with a woman in West Virginia. Her name was Stephanie Furr.
Stephanie and Williamson started by talking on Match.com, then decided to start going on dates. Where she lived in West Virginia was not too far from Frederick.
Any time they had agreed to meet, Stephanie had to arrange childcare for her young daughter. The planning each time was for nothing. Williamson never showed.
He would respond with an excuse for why he could not make it. His aunt's car had broken down or he needed to go take care of a friend, he would say.
After several failed dates, and excuses, Stephanie had enough. So she moved on.
The Kurt Williams from Jefferson, Maryland, was just not worth her time.
Monica did not know Williamson was trying to date other women during their marriage or that he was doing so under a fake name. While he was planning dates with Stephanie, Monica was planning for their supposed move to Florida.
The move never happened. It was never going to happen, Monica said.
That was the year that her house would be foreclosed and her car repossessed. Her marriage was beginning to fracture.
But in the months and years after her marriage ended, Monica was putting her life back together. She was working to reverse being declared dead, which was preventing her from opening bank accounts.
She was rebuilding from the $26 Williamson had left her with when in 2017 she learned about the private investigator looking into her. When she talked to him, he told her that Stephanie's aunt had hired him to look into Williamson. He allegedly stole money from Stephanie's grandmother, Monica said.
Although Stephanie had dismissed Williamson in 2011, he reached out to her again in May 2013, months after his divorce from Monica was final.
Stephanie decided to give him another chance.
Staff writer Wyatt Massey contributed to the reporting of this article.