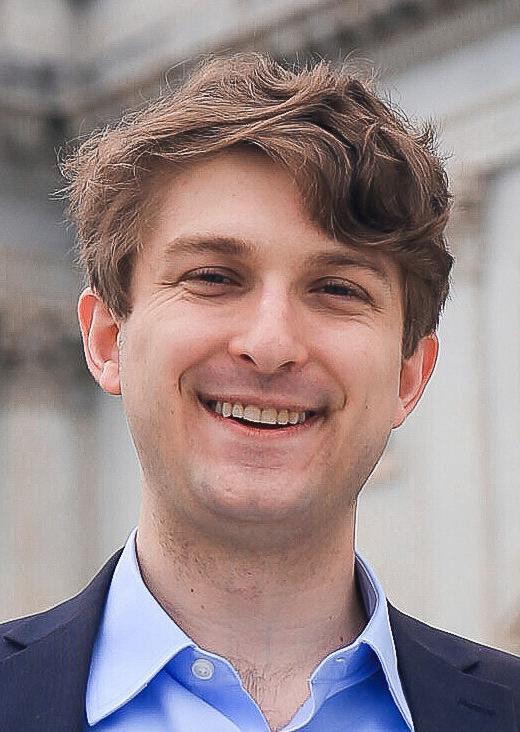 Political party: Republican
Where you live: Gaithersburg in Montgomery County
Current occupation and employers (may also list up to two previous jobs you've held); if retired, list your last job and employer: Former investigative reporter for the Washington Free Beacon
Political experience (public offices held and when; as well as unsuccessful campaigns for office and which years; do not include political party positions): N/A
1 – Why are you running for this office? (75 words max)
Our economy is collapsing from rampant inflation and skyrocketing energy prices, but our congressman is out to lunch. Young people, small businesses, and retirees on fixed incomes are especially struggling. We are so close to D.C. but might as well be on the moon for all our voices are heard on Capitol Hill. We need a congressman who, from Day One, will stand up for us and hold the powerful interests in Washington accountable.
2 – What is the most important issue in this race and what specific plans do you have to address it? (100 words max)
This election is about what it's really like to live in Maryland. Rising prices have hurt me and my family just like they've hurt people across the district. People are canceling vacation plans because of rising gas prices. Parents and grandparents are paying twice as much for groceries. Yet our congressman has kept his offices closed for two years, and literally phones in his vote despite living 20 minutes from the Capitol. We need someone in Congress who will rein in spending to curb inflation, restore American energy dominance, and bring back prosperity.
3 – What experience (work, political or other has prepared you to hold this office? (100 words max)
Working as an investigative reporter taught me the skills necessary to hold the Biden administration accountable on Day One of the new Republican House majority. I broke the story of members of Congress abusing proxy voting and COVID-19 rules to keep their House offices shut long after the pandemic was under control. I also broke major stories about corruption in both the Energy and Commerce departments. I believe sunlight is the best disinfectant, and that we the people deserve transparency and accountability in government. I won't need training wheels when it comes to oversight and restoring ethics in government.
4 – What is one major issue the current House of Representatives has handled poorly and what would you have done differently? (100 words max)
Inflation is a tax on the most vulnerable. Excessive government spending, matched to artificial restrictions on energy supplies, mean we have too many dollars chasing too few goods in this economy. Prices are skyrocketing as a result. To some in D.C., who haven't felt the pinch of high prices, this is entirely academic. It's an abstraction. In my life, with my family and with families across Maryland, it's a real problem. As a congressman, I'll work to restore American energy independence, rein in reckless spending, and bring much-needed oversight and accountability to how monies already allocated are being spent.
5 – How well is the House of Representatives addressing climate change? What, if anything, would you do differently? (100 words max)
We can be good stewards of our environment without radically reshaping our economy to the benefit of the world's biggest polluter: China. Presidents Bush, Obama, and Trump all pursued an all-of-the-above energy policy. Joe Biden has abandoned that consensus and we're paying the price. The United States should be a leader in new energy technologies, including batteries, renewables, and Generation IV nuclear. But outsourcing production hurts our economy, drags the United States into costly disputes abroad, makes us dependent on bad actors around the globe, and leads to a dirtier environment.
6 – Would you change the U.S. health care system? How? (100 words max)
The pandemic exposed major vulnerabilities in our health care system, including overreliance on China. We need to manufacture drugs and PPE in America. It showed how vulnerable frontline health care workers are, not just to disease, but also overwork and strain. Congress can bolster recruitment and retention of skilled nursing and health care professionals with immediate effect. We need to reduce overall costs within the health care delivery system by increasing competition among insurers to deliver the best care at the best rates. Finally, House Republicans have stepped up and are offering meaningful ways to provide prescription drug cost relief.
7 – Does the U.S. need more gun control laws? Which ones? (100 words max)
Whether in our cities or in our schools, rising violence in our country is totally unacceptable. But there isn't a one-size-fits-all solution. Nor will punishing law-abiding citizens responsibly enjoying their constitutional rights deter criminals and maniacs. America's cities need to pursue tough prosecutions for violent offenders. Too many criminals with long histories of violence are being coddled out of misguided compassion. Too many judges and prosecutors aren't accountable for releasing violent criminals on our streets. At the same time, too many teachers, counselors, and students are afraid to report malevolent behavior because our culture is obsessed with stigma.
8 – What should be the country's top foreign policy concern? Why? (100 words max)
The Biden administration's weakness has made America vulnerable in many parts of the world, but no foreign policy challenge facing America is larger than Communist China. China bolsters Russian aggression, threatens Taiwan, disrupts American trade, commits genocide, undermines international organizations, and through sheer incompetence just released a murderous pandemic on the world. At the same time, the Chinese Communists are working overtime to decouple from our economy, so they can have greater freedom of action — all while they gut American manufacturing. If we do not set a clear policy course, China will set the terms to our detriment.
9 – Would you change U.S. immigration policy and enforcement? How? (100 words max)
America is, and should remain, the shining city on a hill attracting highly skilled people from around the globe. However, we absolutely must have border security first. The Biden administration's disastrous border policies have allowed cartels and sex traffickers to pour across the southern border, creating a humanitarian crisis. They've flooded our region with fentanyl made in Mexican labs with Chinese precursor chemicals. Today, every state is a border state. In Congress, I will fight to secure our border. We need to make "Remain in Mexico" law. We must provide our border patrol with the resources to do their jobs.