Name: Michael Anthony Peroutka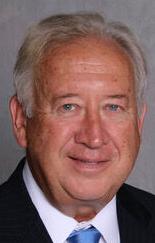 Political party: Republican
Where you live: Millersville in Anne Arundel County 
Current occupation and employers (may also list up to two previous jobs you've held); if retired, list your last job and employer: former Anne Arundel County councilman
Political experience (public offices held and when; as well as unsuccessful campaigns for office and which years; do not include political party positions): former Anne Arundel County Councilman; elected in 2014. In 2004, I was the Constitution Party's candidate for president of the United States of America.
1 – Why are you running for this office? (75 words max)
For more than two years, a "health crisis" was used as an excuse to deny Marylanders God-given, constitutionally protected rights. None of this was lawful. The U.S. Constitution and the Constitution of Maryland are the supreme law of the state and contain numerous provisions designed to protect the people from these outrageous and notorious usurpations. I want these abuses of power and the violations of the liberties of Marylanders to cease and never be repeated!
2 – What experience (work, political or other) has prepared you to hold this office? (100 words max)
I was elected to the County Council in 2014 and served as council chairman in 2018. I was a practicing attorney for 30 years, briefly serving in a legal capacity for the Department of Health and Human Services, then 27 years as principal in Peroutka & Peroutka, PA, with my brother. As co-founder of The Institute on the Constitution, a nationwide program teaching the principles incorporated in the Declaration of Independence and the U. S. Constitution and Maryland Constitution, I have taught and lectured in Maryland and across the country about law, liberty and government for more than 25 years.
3 – What issue should the attorney general focus on the most? How would you address that issue? (100 words max)
Crime. Crime is out of control and needs to be addressed immediately. The sources of crime must be investigated because there is very strong evidence that this crime is sponsored, perpetrated, and promoted by agencies of the government.
4 – What is your plan for addressing violent crime, particularly gun violence? (100 words max)
The answer to gun violence is not to take away one's ability to defend oneself. The 2nd Amendment is a right that citizens are born with that as attorney general I will rigorously defend. In his book "More Guns, Less Crime," John Lott says violent crime rates go down when states pass "shall issue" concealed carry laws. No one has refuted that. Clearly, the current method in our state of promoting violence and not punishing it is leading to more crime. I will change that by adhering to the rights enumerated in the U.S. Constitution and the Constitution of Maryland.
5 – What role should the attorney general have in protecting the environment? (100 words max)
None. Article 5 of the Maryland Constitution provides no authority for the attorney general to be an environmentalist.
6 – What is one thing the current attorney general has done that you would do differently? (100 words max)
The current attorney general has ignored the Constitution and I will not.
7 – How well do Maryland's open government laws work? Do you have specific ideas for improving them? (100 words max)