Pan Formative stood in a stall of the fairground horse barns as a crowd of people gathered around him. The pacer racing horse was about to receive four new horseshoes put on by a professional farrier — a blacksmith who specializes in horseshoeing.
Kids, teens and adults watched with curiosity as farrier Roland Offutt took off and put on four new horseshoes in the span of 30 minutes.
"He's been doing it for so long he can just eyeball it," said Colby Hubble, as Offutt shaped a shoe around his metal anvil.
Hubble is a member of The Great Frederick Fair's board of directors and served as the emcee of the demonstration. On Sunday, she walked the crowd through each step of the shoeing.
First, she explained, the old shoes must be taken off and the hoofs must be cleaned of buildup.
"It's pretty smelly when you get the old shoe off," Hubble told the crowd.
Additionally, a hoof knife is used to get rid of any excess layers of the sole, which make up the hoof.
"This is kind of like when we trim our toenails," Hubble said, who further explained that it's important not to remove too much of the sole as it could injure the horse, similar to cutting off too much of a person's toenails.
Next, the hoof must be shaped, whether by trimming or carving, in order to make the hoof the right length. Offutt used a tool called a rasp to level the sole, which looks similar to someone sanding a piece of wood. Hubble explained that it is important to have the hoofs leveled and shaped equally, so the horse doesn't have problems trotting or galloping.
Then the new shoe must be shaped, fit to the hoof, and nailed into place. Most horses have either steel or aluminum shoes, and each must be shaped in order to fit the hoof perfectly. Nailing the shoe in is particularly tricky as the nail must be put in at just the right spot. The nails go through the shoe, into the hoof and out the top of the hoof wall where it is bent and cinched in place.
Pan Formative, who stood calmly for the entire operation, received new shoes before he returns to competition Wednesday after being on a break for a year due to injury. The 9-year-old horse has made $200,000 through racing in his lifetime.
Offutt is in his 70s and has been shoeing horses since he was 18. Hubble said it takes years of experience to be as good as Offutt, who guided the nail through correctly just with the feel of his hand.
"It's definitely a learning curve for new horsemen," Hubble said.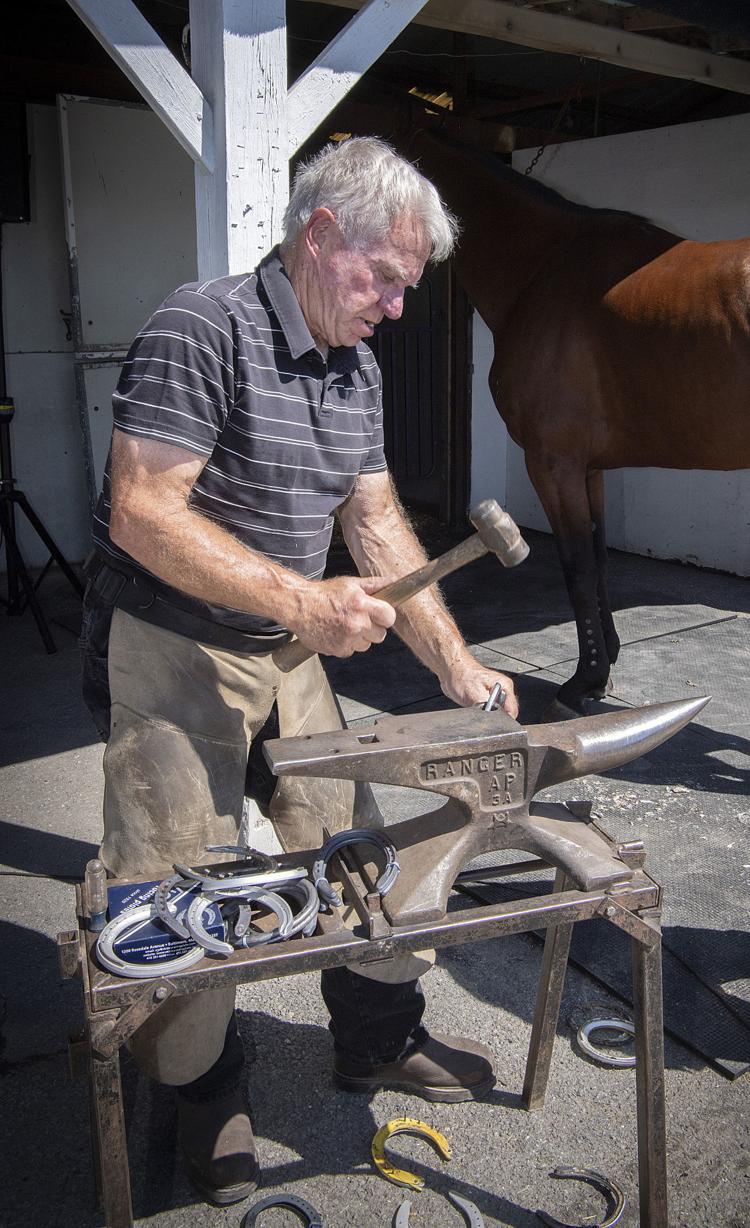 Offutt said he got interested in horseshoeing through his father, who would take him along to help with shoeing jobs.
"I like doing it, and it's a good job," Offutt said.
Asked whether he had been kicked or bitten while shoeing, Offutt replied, "All the time."
Originally from Gettysburg, Offutt has been traveling and doing this demonstration at The Great Frederick Fair for a decade.
He said he loves that people are still so interested in the trade.
"They stay on watching the whole time," Offutt said. "I could do half the shoes, but they stay for the whole thing."
Janne Pape and Alicja Urbanczyk were two of those people.
The two 16-year-olds are in Frederick on an international exchange program. They were visiting the fair on Sunday with their host family and decided to check out the shoeing demonstration.
"I learned a lot. I've never seen this before," said Urbanczyk, who is from Poland.
Pape, who is from Germany, agreed, saying she didn't know some details of shoeing.
"I didn't know that when they put the nail in, it comes out again," she said.
Both said they were looking forward to seeing more demonstrations, and thought the fair was a cool experience.
"I've never seen so many cows and horses," Pape said.