Kenyon Parker learned to drive on a six-wheeled, 13,600-pound behemoth that traversed land and water alike.
Mastering an amphibious DUKW, or "duck," when he had never sat behind the wheel of a car was, in his words, "interesting."
But Parker, then 18, rose to the challenge in the same manner he accepted his draft into the Army during World War II. He wasn't resentful of the call to service, even though in civilian life he was still treated as a second-class citizen, as were all African-Americans who grew up during the years of Jim Crow segregation.
Parker instead framed his four years of service as an escape, trading in a life lacking in opportunity, devoid even of indoor electricity, for honor and responsibility.
"It was exciting, in a way," said Parker, 92. "It was my chance to get out of Dodge and see the world."
The monthly stipend he received for his service also meant a path out of poverty for his family. Parker sent more than half of his $50 monthly earnings home to his family, he said.
Traces of the social conventions that characterized civilian life spread into military practices, though.
Like American society, the Army was segregated. Black soldiers were separated into their own units, originally assigned non-combat tasks such as supply, maintenance and transportation. By 1945, the losses of war forced the military to begin offering black troops positions such as infantrymen, medics and officers, according to the National WWII Museum.
Parker's 150-man company was made up entirely of black, amphibious truck drivers, led by white officers. When they finished basic training and set out for Europe, he and the other black service members were confined to the bottom level of the ship. The upper levels were for whites only.
But segregation was, in part, what saved him, sparing him the combat that killed many of the white infantrymen fighting on the front lines. When given the chance to join them, at the time the Army started bringing black troops into combat, he declined.
"I said, 'You must be out of your mind,'" Parker recalled. "Those poor white boys were just being shot up."
He finished out the rest of his service manning the duck, shepherding supplies from troops on land to ships off the coast of Europe and later, Japan. When he was discharged in 1946, he returned to the United States to find a life virtually unchanged from when he'd left.
Segregation was still in place. He and the other black servicemen were restricted to the last four cars of the train that took them from Seattle, where he returned from the Pacific, to New York for final discharge. He was not awarded the service medals given to white servicemen in the same positions.
And his family hadn't spent any of the funds he'd wired home faithfully each month. Parker ended up using some of the money to buy a vehicle, a used Ford he bought for $100, he said.
"Learning to drive was kind of funny, because I'd been used to that big truck," he said of the duck.
And though Parker was forced to abide by the confines of still-legalized discrimination, he forged his own path of advancement. He passed the GED exam — he didn't graduate from high school before he was drafted — and went on to pursue a degree in industrial arts and chemistry at Delaware State University.
He secured a job teaching, first only to black students and later, after segregation ended, to multiracial classes. Parker was one of the first African-American teachers hired at West Frederick Middle School, he said.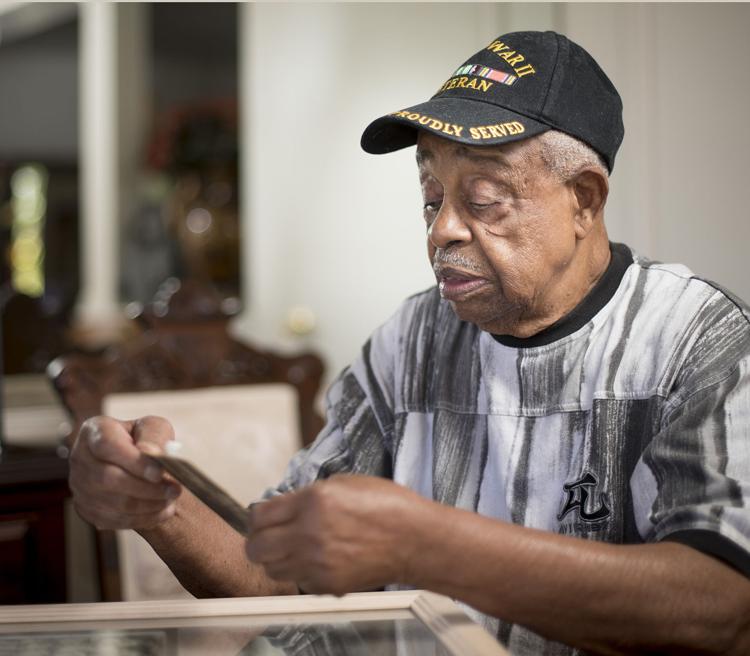 Parker adapted just as he had to the other changes that came his way.
"When we were segregated, it taught you to survive," he said.