When offered a five-day, all-expenses-paid trip to Europe earlier this year, Thomas "Tom" Hoke said no.
He had already spent 20 long months there as part of his service with the Army during World War II. His experience then was enough to dissuade him from ever returning, all-expenses-paid or not.
"I've seen things that ordinary people's not going to see," said Hoke, 93. "I don't have any pleasant memories from over there."
Among them is the Nazi concentration camp in Germany that his unit helped to liberate at the tail end of the war. His unit was the first to arrive at Buchenwald, tasked with setting up headquarters while they awaited the rest of the division to arrive and complete liberation.
"You smelled it before you ever got to it," Hoke said. "It stunk that bad."
The guards were long gone, as were some of the prisoners whom the Germans had already forced into evacuation marches anticipating the arrival of Allied forces.
Hoke described piles of bones and skeletons strewn across the compound. Those still alive were at first reluctant to come forward, until they learned the newcomers were Americans there to give them long-awaited freedom.
"You've never seen a sight like that," he said. "How some of those people could still walk was a mystery to me."
Asked for food, Hoke and his unit members handed over what they had — chocolate, cigarettes and powdered drinks — while sending word for medical assistance.
As a member of the 87th Infantry Division's medical battalion, Hoke spent much of his service with the wounded and sick, though he did not treat them directly. Instead, Hoke served as a litter-bearer, scooping wounded soldiers off the battlefield and carrying them in stretchers back to makeshift medical tents.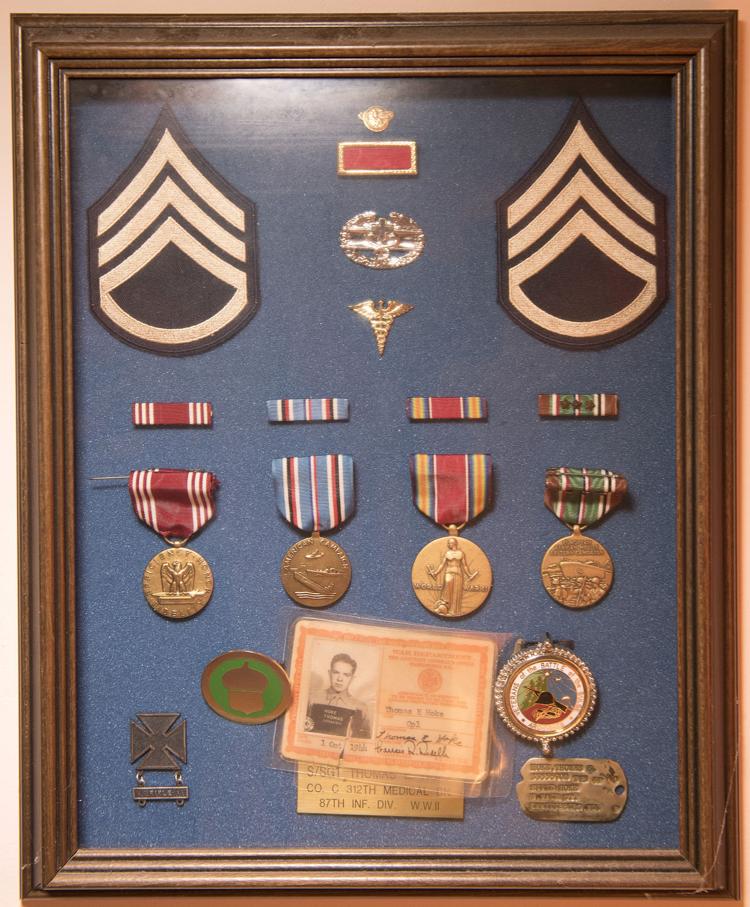 Unlike infantrymen, he was allowed to run for cover when the Germans opened fire, he said. Still, there were several instances when he narrowly escaped injury or death.
Hoke recalled one such occasion during the Battle of the Bulge, as American troops pushed the German offensive down a large hill. They heard the cry go out for a medic; an infantryman was wounded.
He and three others rushed down with a stretcher to carry him back — it was normally a two-man job, but the steep incline of the hill necessitated extra help, Hoke said. As they lifted the stretcher, he saw a German tracer bullet fly underneath. They dropped to the ground, and a few seconds later, having dodged the bullet, proceeded back toward the tent, stretcher and soldier in tow.
"My guardian angel's still working overtime, I think," Hoke said.
Despite his close encounters, he never feared being wounded. The prospect of being taken prisoner was much more frightening, he said.
Neither happened during his time overseas. And when Hoke was discharged in 1945, he returned to the customs and responsibilities of civilian life as was expected. He kept silent about his war memories, even when he reunited with one of his unit members with whom he became close friends later in their lives.
"For 50 years, no one talked about the war," he said. "Everybody'd done it, nobody wanted to hear about it."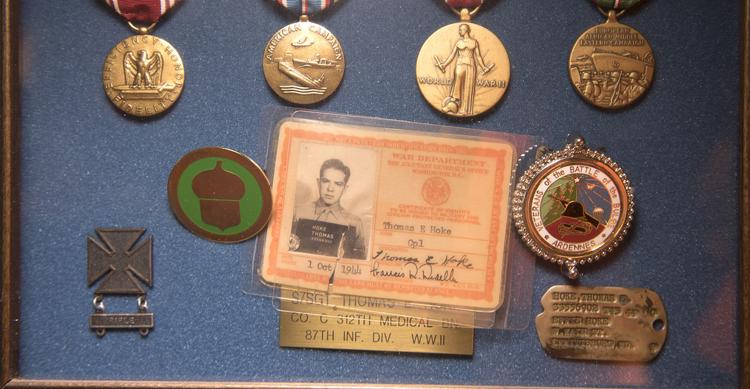 In recent years, he has participated in events intended to share the details of World War II with younger generations, including the Eisenhower National Historic Site in Gettysburg and the Mid-Atlantic World War II weekend in Reading, Pennsylvania. But the sight of wounded soldiers he scooped off the battlefield, the ringing of German artillery fire, the smell emanating from the concentration camp, are topics he avoids at anniversary events and commemorations.
He can't erase the memories.