A Montgomery County man shot and killed two people outside a home near Mount Airy before killing himself back at his residence on Thursday, according to the Carroll County Sheriff's Office.
Neither the suspect nor the two victims was being identified as of Thursday afternoon, but Carroll County Sheriff Jim DeWees said detectives believe there was some kind of relationship between the suspect and one of the victims, a woman, who was killed in the 7900 block of Bennett Branch Road. The shooting happened at around 3 p.m. and the first Carroll County units arrived a short time later to find a man barely clinging to life and suffering multiple gunshots wounds, as well as the female victim, who was pronounced dead at the scene, in the 7900 block of Bennett Branch Road, DeWees said.
"At the time they encountered [the male victim] he was alive, they started CPR, they were able to get medics here quickly [and] those medics transported that individual to a staging area just ... north of this location at the Mount Airy Carnival grounds," DeWees said, addressing reporters at the scene. "Trooper 3 from the Maryland State Police was here to transport the subject to University of Maryland [but] before they could do that transport, that individual died."
DeWees said the suspect, who had fled the scene driving toward Montgomery County, was identified thanks to interviews with several witnesses at the scene and attempts were made to reach the man on the phone.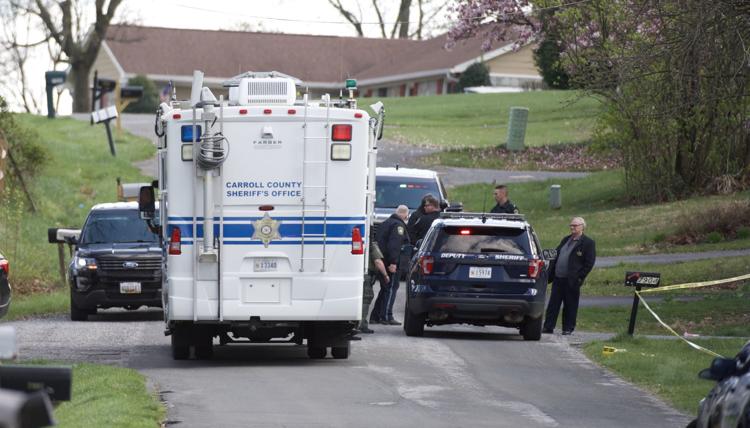 A Carroll County Sheriff's Office detective was able to get the man on the phone and spoke with him briefly while Carroll County units advised Montgomery County police of the man's address in Gaithersburg, DeWees said.
"One of my deputies was able to speak with him for a brief period of time, he was at [his] residence there [in Gaithersburg]," DeWees said. "We know that Montgomery County made it out to the residence, had contact with him, and then at some point he took his [own] life."
Capt. Tom Jordan, a Montgomery County Police Department spokesman: "While we were responding to look for the individual, he exited the residence and ended his life before the police could even confront him."
Carroll County sheriff's deputies said there were as many as three children ranging in ages from 2 to 8 who were inside the home at 7902 Bennett Branch Road, all of whom were safe.
Additional information will be released as it becomes available, DeWees said.