When Ed Crouse started his career with the Maryland State Police in 1972, he relied on his wits, size and six-shot revolver to protect the community and himself.
Just to be considered for the job, candidates had to stand at least 5 feet, 10 inches tall, with proportionate weight. Size makes a difference when you respond to a call alone, he said.
If he needed help, Crouse ran to his patrol vehicle to use the radio. He wouldn't carry a radio on his hip capable of reaching the barrack until years later. He didn't have GPS in his first patrol vehicle, but the Thurmont native knew where he was going.
"I knew Frederick County like the back of my hand," he said.
He spent 22 of his 25 years with MSP working out of the Frederick Barrack. He served as a resident trooper in Emmitsburg and educated troopers in firearms and officer survival. Crouse started out making $7,000 annually. Today, graduates of the academy start with a salary of $53,561, according to MSP spokesman Greg Shipley.
Crouse wrote his reports on a manual typewriter and penned traffic citations by hand. Troopers were issued either a Smith & Wesson or Colt .38 special revolver in his day. Crouse also carried a baton and pouch with extra rounds. Today, they carry a Glock model 22 in .40 caliber, according to Crouse's son, Master Trooper Matthew Crouse, who works in the firearms licensing division.
The changes Ed Crouse witnessed are just a few of the evolutions the Maryland State Police has experienced over its 100 years. 2021 marks the centennial anniversary of the agency.
Frederick was one of the original five state police districts in the state, along with Bel Air, Cambridge, Cumberland and Hyattsville, according to a video released by the Maryland State Police for its anniversary. The first headquarters was in Baltimore.
Every trooper's career begins at the police academy.
The first Maryland State Police academy class consisted of 36 recruits — born out of a necessity to curb the crime that came with the growing popularity of the automobile. After one month of training, Gov. Albert Ritchie presided over their graduation.
The training evolved to a six-month stay in Pikesville, with candidates able to go home most weekends. The academy moved to Sykesville, Carroll County, in 2004.
Chris Sasse, a former assistant commander of the Frederick Barrack, remembers his 1989 experience at the academy well. 
"It was military from day one," he said.
As soon as he drove his car into the parking lot to check in, Sasse saw 20-some instructors waiting for 81 candidates. They told the candidates to park their cars so close together they could barely open the doors. Instructors yelled at them to hurry up and get to the gym, where they would examine their belongings to ensure candidates brought nothing more than the essentials. Those that erred likely found themselves on the ground, pushing their arms up and down.
Their training had begun.
A day at the academy typically started at 5 a.m. in Sasse's time, though a few candidates awoke each night to take turns on "fire watch." It wasn't uncommon for candidates to be awoken for what Sasse described as "midnight Olympics," or calisthenics late at night. This served to prepare them for waking up to an emergency call.
Instructors hold high expectations of the candidates, the former troopers recalled. Forgetting to bring a black pen to inspection could result in a demerit. A candidate who received a certain number of demerits had to stay the weekend doing chores, according to Sasse.
This may seem extreme, but Sasse — a former instructor — said the structure is rigid to teach the importance of being prepared.
"Many times you're by yourself on a call," Sasse said. "You have to be able to do what you need to do without relying on backup right away so you can save your life, if it gets in that situation. It really builds you up to be self sustaining."
Resident troopers
After Sasse graduated from the academy, a few years later, he went on to start the state police's first bicycle patrol in 1995.
Sasse saw the benefit of a bicycle patrol when he served with Frederick Police Department. When Sasse came to MSP, he made the pitch to start the state police's first bicycle patrol. He was recognized by Gov. Parris Glendening for becoming the first bicycle patrol member in the Maryland State Police. Today, the bicycle patrol is still active in Walkersville, where five resident troopers serve.
"You can do so much more on a bike than you can do in a car," Sasse said.
On any given shift, Sasse might pedal three or four miles, but exercise wasn't the point. He stopped and talked to residents. He checked on businesses, rode through developments and got a feel for Walkersville. On a bicycle, he viewed the town from a new vantage point as he responded to calls.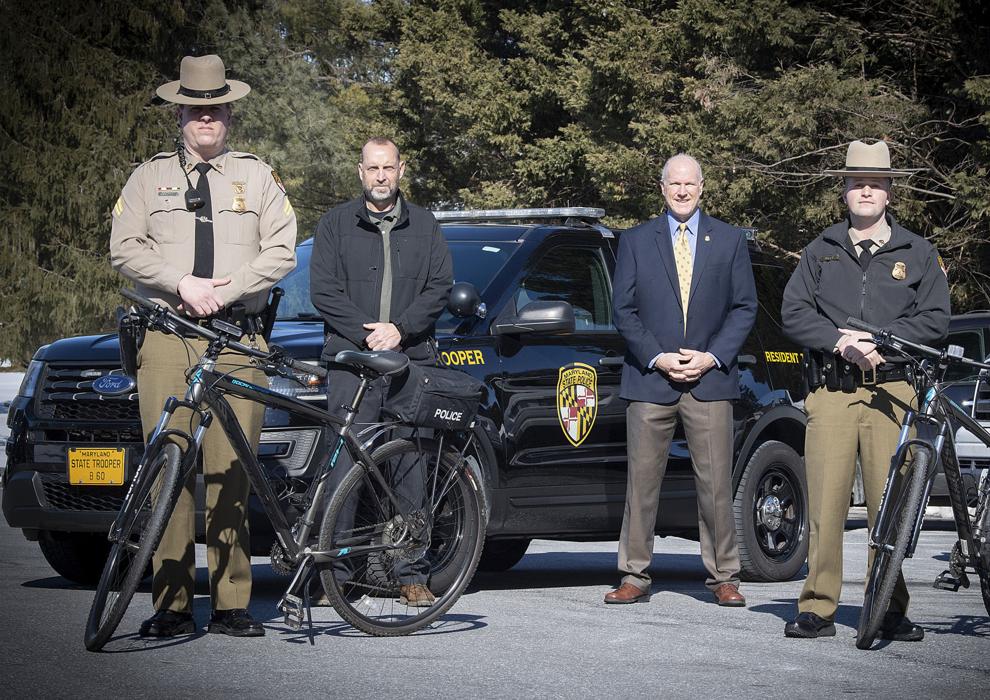 Serving the community in this way, Sasse said, was one of the highlights of his career.
Ramona Miller feels similarly about the town.
"I honestly loved working as a resident trooper in Walkersville," the retired trooper said. "The biggest thing was you got to know the community and the community got to know us."
Previously known to locals as Trooper First Class Ramona George, she spent the last seven years of her nearly 30-year Maryland State Police career with Walkersville.
Miller came to MSP in 1986. Twelve years before, the first six female trooper candidates entered the academy. Prior to then, women worked as civilian stenographers, clerks and radio and teletype workers.
As best as she can recall, Miller remembers two other women who worked at the Frederick Barrack when she started there. She didn't dwell much on the fact that there weren't many female troopers.
"For lack of a better term, I felt like one of the guys," she said.
As president of the Maryland Trooper Association Lodge 51 in the 1990s, she advocated for more staff when they were short and pushed legislators to help. Frederick had about 1.3 officers per 1,000 residents, when it should have been about double that, Miller told the News-Post in 1999, archives show. Miller's efforts helped lead to Frederick gaining more troopers.
Central booking
The 1990s marked a major change in how police in general would operate in Frederick County, with the advent of the central booking system in 1996 at the adult detention center.
When James Deater Jr. started his state police career in 1990, one arrest could take up hours of a trooper's shift.
"In those days, once you got an arrest, you're done," he said.
Once Deater arrested someone, he'd take them back to the barrack for fingerprinting and to have their photo taken. After typing up their charges, Deater put the arrestee back in his car and drove them to the courthouse, where they would wait to see the commissioner. The wait could last six hours. If the commissioner determined the arrestee should go to jail, Deater would take them to the detention center.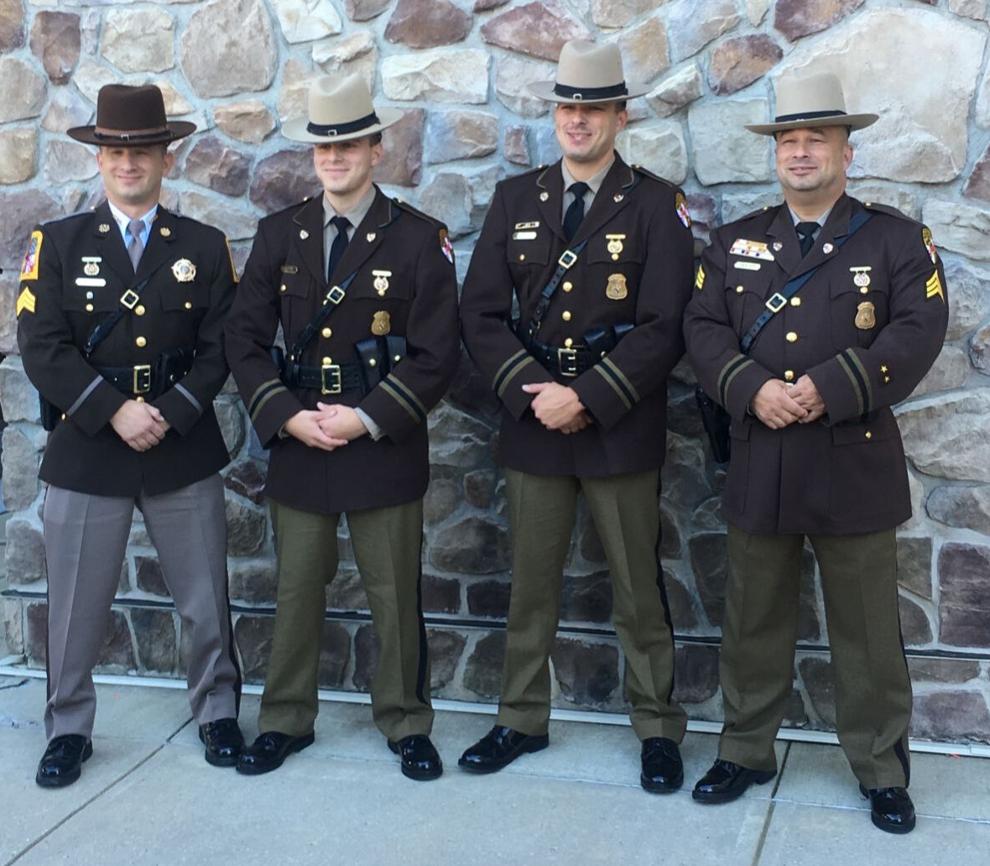 The process became much more efficient, Deater said, when the Frederick County Sheriff's Office implemented central booking. Nowadays, a trooper can take someone straight to the detention center and be out in less than 20 minutes.
Between central booking and the latest technology troopers have at their disposal, Deater joked his sons Jacob and Jonathan — both troopers at the Frederick Barrack — are practically spoiled.
Writing traffic citations by hand took Deater 10 minutes, but now the process is much quicker with a computer and identification scanner available in patrol vehicles. Computers were added to troopers' vehicles in the early 2000s.
Evolving technology doesn't only benefit the police, however.
Drug task force
Deater spent 20 of his 28 years with the state police on the Frederick County Drug Task Force and retired as the group's operations supervisor.
"As we advanced, so did the bad guys," he said.
Wire taps enabled the state police to infiltrate Mexican cartels and catch those distributing heroin which was causing overdoses, Deater said. Field test kits identified drugs like cocaine, marijuana, meth and heroin, but some substances require a closer look in a lab.
The Maryland State Police crime lab was established in the 1970s. In 1994, state law established Maryland's DNA database and assigned its coordination to MSP's Forensic Sciences Division.
"The designer drugs of today, that takes a chemist to look at," Deater said.
Over the years, he saw the task force evolve from following cars to placing tracking devices on them. Though technology helps police, Deater wouldn't say the job is any easier. With each new change came more paperwork. Some of the requests he wrote for wire taps were 300-plus pages.
Drug couriers started operating differently. When Deater got used to stopping cars with kilos of controlled dangerous substances, the criminals started shipping drugs through the mail. There were days Deater saw 500 pounds of drugs seized from one distribution center. Sometimes, the criminals used tracking devices on their parcels, he said.
Those who wanted a heads up to police approaching switched from using dogs to closed circuit TV and cameras, Deater said. The computer savvy would encrypt data in an attempt to hide it from police. Deater said certain TV shows portrayed police tactics pretty close to reality, and criminals learned from those as well.
Despite the many changes to the state police over the years, what remains consistent is the connection troopers feel to the agency and the brothers and sisters they serve alongside.
On a recent visit to the barrack, Sasse was greeted like an old friend. In an interview, he was eager to tell the News-Post about the men and women who shaped his career. One of those people was Ed Crouse.
Sasse fondly remembers Crouse cooking up breakfast for troopers on the midnight shift at the old barrack, which had a kitchen.
Crouse still holds onto a brick from the U.S. 40 barrack — the new barrack is located at the County Law Enforcement Center in Frederick.
"Back then, you were like a family," he said. "Once a trooper, you're always a trooper."