COVID-19 and data-driven policing may be factors at play as the city of Frederick experiences historically low crime rates.
Frederick Police Department (FPD) recorded 1,388 part 1 crimes in 2020 — a more than 20 percent decrease since 2016. Those crimes include homicide, rape, robbery, aggravated assault, burglary, theft, stolen vehicles and arson, according to a statement from police. This figure stood at 1,674 in 2019, while there were 2,280 part 1 crimes in 2012, police said, and the number has been dropping annually ever since.
Violent crimes dropped to a five-year low of 250 in 2020. This figure includes homicide, rape, robbery and aggravated assault. Total property crimes, such as burglary and theft, numbered 1,138, compared to 1,374 in 2019.
FPD made 2,657 arrests in 2020, down from 5,004 arrests the year prior. The department responded to more than 94,000 calls in 2020, which is in line with the average number of calls for service since 2011.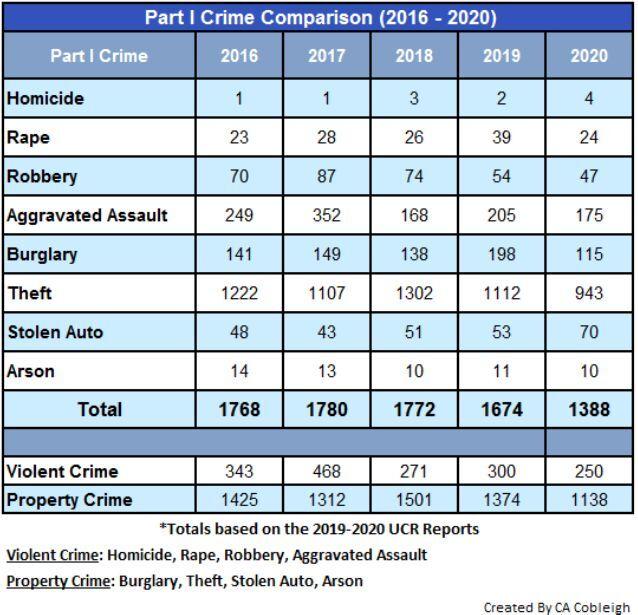 Capt. Kirk Henneberry acknowledged COVID-19 may have contributed to lower crime rates in 2020.
"Definitely back in the spring there were less people out, so that's probably a factor," he said in an interview. "It did reduce just people out and about, getting into altercations and things like that."
He also attributes the lower numbers to police striving to put their best resources in areas where they are seeing crime trends. Supervisors and crime analysts come together in weekly meetings — held virtually since the pandemic began — and consider how divisions can collaborate to curb crime. Henneberry said they also have a great relationship with the Frederick County Sheriff's Office and work with the FCSO as cases cross city limits into the sheriff's office's jurisdiction.
FPD officials noted crime may increase when COVID-19 restrictions loosen. Police ask residents to continue to report tips, which can be given anonymously. Those with information about crimes can call Frederick police at 301-600-2102, leave a voicemail at 301-600-TIPS (8477), text 240-674-TIPS (8477) or send an email to fpdcrimetip@frederickmdpolice.org.