A protest against racial injustice that started on Square Corner Saturday evening became an impromptu march through Downtown Frederick, eventually meeting several sheriff's deputies on East Street near Monocacy Boulevard.
The deputies blocked the way to I-70 for protesters who were attempting to march onto I-70. A night earlier, protesters occupied the interstate shortly after thousands gathered in Baker Park to protest the killing of George Floyd by Minneapolis police officer Derek Chauvin.
On Saturday evening, I-70 was briefly closed as a precaution, police said.
Thirty-six sheriff's deputies in riot gear created a line across both lanes of East Street to block to protestors. Frederick City Police and the Maryland State Police were also on the scene. Protesters engaged in conversations and arguments with deputies and sheriff's office officials, and the protest came to a standstill for about 30 minutes. 
Organizers Kavonte Duckett and Aje Hill encouraged protestors to walk back toward downtown, seeing that the deputies would not let them through. After a few confrontations and some tensions escalating, the protestors all walked back up East Street toward Carroll Creek shortly after 9 p.m.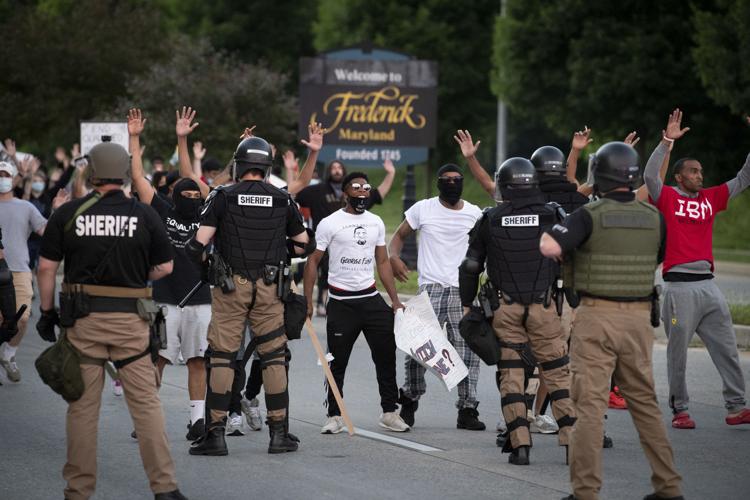 Earlier in the evening, Duckett said the protesters aren't strictly marching over Floyd's death. While that might have been inciting incident of protests nationwide, he said the cause goes deeper. Police brutality is a symptom of a larger racist system at work, he said.
Aje Hill agreed. He said that he's not upset with cops, but rather the system at large for protecting cops and permitting violence.
"This didn't just start happening," he said, while the group was protesting at Square Corner. "It's been happening for 400 years."
Hill said the fight goes well beyond protesting, too. He is a mentor with "I Believe in Me," a program for boys in Frederick. He doesn't want to teach them to be scared of the police, but instead teaches them about their rights.
"We're going home terrified," Hill said. "Our kids are afraid."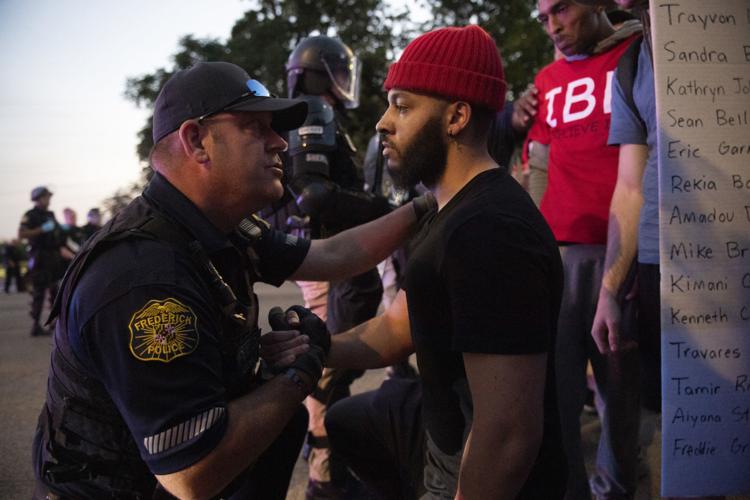 Duckett said there are several changes he wants to see in Frederick. They include looking into training of both the Frederick Police Department and the Frederick County Sheriff's Office and making any changes necessary to help mitigate racial bias and ensure de-escalation training is used. He wants to see data of arrests, stop and frisk and use of force by these departments broken down by race.
A press conference or a written statement from public officials will not be enough, he said. He wants legislation.
City Alderman Ben MacShane, a member of Showing Up for Racial Justice, said he has been in conversation with local residents about how to best move forward. He wants to be a voice for people who have often gone unheard.
"Our nation needs reforms, our city needs reforms," he said.
The group was peaceful, as the organized protest was on Friday night. A few businesses on Market Street had boarded up their windows ahead of Friday night's protests. One of which was Black Hog BBQ, which the protest stopped and kneeled in front of while marching on Market Street.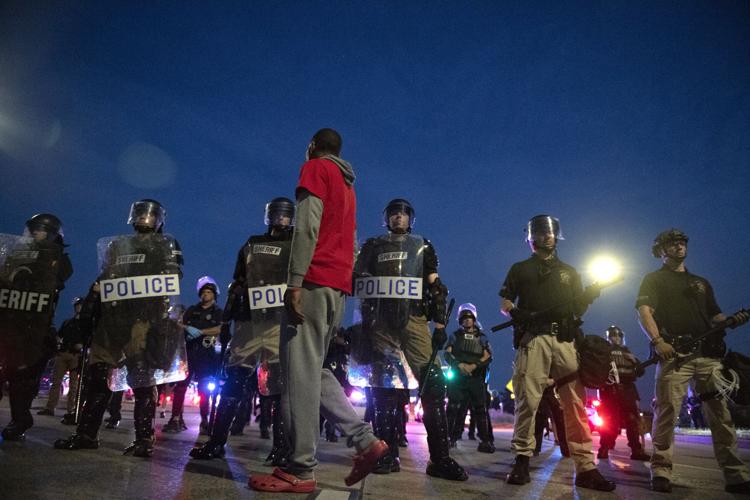 "I understand the precautions," Duckett said. "… But I think that was taunting, that was antagonistic."
Moving forward, Duckett hopes the movement can utilize practices such as boycotts to make their message heard.
Hill, too, spoke on the importance of being peaceful, especially after President Donald Trump called protesters "thugs," and police are clashing with protesters nationwide.
"It's important that we're strategic," he said. "… We're not just out here because we're tired. We're out here because we have a plan."
Organizers are planning on protesting at the Frederick County Sheriff's Department on Monday.