An Anne Arundel County judge on Tuesday found Blaine Young, the former president of the Frederick County Board of County Commissioners, guilty of three prostitution-related counts.
District Judge H. Richard Duden III then gave Young probation before judgment. In court, Duden also said Young would pay $200 in court costs and fines. However, in a phone interview later, Young said court papers actually listed that total as $142.50.
"I'm sorry for any embarrassment I've caused," Young said tearfully in court before his sentencing, adding that he wanted to be a good citizen.
In a probation before judgment disposition, a defendant can have the conviction stricken from his record upon successful completion of probation.
In a phone interview after the trial, Young said that he was pleased that the judge granted him the opportunity to have the guilty finding removed from his record through probation before judgment. The media coverage of the charges, however, would be something he would carry with him, he added.
"I've got no one to blame but myself," he said. "And I'll be trying to make right with a lot of people for the rest of my life."
A fourth count of prostitution against Young was dismissed.
Anne Arundel County police said Young, 44, and five other people were arrested and charged as part of a police prostitution sting on Feb. 18 at a hotel near BWI airport.
An undercover detective posed as a prostitute and took out an ad on a website known to arrange transactions with prostitutes.
Prosecutors say Young responded to the ad and met the officer at a hotel, Aloft BWI Airport, to exchange sex for money, $60.
The undercover detective testified at trial that Young entered and quickly began to undress. He told her that he didn't have much time. She asked him what he wanted and Young inquired what she did. The undercover officer said she responded everything. She then asked if he wanted sex and he said yes, according to the officer.
Young, however, said in court that he never brought up sex and he went to the hotel to get a massage.
He had been driving part time for his former taxi company, he said, and was going to pick a fare up from the airport. Young was a co-owner of Yellow Cab.
He was waiting for the client at a Shell station near the airport and he mentioned to other drivers waiting there that he was having foot and neck pain, he said.
Another cab driver said that he knew an attractive blonde in the area who gave good massages. Young said he entered the terms "BWI," "massage" and "blonde" into a search engine on his cellphone and found the ad that led him to the undercover officer, according to his testimony.
Young said he called to see if he would have enough time for a massage and when he learned that the person he believed to be a masseuse was nearby, he went to meet her. He paid her the $60 she requested, thinking it was for a massage, and he was arrested.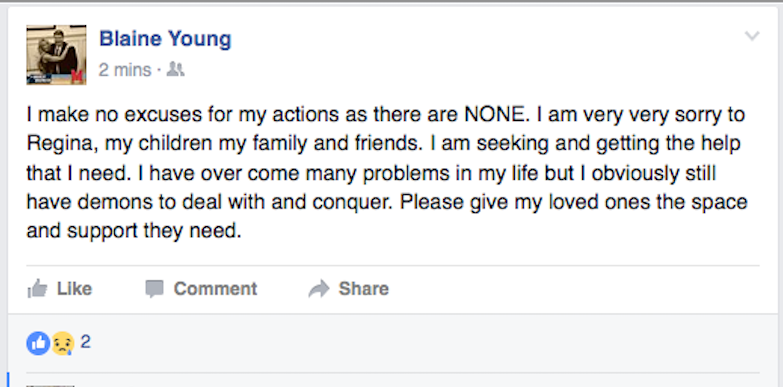 When prosecutor Natalie D'Antonio asked him about a Facebook post in which he apologized for his actions and referenced "demons to deal with and conquer," Young said that was not an admission of guilt, but expression of remorse for what he had put his then-fiancee, children and family through.
Duden said he did not believe Young's version of events. Young should have reasonably concluded, he said, that the ad — which referenced fetishes and contained an image of a woman in a thong — was an ad for prostitution, not massages.
"A 12-year-old boy can look at that ad and know what it's about," the judge said.
Young's public apology "sealed it" in terms of finding Young guilty, Duden said.
Young was elected to the Board of County Commissioners in 2010 and lost a bid for county executive in November 2014.
He resigned as a member of the Frederick County Planning Commission in January 2015 after a public battle with County Executive Jan Gardner in late 2014.
Frederick resident and activist Steve Bruns attended the trial wearing a bright yellow shirt with Young's name within a circle. A slash went through Young's name as a "no" symbol.
Bruns said he was at the hearing hoping to "see justice done."
"This man, Blaine Young, has been a blight on Frederick County. He's an embarrassment to the state of Maryland," he said.
Bruns said he and Young had a contentious relationship at public hearings.
Young's attorney, Peter Sean O'Neill, offered the judge a lengthy list of Young's civic engagement, including his work in public office and participation in clubs such as the Elks Lodge. Young had also received counseling through his church.
"He has done much more than the average citizen will do to improve the community," O'Neill said.
Tuesday's trial was not the first time Young has been embroiled in prostitution allegations. His name came up during the Madam Angelika Potter's Corporate Affair escort service "black book" case. His name was written on an index card with a note that he "likes it rough," according to a 2001 Frederick News-Post report.
Young said at the time that he hired the women to dance at parties, not have sex.