Less than one month into the job, Frederick's police chief got the call no law enforcement officer ever wants to hear — active shooter.
A gunman shot two people in a business park northeast of downtown Tuesday before driving to Fort Detrick, where the post's civilian police force fatally shot the man. One victim from the business park shooting has been released from the hospital, while the other is in critical condition.
"Immediately your mind starts racing," he told the Frederick News-Post in an interview. He thought of the victims, the bystanders and the first-responders in the middle of it.
Lando asked where he was needed and drove to the command post.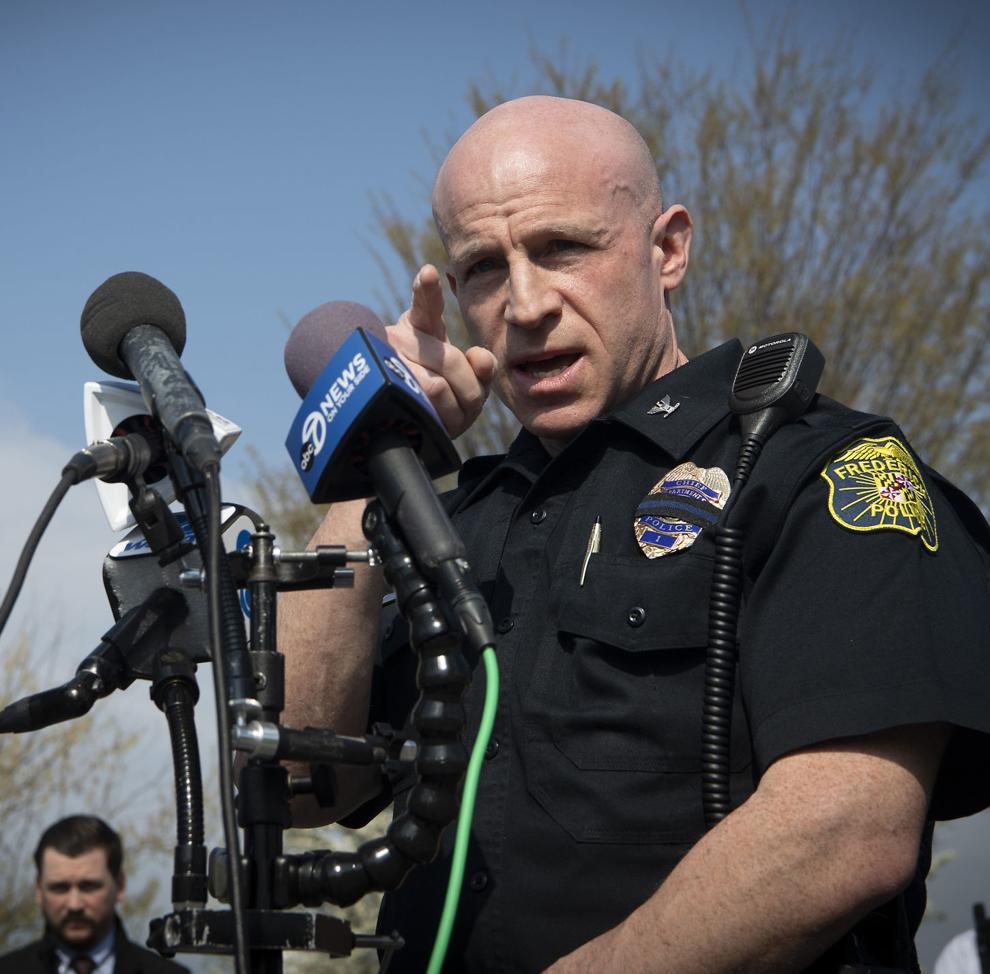 "It's tragic that something like this occurred at all," he said.
Incidents like this are never easy to handle, he said, and being the new chief certainly didn't make it any easier. But Lando quickly realized the officers under his command did not need much direction. Their training kicked in, and partner law enforcement agencies rushed in to help prevent further losses.
"As I was responding, just seeing all of the police cars flying toward the threat gives you a sense of pride as the head of the agency — that your officers are willing to put their lives on the line for complete strangers," Lando said. "To see it in action is really something else."
The chief is no stranger to these types of calls. He was the on-duty commander when the Tree of Life synagogue shooting occurred in Pittsburgh in 2018. Eleven people died. It's also the synagogue he grew up attending.
Less than a decade before Tree of Life, a gunman killed three police officers in the Stanton Heights neighborhood of Pittsburgh in 2009. Lando was their sergeant, and the badge numbers of the fallen officers — Eric Kelly, Stephen Mayhle and Paul Sciullo — are now tattooed on his arm. He brought a photo of himself and Sciullo's mother to his office in Frederick. They still stay in touch.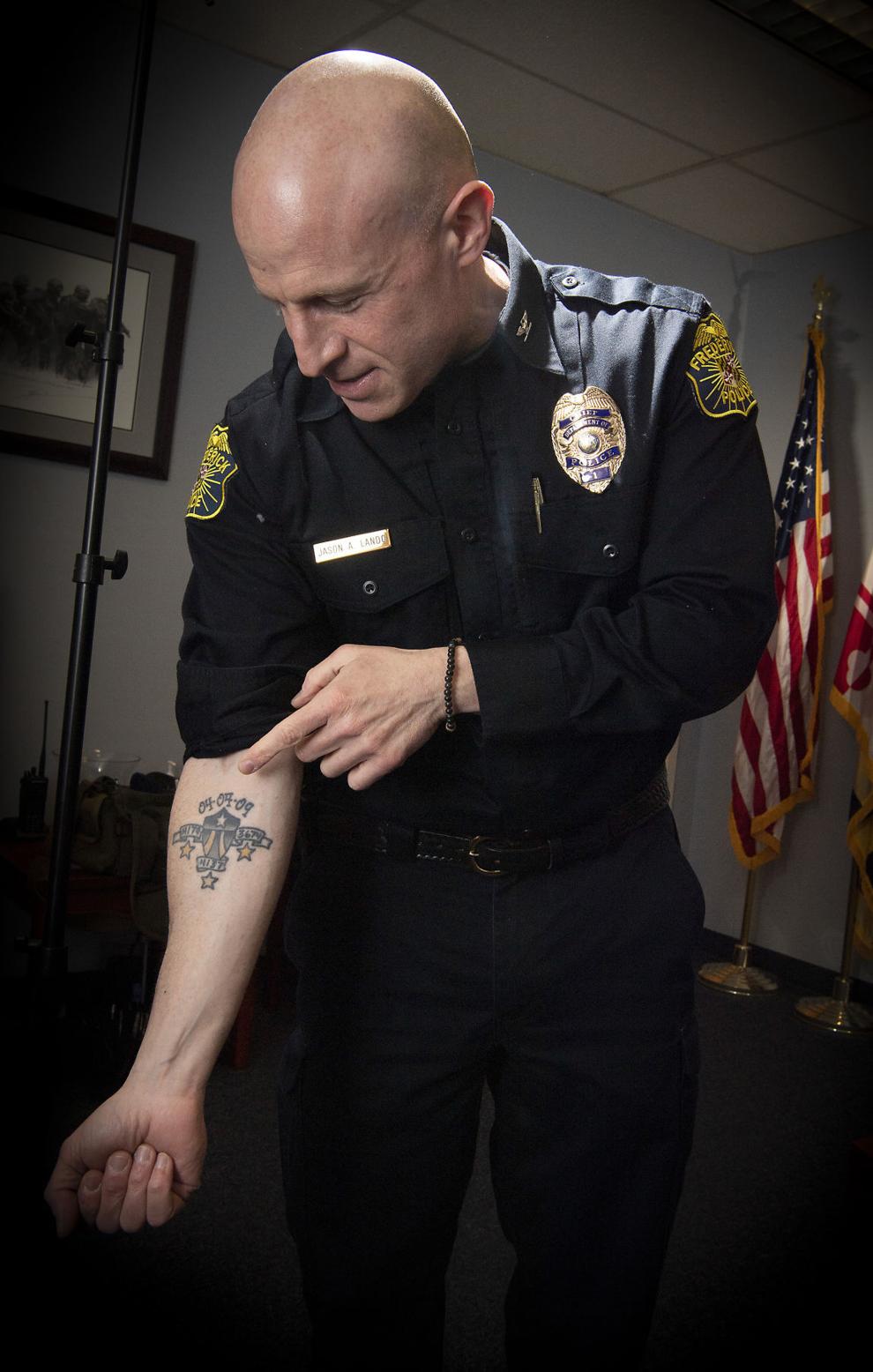 After spending 20-plus years with the Pittsburgh Bureau of Police, Lando left so he could have an opportunity to become a police chief. While he loves the city he grew up in, he said there likely wouldn't have been a chief position available there any time soon. 
A few weeks into the job in Frederick, Lando said he was doing a lot of listening before considering any changes.
"I think if I were to come in here and say … 'We're going to make this change, we're going to make this change, we're going to do this' ... How can I say that coming from another state not knowing this city, not knowing the people and not knowing the officers?" he said.
With roughly 150 sworn officers and 50 civilian staff, it'll take some time to get acquainted with everyone. "One of the biggest challenges is getting to know a whole entire police department that's wearing masks," he said.
Lando said he spent much of his first two weeks behind a desk out of necessity, then started gradually meeting members of the community.
"I want to learn all about the different communities in Frederick and what community policing looks like to the residents in each of our neighborhoods," he said.
Community outreach
Lando has already started getting to know some groups in the area.
On March 22, he helped hand out food with a local nonprofit, I Believe In Me, which has been conducting food drops throughout the pandemic.
Aje Hill, director of I Believe In Me, said the first thing Lando asked when they met was how could he help. Hill saw Lando grab bags of food and load them into cars.
Hill gets the impression Lando "really wants to empower our community."
The city's police chief should understand adversity, Hill said, and know not everyone starts life on a level playing field.
Since the food drop, Hill and Lando have stayed in touch. Hill said they've discussed how the police department can connect with I Believe In Me's youth program.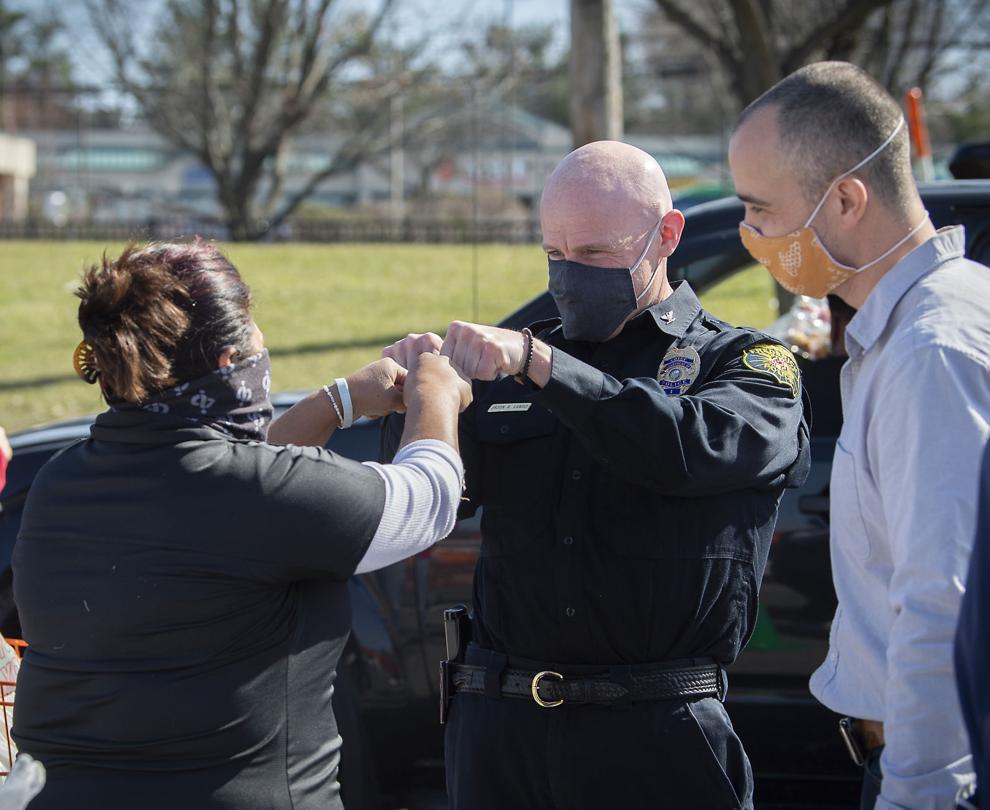 "It's important that we help him get to where he's trying to go," Hill said of Lando. "He may have the vehicle, but we are the gas."
After introducing himself and a few officers, Lando told those gathered he wants to appoint a liaison from the department to the Asian community.
Elizabeth Chung, executive director of the Asian American Center of Frederick, perked up at this news.
"I welcome the idea and hope that there will be an officer appointed to us, so we can build a relationship that we have someone in law enforcement to turn to for help or information. Perhaps this person can be a mentor," Chung said.
Following the shootings in Georgia that killed eight people, including six women of Asian descent, FPD announced it would conduct extra patrols and check-ins with Asian-owned businesses around Frederick. The shooter has reportedly said the attack wasn't racially motivated, but Lando recognized the incident still sparked fear within the Asian community.
Chung said the Asian community would benefit from a chief who is culturally sensitive and approachable, one who makes policy decisions and devotes resources to address residents' needs.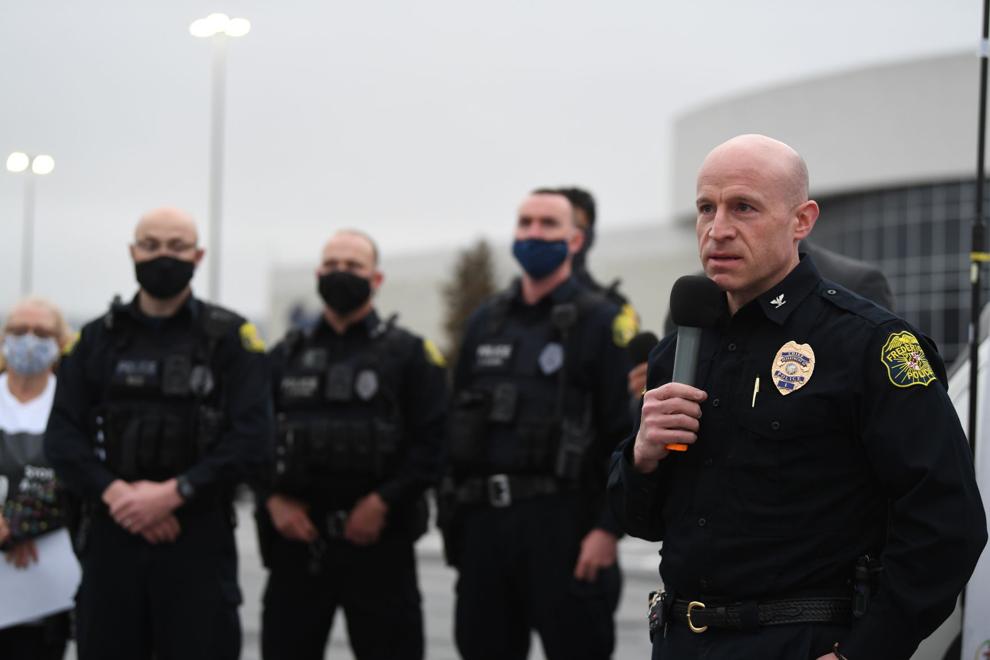 Lando also met with leaders of Centro Hispano de Frederick, Executive Director Maria Shuck said. Their conversation included discussing the need to stay connected to the limited-English speaking community, she said, which doesn't always have an opportunity to be heard.
"He seemed very kind, very eager to learn about the Latino community here in Frederick," Shuck said of her first impression of Lando.
Lando, in an interview, acknowledged a divide across the country between police and historically marginalized communities. He's hoping to build relationships within these groups in particular. In the near future, Lando said he plans to work with officers and command staff to identify groups who feel "disconnected" from FPD and appoint specially trained officer liaisons to these groups.
"They will attend community meetings and events. Most importantly, they will work alongside residents to address sensitive issues and build trust between police and their community," the chief said.
Lando acknowledged some Frederick residents were hoping the other finalist for police chief, Cleveland Spruill, would become the city's first Black chief.
"I cannot pretend for a minute to know what it is like to be a person of color, and I have great respect for those community members who were hoping FPD would have seen its first Black police chief," Lando said. "My greatest hope is that the Frederick community will form their opinion of me based not on my race, but on my track record of what I accomplished in Pittsburgh and what we are going to accomplish together here in Frederick."
That sentiment applies to another part of Lando's identity. He is a member of the LGBT community.
"My sexual orientation is only a small part of who I am," he said. "It was actually something I used to hide, but as I rose in the ranks I stopped caring what other people thought about it. I realized if they had a problem with my sexuality it was more a reflection of their own character than it was of mine. I also felt it was important to show younger LGBT officers that they did not have to hide who they were."
Police practices and diversity
Lando believes in "procedural justice," a concept he said is built on respect, transparency, giving citizens a voice and treating people equitably. He pledged to hold officers accountable and to support them when they do the right thing.
The chief said when the community and police have a strong relationship, it's better for everyone.
"Community policing is about forming genuine, meaningful relationships between our officers and our residents," Lando said. "What works in one community may not work in another. Both sides have to be engaged for that to happen. But when it does, everybody wins."
In the short time he's been with FPD, Lando said he's been continually impressed with the staff. He described the department as "ahead of the curve." FPD is an accredited agency by the Commission on Accreditation for Law Enforcement Agencies, which Lando said is no easy feat to attain and keep. The accrediting agency sets strict standards for law enforcement agencies, according to Lando.
In its approximately 24-square-mile jurisdiction, FPD serves more than 75,280 residents, according to the department's latest annual report on its community policing program. Of that population, 57.6 percent are white, 20.6 percent are Black, 19.8 percent are Hispanic, 6.3 percent are Asian, 0.5 percent are Native American, 0.1 percent are Hawaiian or Pacific Islander and 5 percent are more than one race, the 2020 report reads.
The chief was glad to see a diverse group of officers graduate from the police academy last month. He wants to work toward having a department that's reflective of the community it serves. As of Dec. 31, 2020, FPD had 20 people of color working as sworn officers, none of which were in command staff positions, the department's demographics report shows.
"It is important we constantly work towards ensuring our police department is reflective of the community it serves," Lando said. "More diversity in current recruit classes means more diversity in future leadership positions. Regarding our command staff, I am currently exploring a few options on how we can ensure that those in leadership roles in the Frederick Police Department are also representative of the city as a whole."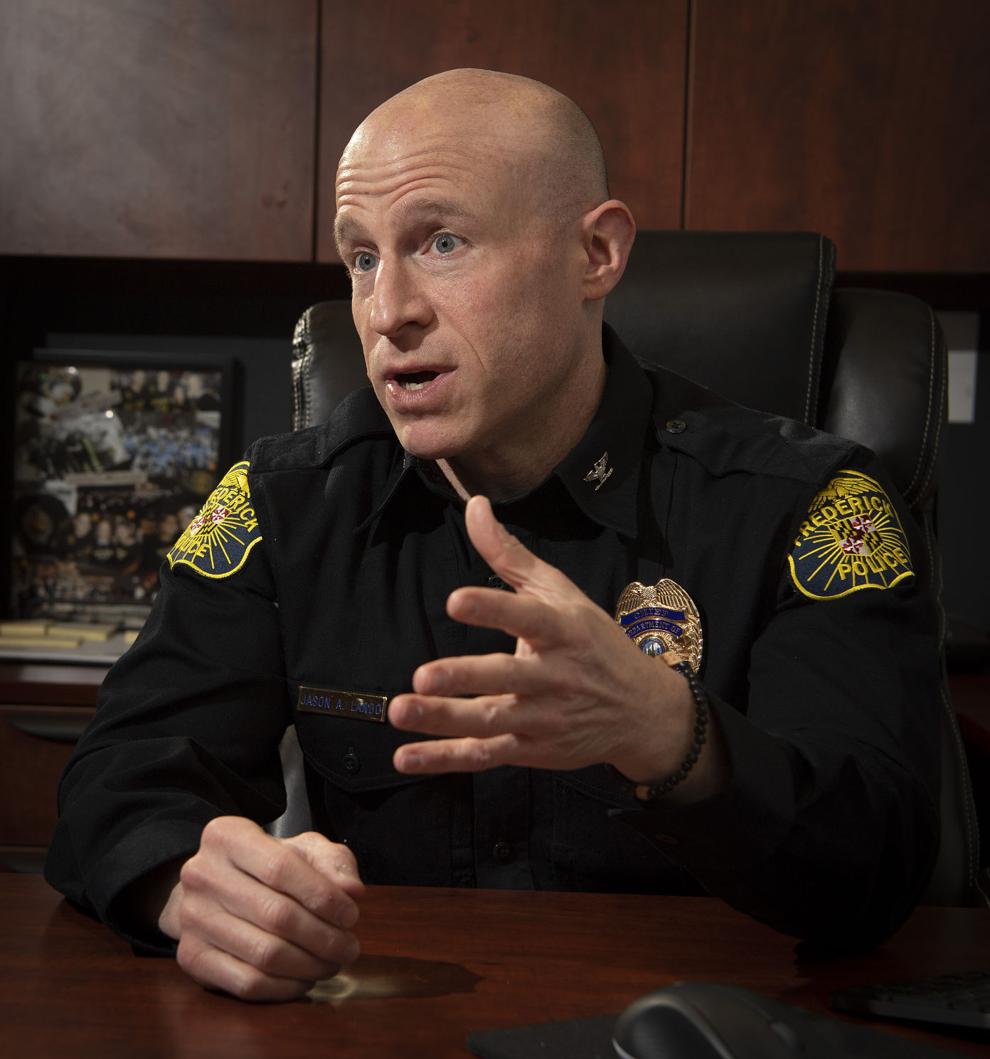 Use of force has been at the forefront of conversations across the country regarding police in the wake of police-involved killings of people of color.
At FPD, Lando said, "While we recognize the need for our officers to use force in certain situations, we will constantly look for new methods and tools that allow us to resolve incidents in a way that minimizes risk of injury to suspects and to our police officers."
He said arrest and use of force reports are thoroughly reviewed by supervisors.
Prior to being hired, Lando spoke to the importance of providing implicit bias training for officers to prevent incidents like racial profiling. He said he's been in touch with the staff at the police academy to learn more about how officers are trained in this way, and once he knows more, he said he'll consider how to proceed.
According to FPD's 2020 community policing report, all recruits are trained against biased-based profiling/policing and discriminatory practices. Officers also receive "periodic" refreshers on this throughout their careers at the department.
In the realm of training, Lando said he wants to offer more leadership training to officers.
"I think [leadership training] can be a very powerful tool for the entire organization, from your newest rookie all the way up through the chief of police," Lando said.
Coming from an agency where he helped develop a program that connects police to local youth, Lando said he'd like to see something similar in Frederick, though he acknowledged FPD already has an outreach unit that connects to the community through various events.
Lando has been exploring the city since moving to the area. He has shopped at local businesses and sent souvenirs to family. He's also been eating his way through local restaurants and joked he joined a gym to help counteract that enthusiasm for new dishes.
"It felt like home very quickly," the chief said.