Jamontrez Williams walks around the white folding tables in the basement of Asbury United Methodist Church and greets some of his favorite people.
To some, he asks how they are. To others, his tone becomes parental.
"Did you wash your hands?" Williams asks as one boy shovels chips into his mouth.
Williams is in the basement of this church every afternoon. He shows up because when he was younger, no one showed up for him. There was no one there to ask how his day went. No one to check if he washed his hands.
With parental figures battling their own issues, and no role models, Williams forged a path of destructive behavior that landed him in jail several times over.
These are formative years for the kids of the "I Believe in Me" program. And they need support. They need role models. They need the same person Williams needed, but never had.
"A lot of the things I do, I do for these kids," Williams said. "I want to make sure these kids don't go through the things that we went through. ... One of the things we try to stress to them — we did the time for y'all. Y'all don't have to do the time."
For most of his teenage years Williams was either incarcerated or serving some sort of sentence for a crime he had committed — be it house arrest or time in juvenile detention or jail.
But that's his old life. His new life began almost five months ago, on April 5, when he was released from jail — for what he says will be the final time.
HIS STORY
Born in Frederick, Williams spent his childhood living in different homes and sometimes shelters. His mother struggled with addiction and his father was incarcerated for much of his childhood for drug offenses and assault.
At age 9, he was taken and put into foster care.
"After I got put into foster care, I just lost it. I started getting arrested," Williams said. "It was a lot of mixed emotions. ... I didn't really know how to take it."
There was also a lack of love and support at home, especially with his father being in jail.
"I was messed up over that stuff. You want your father in your life, and I didn't have that. ... And that's exactly why I hit the streets," Williams said.
A series of arrests on charges varying from theft to assault, according to Williams, led to time spent on house arrest and in juvenile detention centers.
When he entered Frederick High School, he finally began to make a change. He joined the football team and, according to Williams, proved to the judge presiding over his cases that he didn't need to wear a GPS tracker anymore — which had been implemented due to a previous arrest.
Football, however, didn't seem to be enough. Eventually, Williams fell back into his previous habits, skipping school and hanging out with old friends.
"I was starting to make the change, but I wasn't ready to make the change," Williams said.
In August 2017, Williams and his brother were involved in an attempted drive-by shooting. According to court documents, no one was injured in the gunfire, but Williams was charged as an adult and found guilty of 20 criminal counts including first- and second-degree assault and illegal possession and use of a firearm. He also pleaded guilty to first-degree assault. He received two consecutive 18-month sentences in the Frederick County Adult Detention Center. It was later modified, and Williams served 19 months.
No longer in a juvenile center, Williams said he began to realize the true implications of his actions, and what could be lurking around the corner if he continued down the same path.
"Being around the guys in the adult detention center, it made me start listening more, thinking more and re-evaluating," Williams said. "I've seen a lot of guys they get sentenced for life, 40 years, 50 years. ... A lot of things were put into perspective for me."
After that, Williams said he began making small changes. He stopped associating with people and things that would get him in trouble and started sharing his story through a program called "Youthful Offenders," which provides resources such as counseling and classroom instruction to incarcerated youth.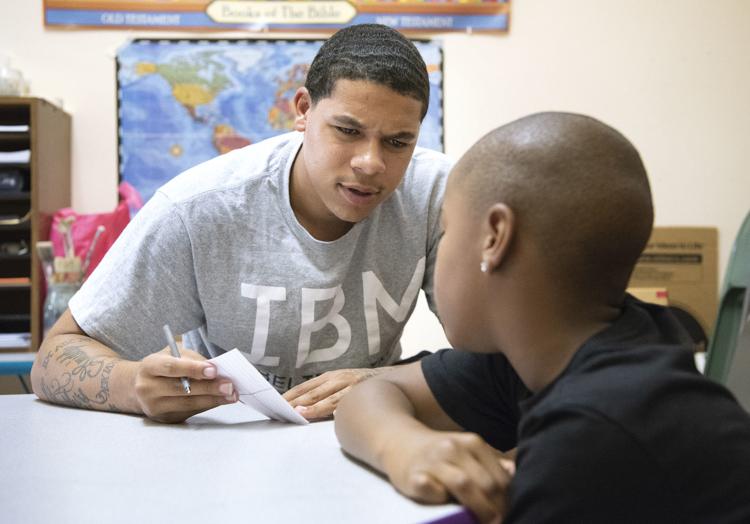 In that program, Williams met Aje Hill, founder of I Believe in Me. A former incarcerated youth himself, Hill has spent the majority of his adult life mentoring kids to make sure they don't fall prey to the things he did. He founded an organization called I Believe in Me, which provides a safe space for youth after school while also teaching them life lessons.
One day, while visiting the jail, Hill heard Williams speak and said it was like looking in a mirror.
"The moment I laid eyes on the kid [Williams] I saw a light in him that I'd seen in myself, but I also seen the pain, the frustration, the loneliness," Hill said.
He approached Williams after, introduced himself and said, "it gets better if you allow it to get better."
Hill knew Williams wanted to change and he was going to help him get there.
After that initial meeting, they talked on the phone weekly.
Hill's mission was to distract Williams from the darkness of the environment he was in and prove to him, that if he truly changed, he could be an inspiration to others.
"I tried to show Jamontrez light. I tried to show him how his story could impact others. How what he went through, he could perhaps prevent someone else from going through the same thing," Hill said.
For Williams, Hill became the father figure he had always yearned for.
"I always wanted someone to believe in me. [Hill] believed in me, he gave me a chance and [now] I dare not let that man down," Williams said.
Hill told Williams he wanted him to come and be a mentor for kids at his after-school program. Williams was fully on-board.
"I was up for the challenge ... [and] tired of sitting in jail," Williams said.
Some months later, on a Friday, Williams was released from jail on the promise that he would volunteer with IBM and that Hill would continue helping him.
The following Monday, Williams met the kids in the basement of the church, and has rarely missed an afternoon session since.
"He [Williams] was my first call on Monday. I said 'Bro, you coming to group today?' He said, 'I wouldn't miss it.' ... And from that moment, the first day he came into the program, I knew it was a sure fit," Hill said.
Williams agrees. He has always had a soft spot for kids, he said.
Since getting out of jail and working with Hill, Williams has turned over many a new leaf. He got a job as a millwork assembler with Builders First Source, a Fortune 500 company that manufactures and supplies building materials. He moved into an apartment with his girlfriend and says he spoke with one of the victims of the shots-fired incident and made amends.
On Thursday, Williams turned over one more leaf: He graduated from high school at the Frederick County Public Schools summer session ceremony.
"It hasn't sunk in yet," Williams said. "Even though it was late, it was better late than never."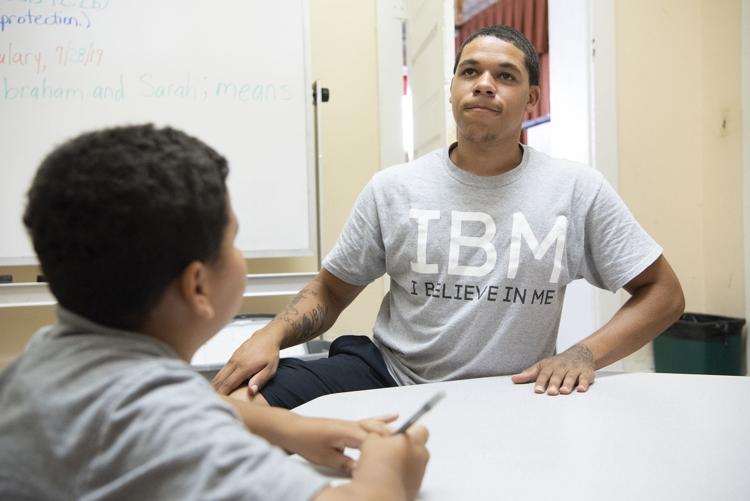 JOURNEY TO GRADUATION
After getting out of jail, Williams and Hill sat down and outlined five goals for Williams. One of them was to finish high school, but Williams wasn't sure how to do it or what he needed.
At a community service day at Memorial Park, Williams met Brad Young, president of the Frederick County Board of Education. Williams explained his situation, and Young promised to help him.
After finding out that he needed to complete only one class to graduate, Young helped Williams enroll in an online financial literacy course.
"It's easy to write somebody like Jamontrez off and say ... 'they're a bad person,'" Young said. "He has a job now [and] that's good, but he needs to move on beyond that, and the only way he'll be able to do that is if we continue to invest in him through providing him education, but also providing care and love around him."
About 10 family members and Hill celebrated that outcome on Thursday in the cafeteria of Gov. Thomas Johnson Middle School.
He raised his fist in the air, like Judd Nelson at the end of "The Breakfast Club," as he walked off the stage holding his diploma.
"Seeing him up there is like walking across the stage myself," Hill said. "He could have so easily gone back to the streets, but he didn't. He decided to change and there's nothing more I can say except proud, just proud."
For Williams' mom, who says she is now almost seven years clean, it was a shining moment.
"I'm really proud of him for not wanting that street life and negativity anymore. ... I'm so used to getting phone calls from the police saying he's been arrested. I'm still getting used to all the positive change," Horner said. "I don't know how to put it, it's just like wow."
The journey to his diploma has not been easy, though, and Williams recognizes that. He says he grew up knowing nothing but what he saw on his block — shootings, drug deals, broken families — and therefore it was hard to see what another life could look life. Until he met Hill and got tired of sitting in jail.
Hill says he is most proud of Williams for changing under the circumstances he was in.
"Change is one of the hardest things to do ... because it doesn't come overnight. ... We have to grow into a change," Hill said. "One thing that makes me super proud about Jamontrez is he was able to change in a very dark environment, in an environment where there is no hope, where there is no happiness."
MOVING FORWARD
Williams still gets calls from old friends, tempting him to return to the streets. He doesn't give in, though, because he is determined to prove, to himself and others, that he can lead a valuable life.
"Just because I'm a convicted felon don't mean I can't do something positive for the community, ... I'm going to show them [society] and show myself I'm capable of doing these things. I'm not always going to be the same way I was," Williams said.
Horner feels the same way and hopes that Williams will continue to move forward by inspiring others.
"I pray for him every day that he sticks to his right path," Horner said. "He's always been a great kid. He just got in with the wrong crowd. ... Hopefully he shows these kids being on the streets is not good."
Bracen Simmons, 13, is one of the kids Williams mentors and remembers him from their neighborhood. Hearing Williams' story has already had an impact.
"He [Williams] might not remember, but he lived behind me and I'd always see him outside, and he wouldn't do good things," Simmons said. "The other day we talked about his story ... things that he's done I definitely don't want to do."
More than the desire to prove others wrong, though, is the motivation evoked by that soft spot in Williams' heart. The kids at IBM, Williams says, are what truly keep him from slipping, and Hill says Williams can connect with youth in a way a lot of others can't.
"Jamontrez is able to meet those kids right where they are by having some similar experiences as what they're going through," Hill said.
Watching Williams, he doesn't seem to just connect with the kids on the level of shared experiences. He connects with them because he is still a kid himself. He throws the football with them, chases them around the playground, and swats their hands away like an older brother when they try to grab his phone.
He is there for them, every afternoon, and whenever else they need him because he knows what it's like to not have that.
"When you're a child, you're looking for that love and you want to be wanted," Williams said. "When I was down and out nobody was there for me ... so I make sure I'm there for them."