Frederick police said a man intentionally antagonized people at a rally in support of the sheriff's office's 287(g) program and struck an officer when police arrested him Sunday near Baker Park.
The man, identified in court records as Daniel Elieze Valentin-Morales, 26, was present with three other people at the rally in the Baker Park Band Shell at 3:45 p.m. when city police officers saw rally attendees become upset, according to court charging documents.
Several members of the crowd complained about not being able to see the speakers due to a large sign one member of the group was carrying in protest. Officer Nikolas Deanovich said he believed the group "appeared to be trying to agitate" the crowd, the documents state.
When several rally attendees moved toward the small group of counter-protesters near the front of the crowd, officers intervened to stave off a confrontation, asking the counter-protesters to move outside the taped-off buffer zone of the rally. While three of the counter-protesters complied with the officers' requests, police said Valentin-Morales became argumentative, ignoring an officer's request that he stop yelling and move back beyond the buffer, the documents state.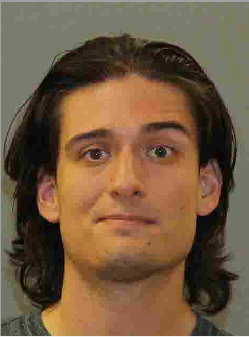 Valentin-Morales slapped Officer Daniel Gerand's hand away when Gerand tried to escort him back, then turned back to shout an expletive at the crowd, prompting officers to tell Valentin-Morales that he was under arrest on charges of second-degree assault, disorderly conduct, failing to obey a lawfully given order by a police officer and disturbing the peace, the documents state. Valentin-Morales fled across North Bentz Street before he was caught, but continued to resist, earning him a final charge of resisting arrest, the documents state.
Valentin-Morales was released after signing a written promise to appear in court. He is next scheduled to appear for a trial date on Nov. 26, according to online court records.