Even as heavy rain covered the streets and thunder crashed overhead Friday afternoon, protesters holding signs and shouting chants of justice for George Floyd remained unmoved at Patrick and Market streets.
Resolute in their cause, shouts of "Black Lives Matter!" mingled with honks from passing cars, as protesters headed north up Market Street. More people holding signs poured out of garages all over the city, all headed toward Mullinix Park.
Estimates of several thousand protesters showed up to peacefully fill the small park behind the Frederick County Courthouse for the planned March for Justice, a show of support for the black men and women who have died at the hands of law enforcement personnel over the years and whose deaths have contributed to a lasting rift between the African American community and police.
The peaceful protest was organized by a group of mostly youthful activists in response to the death of George Floyd, a 46-year-old black man who lost consciousness and died in Minneapolis, Minnesota on May 25 while being knelt on by a group of three police officers during an arrest. One of the officers has since been charged with second-degree murder, while the others have been charged as accessories to murder.
Theresa Thomas, 58, of Frederick, said she was happy to stand and march in the rain with her two grandkids, 15-year-old Reginald Jr. and 12-year-old Rekhai, both of whom Thomas hopes will have brighter futures than their father.
"I'm here for them. Because their father is now incarcerated and I don't want them to have to go through what he went through," Thomas said, explaining that she believes her son and her grandkids' father lost his case because the family wasn't wealthy enough to afford quality legal representation.
Thomas, who is black, said she hoped the march will lead to changes in not only the types of force police are allowed to use against individuals, but also better relations between black people and white people, as well as any groups with differing and perhaps at times clashing worldviews.
"I pray to God for the softening of hearts, that's what I want to see, the softening of hearts, because there's a lot of people whose hearts are hardened, and I used to be one of them," Thomas said. dabbing gently at the corners of her eyes. "My pastor used to call me a rock because I never shed a tear, but now that's all I do. Is cry."
Poor weather leading up to the planned 5 p.m. start time for the march prompted organizers to try to delay the start time to 6 p.m., but so many people had arrived by 5 p.m. that the march kicked off as originally scheduled, said Frederick police Chief Patrick Grossman, who walked alongside the marchers.
While ever present at cross streets and intersections to block off traffic and secure the route for the protesters up Market Street, onto West Second Street and into Baker Park, Frederick police adopted a hands off approach, allowing protesters to dictate the pace of the march and only reopening streets once they were sure every participant had passed.
"I just wanted to make sure that everyone who was arriving in Frederick today to express their First Amendment liberties had the ability to do so and that it was done safely," Grossman said when stopped for comment as the last marchers arrived at the Baker Park bandshell.
Imani White, of Frederick, was carrying a "Black Lives Matter" sign that she said she got for the first BLM march in Washington, D.C. in 2015.
It's frustrating that these protests have to keep happening, she said, wondering aloud how many more pictures and videos of people being killed have to surface before substantive changes are made.
White said she struggled with the decision of whether to come Friday, given the ongoing COVID-19 pandemic and the fact that she lives with someone who is medically vulnerable.
Ultimately, White said she was proud of the young people in the movement who showed up to make their voices heard.
"I pray that we keep going. Because I don't want to be back here doing this again in five or 10 years."
Later on Friday evening, as the protest at the bandshell broke up, the event's organizers expressed their happiness with how eveything had gone.
"We made a lot of noise today and I think we were heard," said Alijah Gee, adding that the march down Market Street and watching the bandshell fill up with more and more people still coming in was "breathtaking."
Gee believes the protest can create a platform for change in Frederick's black community.
"It's clear now that we can do it," she said.
Amiyah Spencer, another of the organizers, said they knew how many people had said on Facebook that they planned on coming.
"But I don't think any of us comprehended what that meant," she said.
She agreed that the march was just the start of something larger.
"You can mark my words when I say this is not over," she said.
City police maintained a state of downplayed vigilance as the crowd dispersed from the bandshell back toward the various parking garages and lots they had come from. Larger intersections closer to the bandshell were quickly blocked off by police vehicles, while those slightly farther out were manned by an officer or two directing traffic while others stood nearby to observe.
As the crowds thinned out even more away from Baker Park, police allowed normal traffic lights to handle the steady flow of pedestrian and vehicle traffic.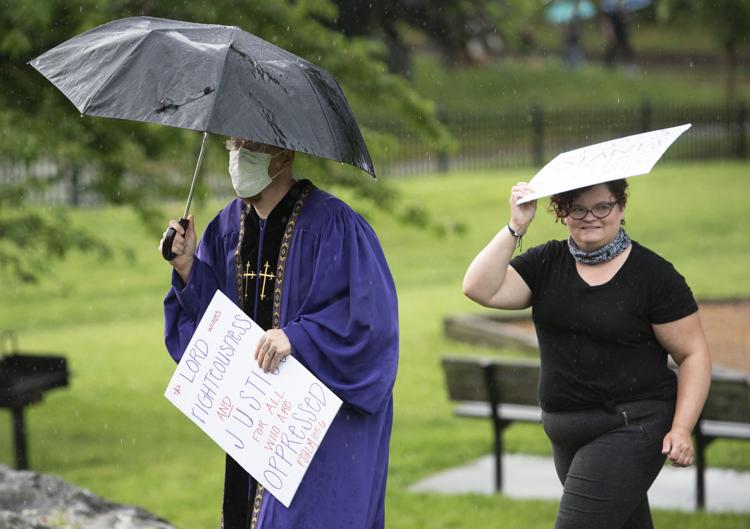 Not all protesters went directly home following the demonstration in the bandshell, with some demonstrators continuing their protest, going as far walking on Interstate 70, requiring law enforcement to shut the highway down in both directions. They exited the highway at Md. 85 and walked along East Street back downtown.
They protesters remained peaceful for the entirety of the march.
Led by Kavonte Duckett and Aje Hill, founder of the local nonprofit I Believe in Me, Inc., the demonstrators at one point knelt in the intersection of East and South streets. They chanted and sang "Happy Birthday" to Breonna Taylor, a 26-year-old woman who was shot and killed by Louisville Metro Police in Kentucky on March 13. Friday would have been her 27th birthday. Vehicles stopped at the intersection honked their horns in support and erupted in applause.
No arrests were made Friday evening and no serious incidents were reported to police or emergency first responders, according to a Frederick police press release issued late Friday.