Even before heading across Airport Drive East to the Frederick County Law Enforcement Center on Monday, a group of well over 100 protesters made their position clear.
"Sheriff [Chuck] Jenkins is a racist," Kavonte Duckett told the crowd gathered in front of the Frederick Department of Public Works facility using a megaphone. "He knew we were coming. He put a barricade because he knew we were coming. He brought out cameras, he called news outlets, and now he has prepared a table that he wants me to sit at. I'll be damned if I ever sit at a fake, makeshift table with Sheriff Chuck Jenkins."
The Frederick News-Post was invited to attend the event through Facebook by Duckett, who was one of several leaders of the group that walked up to meet Jenkins outside the law enforcement center. Demonstrators carried Black Lives Matter signs and shouted chants denouncing the deaths of black people at the hands of police, including George Floyd, whose death in police custody in Minneapolis last month sparked nationwide protests.
Jenkins, standing alone before the crowd on the opposite side of a taped-off area in front of the law enforcement center, spent the next hour taking questions from Duckett, fellow protest leader Aje Hill and the crowd regarding everything from use of force statistics against black and minority residents to the sheriff's office's policies on de-escalation, training and other topics. While the sheriff mainly interacted with Duckett, Hill and a handful of others near the front of the crowd, loud chants and questions, insults and demands drowned out most of his answers.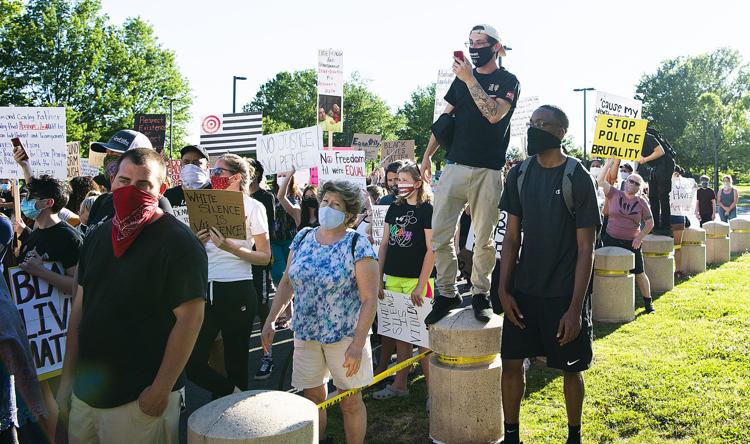 "I was actually optimistic that going out there this evening, meeting the group, not hiding in the building and coming out when they demanded me to come out, but met them out front, met the entire crowd, and obviously everything went sideways," Jenkins said afterwards. "I offered Mr. Duckett [and] Mr. Hill the opportunity to come in, let's have the conversation along with the two pastors, [but] they weren't interested in it. They were interested, I think, in escalating the crowd, the noise. As you could see I was pretty much unable to answer a question, given the crowd."
The protesters, while clearly frustrated, remained peaceful in their approach while shouting down the sheriff. At times, they led calls for Jenkins to step down and for more to be done to stop what demonstrators view as unfair treatment by local and national police against minorities and peaceful protesters elsewhere across the country.
Many in the crowd voiced concerns they had over specific cases handled by the Frederick County Sheriff's Office and other local law enforcement agencies that they found troublesome.
In particular, protesters demanded answers regarding the case of Abraham Arellano, a 26-year-old who was shot and killed by a sheriff's deputy March 25, 2019 outside his home in Thurmont.
Jenkins further ignited the crowd's ire by refusing to discuss specifics in such cases, despite the fact that Arellano's mother was present to ask questions through an interpreter. Per the sheriff, however, the unwillingness to discuss the case was based on keeping the investigation secure, not in hiding any information.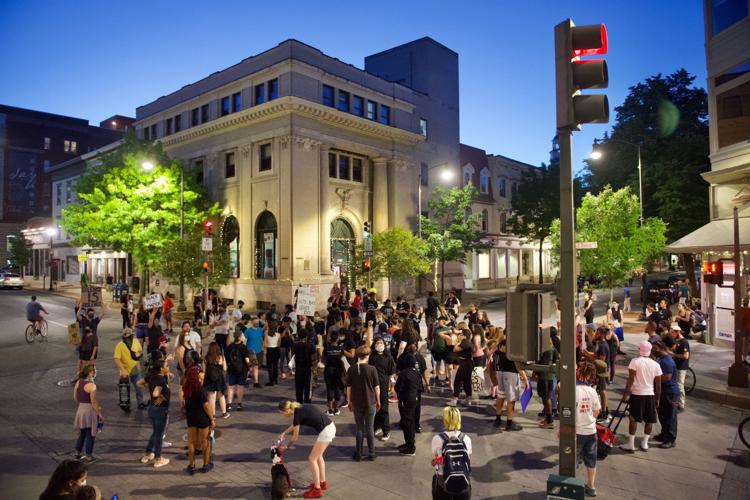 "Now, in fairness, some of the questions involved cases that are still in litigation that I couldn't speak to, some of the questions involved current officers and talking about certain issues that I couldn't speak to," Jenkins said afterwards. "But the things that I could speak to I tried and I just couldn't just get my voice over the crowd. They didn't want to hear what I had to say. They weren't interested in what I had to say."
While anger and frustration was vented at Monday's gathering, the protest may not have lived up to some of the hopes and aspirations expressed by several members of the crowd.
Derrick Washington, 50, of Frederick, said he himself has faced racism directly as a resident of Frederick County for the last several years. In spite of this, he attended Monday's protests to ensure a better world for his children, who are 22, 17 and 6 years old.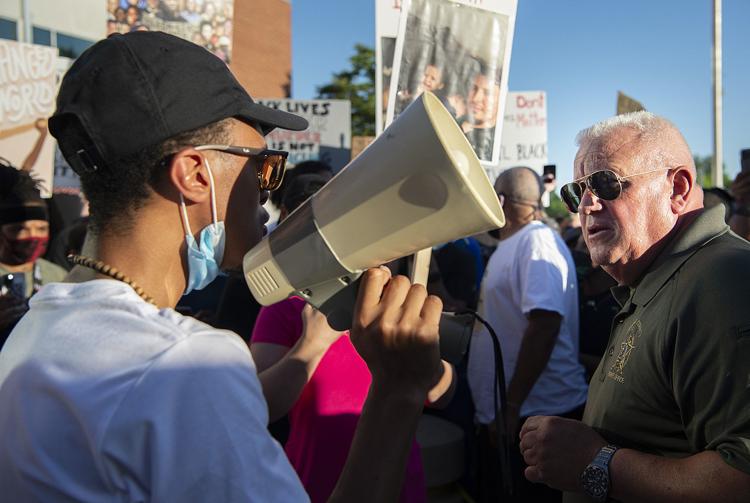 "Every time my oldest goes out, I fear. And I don't want to have that same fear when my 16-year-old, when it's time for him to go out," Washington said. "I think that if things have to change now, they have to change."
Neither Jenkins nor Duckett closed the door on future talks in spite of the confrontational nature of Monday's face-to-face. There are obvious hurdles that stand between the sheriff's office and many protesters, but the option for dialogue may remain open. Some in Monday's crowd pledged their devotion to the peaceful approach to those who disagree, even if the disagreement seems too far a bridge to cross.
"I know these young people are young; they're angry. But as a pastor I have an obligation to make sure that we do it the right way," said Ronnie Henry, 58, a pastor at the Hope Christian Fellowship Church in Adamstown. "… My presence here is so that, hopefully they will align with some of the things that we've been teaching and preaching."
After the discussion with Jenkins, the demonstrators returned to Square Corner downtown where protests had taken place for much of the last week.