The abuse was almost daily. Bruises covered her arms. He would kneel on her chest to stop her from breathing. He punched her back, but never struck her face.
Never her face, neck or anywhere below her elbows.
Marks there could be seen.
"It was like a skill he had, being able to hurt me just enough so that I never had to go to the hospital," said Brenda, who asked that her real name not be used for her safety.
Brenda was married to her husband for almost 10 years, a period that was marked by constant domestic violence. It started before she was married, with controlling behavior. Then, it escalated to physical and sexual abuse.
"And people weren't able to see it because we looked perfect," she said.
Brenda knows how domestic violence can be kept hidden — how an abuser can mask the evil inside, how a victim can be forced into silence. Today, as a forensic nurse, Brenda sometimes sees patients in a domestic violence situation.
She understands. And her patients can see that in her eyes.
"Being able to empathize with people as opposed to just sympathize is huge," she said. "I understand when people don't want to press charges. I never did. It's scary."
Anastasia Kornilova had a premonition. She stood outside the home she had been living in with her then-boyfriend Derwood, Montgomery County.
Pressing charges and using police resources is just one way that domestic violence victims and survivors in Frederick County can get help. Another way is through hospitals. In October, National Domestic Violence Awareness Month, The Frederick News-Post is examining different entry points into domestic or intimate partner violence and the resources that people in the county can use.
"This is a health care issue — domestic violence, intimate partner violence — this is a health care issue," said Pam Holtzinger, a forensic nurse and coordinator of forensic nurse services at Frederick Memorial Hospital.
Holtzinger's patients will soon have the privacy and improved support they need from hospital staff. A new forensic suite at Frederick Memorial Hospital is an upgrade from the cramped room that Holtzinger and her staff have used to conduct examinations.
The new suite will have three rooms, new equipment and more comfort measures. More importantly, Holtzinger said, it will be quiet and have access to a private bathroom.
The advancements in the hospital are emblematic of a change toward domestic violence. Over the past 10 years, in part due to more research on domestic violence and training led by the Training Institute on Strangulation Prevention, health care has started to take a new approach to domestic violence.
"The first reaction for all of us, even health care providers, was why didn't she leave?" Holtzinger said. "It just seems so simple, right? It's way more complex, and we know that. So as nurses that are trained in this, we educated ourselves about the issue so that we can then help empower that individual by giving them the resources and allowing them to know when the best time is for them to leave. Because the answer wasn't just for her to leave, because she knows that's the most dangerous time for her and her family."
When a domestic violence victim comes into the emergency department, physicians and nurses will call someone from the forensic services department. During that exam, doctors and nurses will document injuries using special equipment such as alternate light sources or a special camera to highlight injuries that might not be clear to the naked eye.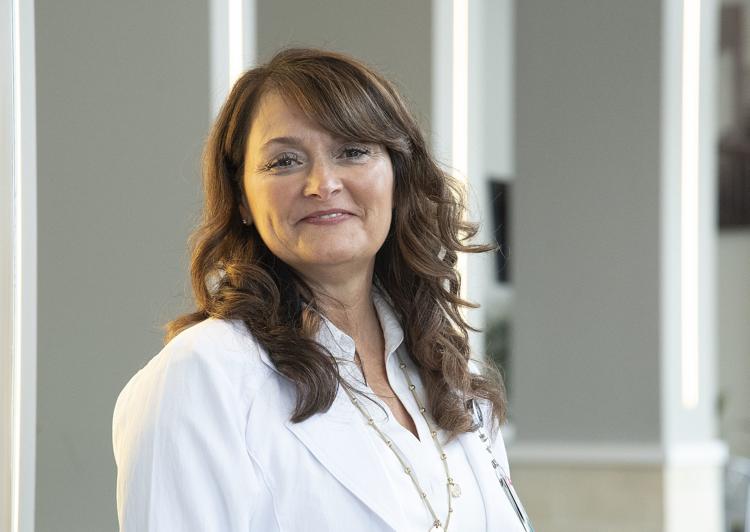 The documentation is done regardless of whether a person is pressing charges, Holtzinger said.
It often takes a person at least seven instances of abuse before they will leave, she said. And if they do decide to leave and press charges, Holtzinger and her team are prepared with images, charts and other medical documents.
They'll also conduct a lethality screening, similar to the one done by police, which help determine the risk of serious harm or death.
But not everyone goes to the hospital.
'He always hit me somewhere where I could hide it'
DJ's boyfriend never hit her in the face. If he left a mark, DJ's father might see it, and she thinks her boyfriend was afraid of her father. But the back of the head? Her father couldn't see the marks he left there.
"He would get angry over the smallest, little, stupidest things, but he always would get aggressive and violent no matter what when he got upset," said DJ, who also asked that her real name not be used for her safety.
Looking back, DJ said she should have seen the signs that her boyfriend was abusive.
"He was very nice and polite to me the day we met, but within a week or two weeks later, he started getting upset if I couldn't call him and being angry if I couldn't meet because something came up," DJ said.
He was isolating. He tried to tear her away from her family, from her friends. He flirted with her female friends. He impersonated her on a messaging app and said inappropriate things.
Once they moved in together, he got worse. He was more controlling. He isolated her from her friends.
"I lost so many friends because of him," she says.
The two have a child together. DJ said she thought that if he moved in, it would be easier to co-parent. But instead, it was like having a second child.
"I was more of a single mom with him than I was a single mom without him," she said.
She worked a full-time job and took care of their daughter. Meanwhile, when he was home, he played video games instead of doing household chores.
And the physical abuse started.
"He always hit me somewhere where I could hide it and demanded me, when I was around my family, to hide it," she said.
She did not receive medical treatment for her injuries. Years later, she is left with scars in the form of headaches and persistent back pain.
Why don't people seek medical care?
How will this person see me? That's one question that might prevent a person from seeking medical care, said nurse Jacquelyn Campbell, a professor in the Johns Hopkins University School of Nursing.
"So there's oftentimes subtle blame to victims. It's not overt. It's not like somebody saying, 'What did you do to deserve that?'" Campbell said. "But it's like, 'hmm, OK, another one of those abused women.' They might think they're going to see that in people's eyes. Or hear that in their voice."
It can also be hard to evaluate injuries and whether they need medical treatment, even without the added stress of threats from an abuser. Campbell once talked to a woman whose partner slammed her against a door and a wall. When the woman came to, she realized her jaw was crooked and she needed medical treatment. She had to get the keys for the truck from her husband.
"And he said to her, and I'll never forget her saying this, 'You better be making up a good story on the way to the emergency department so nobody knows what really happened,'" Campbell said.
Just going to the emergency department doesn't mean that a person will say where the injuries come from. Campbell cited a study that found that women who went to the emergency department and said they fell down were often victims of abuse.
Like Brenda, who said she went to the hospital because she broke her wrist, this woman said she fell down. Back then, no questions were asked. Even if a nurse or doctor had asked questions, she wasn't ready for help yet.
Now, on the other side, Brenda said she understands why not everyone is ready to leave. Those are the hardest cases for her.
"Sometimes, you can tell they're going to end up dead," Brenda said. "And I'm there taking pictures because I want to be there at his prosecution for murder and put that [expletive] away, excuse my language."
It is not required by Maryland law for emergency department physicians to ask about domestic violence, although primary care physicians are required to do so during annual checkups, Campbell said.
That leaves it to the hospital to implement their own policies, and Campbell said there has been a continuous push for nurses and doctors to screen for domestic violence.
Staff at FMH ask about domestic violence and look for red flags, Holtzinger said. Nurses, physicians and staff will try to get patients alone and away from their partners, she added. That way they can ask more detailed questions about possible abuse in the home.
Not everyone is ready to leave. In addition to documenting injuries, Holtzinger and staff will provide resources to the victims without their partners knowing.
Victims might avoid seeking treatment at a hospital for fear that police might get involved, Campbell said. She's interviewed thousands of abused women, and she said she's never found one that didn't want the abuse to stop.
But they aren't always sure about pressing charges. Some love the person and don't want any harm to come to them. Others are afraid of the consequences if the person were to be released on bail or found not guilty.
The emergency department isn't the only place where health care can intervene in domestic violence situations. Holtzinger's department isn't under emergency services. She's nested under women and children's services.
Holtzinger said she likes being in that department because it gives her a chance to interact with more women. Abuse affects people of all socioeconomic backgrounds — women in domestic violence situations can be expectant moms, and pregnancy can be an especially dangerous time.
In addition to checkups, the women might come in for pregnancy complications due to abuse. So in labor and delivery, lethality assessments are performed, Holtzinger said.
'Ultimate form of power control'
In movies such as "Fried Green Tomatoes" or "I, Tonya," a victim of domestic violence is often portrayed with a black eye, split lip and other bruises. But one of the most common injuries is one that often leaves no bruises — strangulation.
At its core, strangulation, often referred to as choking, is a control measure, said Rosalyn Berkowitz, forensic nurse at Greater Baltimore Medical Center.
"It's the ultimate form of power control because they control whether you live or die with their hands around [your] neck," Berkowitz said.
When a person is strangled, they give all of their control to their abuser because they don't want to die. They don't want him to hurt them again.
It's what Gael Strack, director of the Training Institute on Strangulation Prevention, calls a warning shot.
"I believe strangulation is a predictor of homicide," Strack said.
And for good reason. A woman is 750 percent more likely to die by her partner if he strangles her once.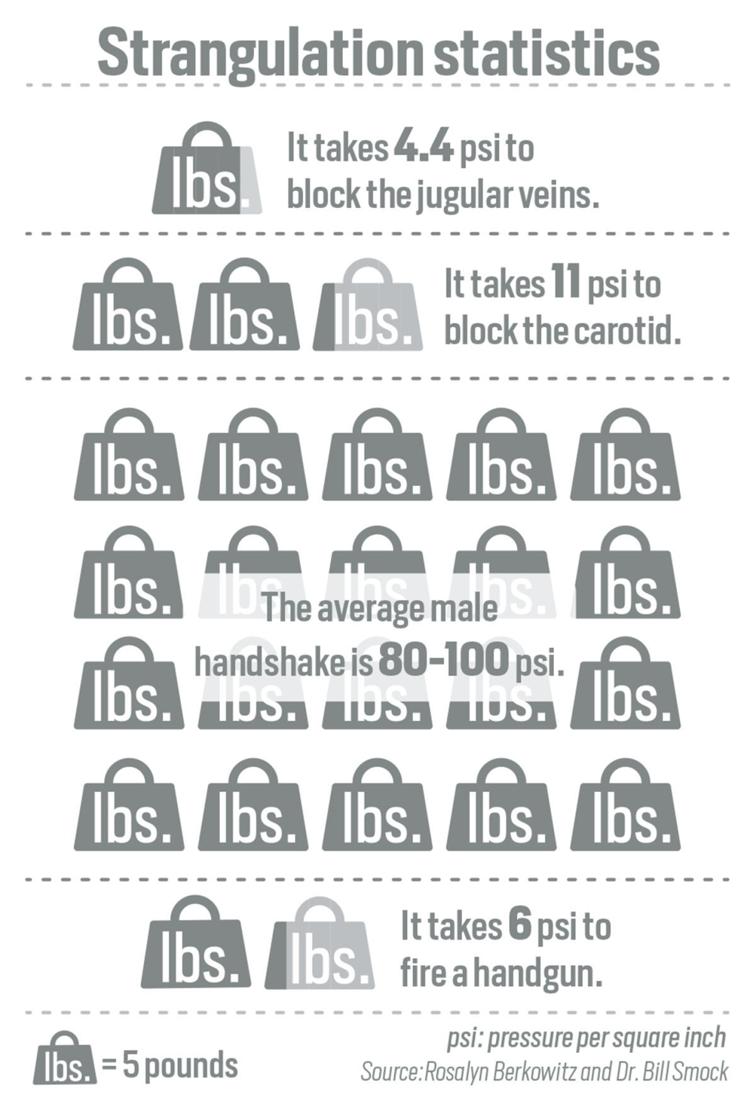 Few victims are strangled just once.
The problem with strangulation is that it only leaves a visible mark on the neck about 50 percent of the time, Strack said. That largely has to do with how a person is strangled. Continuous, steady compression doesn't cause bruising like a blow to the face might, she said.
That's where the training provided by the institution comes in. It teaches police officers how to better identify it on the scene and health care providers how to recognize it when they see a patient.
Just because there's no bruising doesn't mean there aren't signs. Instead, the officer training teaches to look for signs like petechiae, little red spots from where blood vessels break, often found in the eye, on the ear or the scalp.
A woman may come in with scratches to her neck where she tried to fight off an abuser. She could have a raspy voice or complain her throat hurts. She could also have difficulty breathing, in addition to numerous other signs.
It's important that first responders and health care providers look for these signs and document everything, Berkowitz said, because sometimes the woman doesn't remember being strangled.
The hippocampus, a seahorse-shaped structure in the middle of the brain, is the first to go when oxygen is cut off from the brain. The hippocampus plays a large role in the storage and retrieval of long-term memories. But when oxygenated blood can't get to the brain, the hippocampus stops functioning.
Strangulation experts urge women to seek treatment if they have been strangled. There can be damage even if there are no outside marks — lethal damage.
Strangulation can cause a tear in the carotid artery, which can lead to stroke and death, said Dr. Bill Smock, police surgeon for the Louisville, Kentucky, Metro Police Department.
"You can look perfectly normal and have a ticking bomb in your neck," Smock said.
It's been about six years since DJ moved to Frederick, she said. She came because of the number of jobs in the county.
Leaving sometimes means a woman is left with nothing but the clothes on her back. In DJ's case, she lost her daughter. She may not currently have custody of her daughter, but it was her daughter that made her leave her relationship.
Her daughter was about 3 years old, and was sick. Her boyfriend was upset she couldn't quiet their daughter.
"That was the one time I actually said, 'Go play your game and leave me alone,'" DJ said.
She called her father, who picked her up immediately. She said she thinks her parents knew what was happening.
Her boyfriend swung at her while she held their daughter, she said. He kept pulling at his daughter. He tried to prevent her from packing the diaper bag. But after all she'd been through, that was light behavior.
"The time I left him, there was nothing severe," she said.
While strangulation is one of the most common, it's not the only injury seen in the hospital. Others can include grabbing injuries or kicking injuries to the ribs, stomach and back.
"I've had so many. I had one where the ear was nearly ripped up," Holtzinger said.
While strangulation has gotten more attention in domestic violence literature recently, other areas are lacking, researchers said. One area is brain damage, especially traumatic brain injuries.
Brain damage in domestic violence can happen through blows to the head, which are often repeated, or through strangulation, which causes a lack of blood to or from the brain.
"I'm not sure there's enough awareness with the medical providers yet with the traumatic brain injuries from domestic violence," Berkowitz said.
Eve Valera, a researcher at Massachusetts General Hospital, said that traumatic brain injuries, or brain dysfunction that is caused by an outside force, are common in intimate partner violence. In her own research, she's found that "a substantial number of women" have had one or more traumatic brain injury.
"We're not guessing at this. We know this is happening," Valera said.
Traumatic brain injuries in domestic violence are similar to those seen in the news surrounding football players or the military. It's likely they'll have chronic traumatic encephalopathy (CTE), as well, Strack said, although there's only been one possible documented case of CTE in a domestic violence victim.
Currently, CTE can be diagnosed only after a person dies, which means researchers and medical examiners need to be looking for it in the brains of women they suspect died as a result of domestic violence. That's not helped by the lack of donated female brains.
It's the repeated blows that are an issue, Campbell said, just like with football players.
There are some published screening tools, like the HELPS screening tool, but many health care providers don't know about them or don't use them. Strack said her institute is working on protocols and training from traumatic brain injuries, just as it did with strangulation. But right now, it often goes unchecked at hospitals.
Jennifer McNew, interim safe program manager at Meritus Medical Center, said that while the hospital has a protocol for strangulation and domestic violence screenings, the hospital does not have one for TBIs in domestic violence cases.
Neither does FMH, Holtzinger said.
For much of Brenda's marriage, she acted as a buffer between her husband and her children. She would read his moods and keep the children away. But one day, she didn't get there fast enough, she said.
"I remember that day. I'll never forget," she said.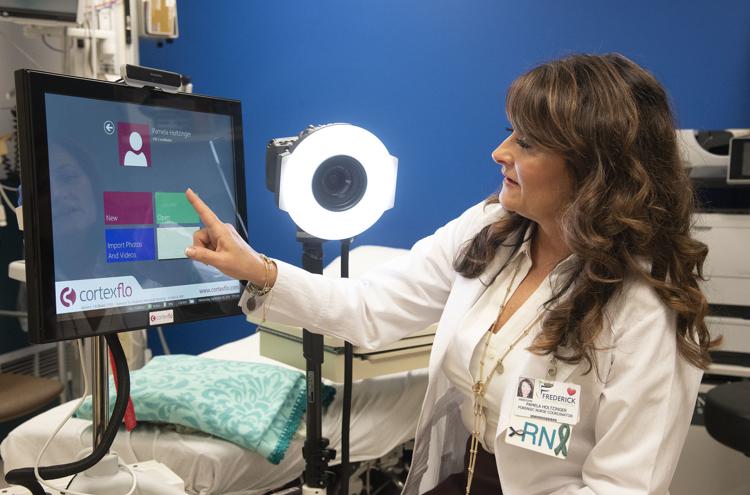 She came in and saw her son in trouble, her daughter hiding.
"And I'll never forget it. I came in, and that's when I mama-beared him. I mean, I freaked out, because you don't touch my son. And that was it," she said. "And I paid for it later that night."
From that day, she started collecting money, preparing for the next steps. She kicked her husband out of the house but ended up homeless as a result of the toxic relationship.
She tried to stay hidden, but he would not stop. He broke into the places she was staying. He promised to find her.
"I spent seven years of my life driving different ways," she said.
She knows he's still out there.