The shouts echoed off the front of the Baker Park bandshell, calling out a grim roll call of victims or police and racial violence.
George Floyd. Breonna Taylor. Ahmaud Arbery. Trayvon Martin.
There were shouts of "No justice, no peace," "Black Lives Matter," and "Hands up, don't shoot."
The overflowing crowd at the wet, muddy bandshell echoed back the names from a speaker on the stage, part of an emotional final stage of a protest and march that had moved from Mullinix Park through downtown Frederick.
The Frederick March for Justice Friday was a movement against police brutality, inspired by the death of Floyd while in the custody of police in Minneapolis on May 25. Minneapolis officer Derek Chauvin has been charged with second degree murder.
"We are not here today to reciprocate violence that has been put against my people for 400, 500 years," said Dajah Gee, one of the speakers. "We're not here to be violent. We're here to demand. We're not asking no more. I am not asking for you to respect the life of black men no more. I'm telling you you're going to."
Frederick Mayor Michael O'Connor, who spoke in support of the Black Lives Matter movement this week, addressed the crowd as well, telling them he's standing with them.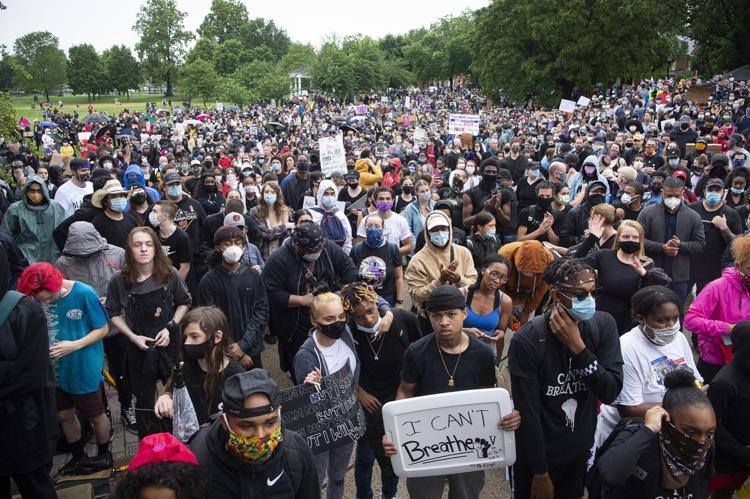 "I'm tired of being tired, but not as tired as those who have waited 400 years for a rebalancing of the scales of a system designed to work against them," Frederick Mayor Michael O'Connor told the crowd. "I hear you, I see you and black lives matter."
For more than two hours, the crowd shouted slogans and waived signs, many printed on poster board or even cardboard.
The crowd sat and listened attentively through periodic rain, which didn't seem to dampen the enthusiasm.
A series of thunderstorms earlier Friday afternoon, with heavy rain, thunder and lightning, had put the event in question.
But the protests organizers were determined to go forward if at all possible.
The wet weather didn't keep the crowd from gathering at the bandshell, continuing to file in as the initial speakers took the stage.
The event also featured music from hip-hop artists like Stitch Early.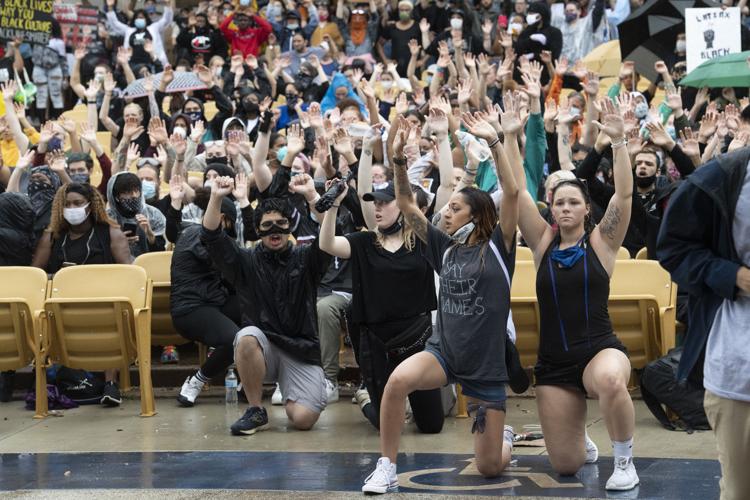 Isaiah Spencer, an event organizer, talked to the crowd about the challenges black men and women face in every day situations.
"Ahmaud Arbery can't even go for a run in his neighborhood without being hunted for his life. Trayvon Martin can't even go to the store without being hunted for looking suspicious because he had a hood on. Every killer of these victims knew what they were doing."
Spencer other organizers were often overcome by emotions during their speeches.
"They say 'hands up, don't shoot,' But that doesn't work, ever," said Gabrael Moore, another speaker and an organizer of the event. "It never works. And unarmed I may be, but that doesn't matter, I'm always judged by the color of my skin. Always. And I'm judged not only by the color of my skin, but how I talk, how I walk, and what I wear."
While the event had drawn more than 7,000 people saying they planned to attend, the massive turnout caught organizer Alijah Gee off-guard.
"I was not expecting all these people to come out," she said at the rally's conclusion.
Spencer said the result was exactly what he and fellow organizers hoped for. He sees growth in the Black Lives Matter movement from when it started roughly seven years since the movement was founded. More and more people are showing up.
Dajah Gee said in her speech that she had never seen so many people of other races stepping up to support that movement.
It took until after Spencer spoke for him to sit back and think about the event's success. But it doesn't stop at protests. Spencer wants to see actionable changes.
"I want the change to be for police to stop killing us," Spencer said. "Stop falsely accusing us. We just want to be equal. We all have a voice and we want to be heard."
Akiyyah Billups, another organizer and emcee for the event, said the group wanted to dispel narratives about the black community with this protest, in particular she wants to change the narrative that every time black groups get together and protest, something has "pop off," or turn destructive.
They delivered that Friday.