Inside a work shed near Urbana, David Key took great care when unveiling some old objects once housed in the Pythian Castle on West All Saints Street in Frederick.
To some, the objects might look ordinary: an old ballot box, some tattered political banners, and a weathered flag.
But to Key and other members of the African American Resources, Cultural and Heritage (AARCH) Society, it's an important way to showcase Frederick County's African-American history.
"So many times in our history … our African-American history has always been slighted, in a way," Key said last week outside his work shed. "It's an important piece of history, yet it's always been marginalized, and I think having a tangible item to say, this is what it is, you know, makes a big difference ... with a tangible object, there's no denying."
The most recent donation came from the owners of the former Pythian Castle, now a beige brick residence just west of Asbury United Methodist Church.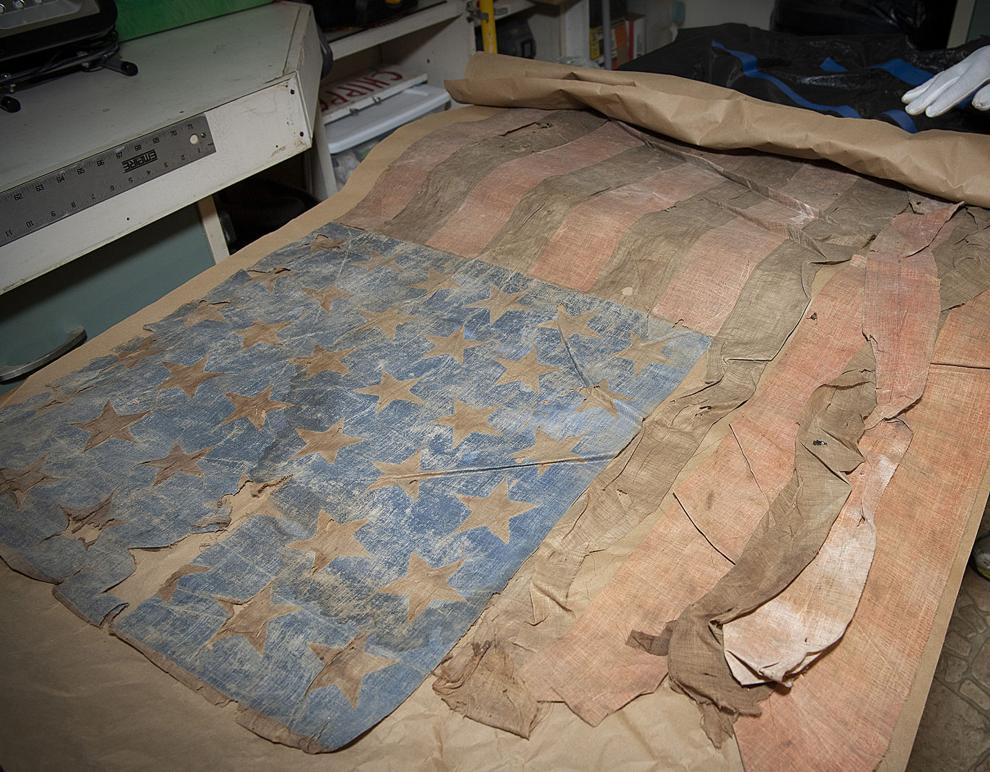 Back in the early to mid 20th century, the building served as a hub for the Black community, hosting political organizations and grand balls. It was also where musical acts like Ike and Tina Turner and James Brown performed in the mid-century.
Local artist Kevin Hluch bought the property in 1999. He said the building had been empty for three decades, and in need of major repair.
"It was just a shell of a building, it had two active termite colonies in it," Hluch said.
He invested in the building and soon found some historical items: the 36-star flag, along with signs announcing a meeting of the Colored Republicans Club, and one calling on people to vote for Wendell Willkie, the Republican candidate for president in 1940.
Two years ago, Hluch tried to donate those and the old ballot box to the National Museum of African American History and Culture in Washington, D.C. but didn't hear back. So he recently contacted AARCH to see if they would want the items for their collection. Key picked them up earlier this month.
"I'm very pleased they're going to a place they can be preserved and used as an education tool about the African-American community in Frederick, as well as the national importance of it," Hluch said.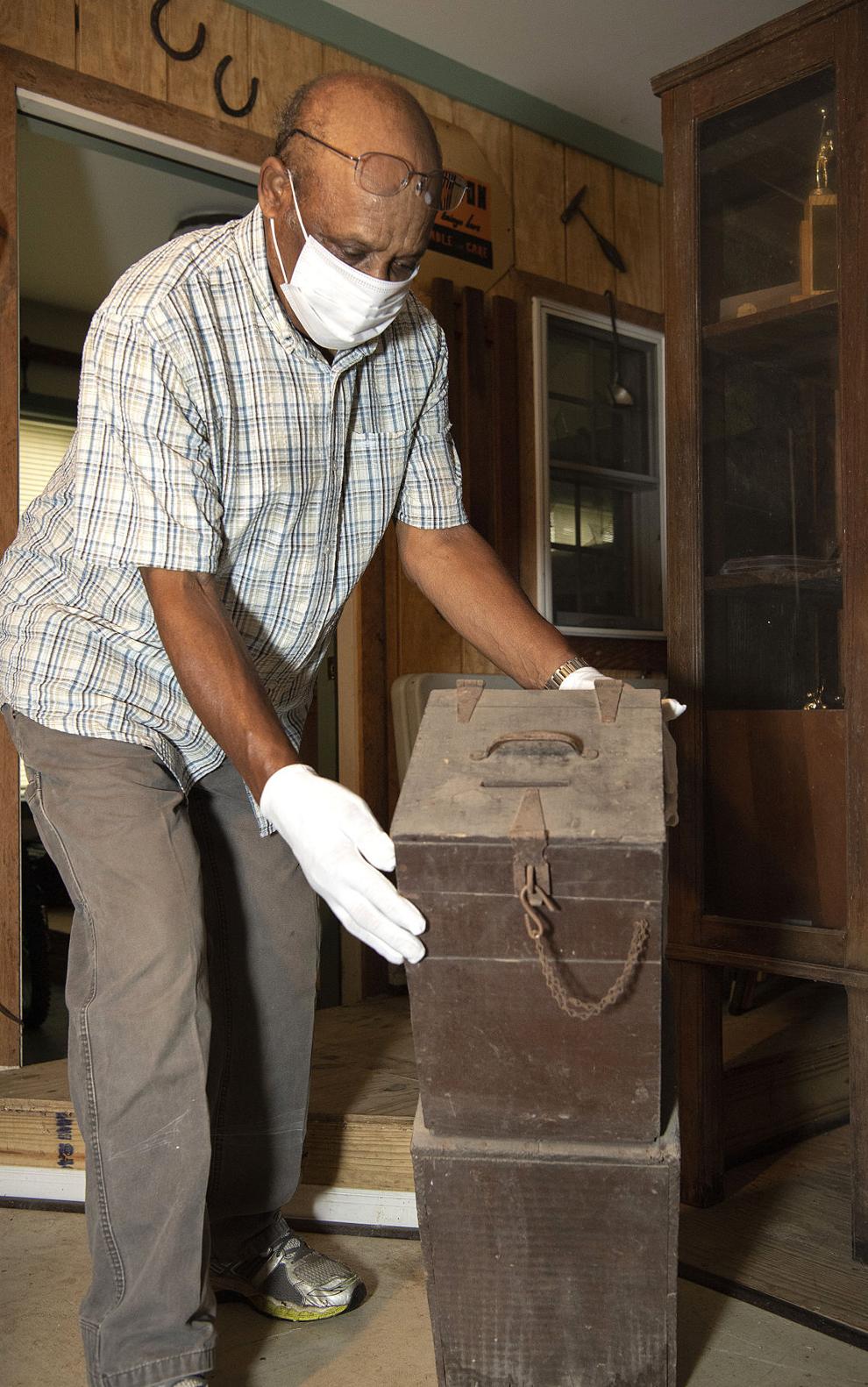 Key said Frederick officials have given AARCH a 3,200-square-foot space at 25 E. All Saints St. to eventually house the artifacts and others, once renovations are made. It's a good location, Key said, because of the historical significance of All Saints Street, back when Frederick was segregated.
"All Saints Street was the hub of the Black community. All kinds of activities happened there. Because it was segregated … they ended up having to create their own stores, a hospital, restaurants, they had a whole host of things," Key said.
Protean Gibril and Rose Chaney are members of AARCH's collections committee, two of roughly 175-200 people who are part of the organization. Gibril is always excited when new donations come in, especially the recent ones from the Pythian Castle.
"I think it's just very important, especially for our children," Gibril said. "The African-American history ... it's just something that needs to be factored in more. To focus in on history that is normally not revealed to them ... this new find is great because I think it opens up new questions of, what that artifact means — the Black Republicans club— what does that mean to the community … and how is it going to affect the community?"
Chaney, one of AARCH's founding members, said it's important for African-Americans and others to not throw away items that might be of historical significance.
"We know that people have these things, a lot of them are in their attic or in their basement, and a lot of it disappears that way because when they leave, their children might not find the significance of it," Chaney said. "A lot of things are lost that way."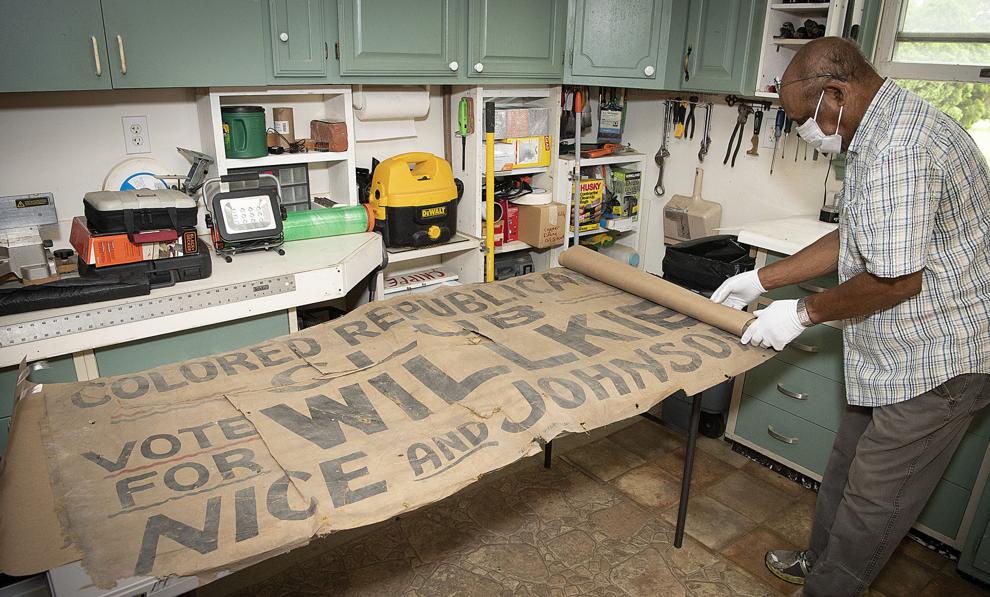 Hluch said he's not only learned about the Pythian Castle itself, but also Black people in the area who have described the history of the building to him.
The banners carry significance, but the ballot box is also important, he said.
"The ballot box is a significant item in that it shows what our democracy is really all about," Hluch said. "It's a physical item that shows that everybody's vote is important."
One program AARCH runs is living treasures, which catalogs the dialogue of African-Americans who are 90 and older. Key said it's important to keep talking to them, and searching for important artifacts that tell the local African-American history.
"A generation ago, people kept everything," Key said. "I'm a product of that, because I have all of my stuff that my parents had, but because I'm with AARCH, I know not to throw that stuff away. But there are plenty of people that would see that as junk."
"We try to encourage them to turn over any other artifacts they might have," Key said of older Black residents and the living treasures program. "No matter how important or unimportant it might be to them, it tells a story."