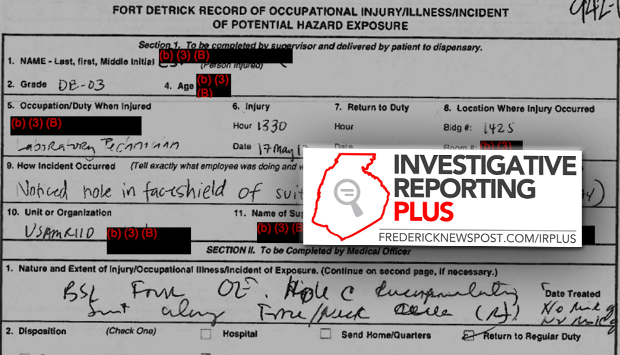 Despite the growing list of safety precautions at Fort Detrick labs, researchers are still in danger of exposing themselves to biological agents and toxins.
Mishaps the labs report are most often torn gloves and holes in containment lab suits, but sometimes those can lead to larger problems.
At the National Biodefense Analysis and Countermeasures Center in July 2012, an employee noticed a small hole in the headpiece of his or her suit while in the chemical shower. The actual tasks the employee was performing in the lab are redacted from the NBACC report, but a suggested corrective action mentions that veterinary employees wear cotton gloves while performing necropsies.

The employee unknowingly touched the hole in the suit with his or her hand, creating a "negligible risk of potential exposure" that nevertheless put the employee on an eight-day fever watch.
The National Institutes of Health "stresses the importance" of reporting fevers above 100.4 degrees, according to spokesman Brad Moss. The National Institute of Allergy and Infectious Diseases Integrated Research Facility at Fort Detrick follows NIH's lead.
"A report of a potential exposure or fever by a laboratory worker at the IRF-Frederick facility is handled as a potential medical emergency," he said in an email.
After consulting subject matter experts, a physician will counsel the employee and establish a schedule to monitor him or her through the incubation period for that agent or toxin.
Vaccinations are not required for researchers at U.S. Army Medical Research Institute of Infectious Diseases or NBACC but are strongly suggested. 
According to USAMRIID spokeswoman Caree Vander-Linden, there is no standard list of vaccinations required for all USAMRIID researchers.
But if FDA-licensed vaccines for pathogens are available, those are required for "all personnel working directly with the pathogen, working in close proximity to someone working directly with the pathogen, and when a risk assessment determines the initial risk of exposure to the pathogen is greater than the inherent risk of receiving the vaccine," she said.
At USAMRIID, vaccinations are generally not required because in theory, all other safety precautions should prevent an agent from getting under a researcher's skin or into their body.
"No vaccinations ... substitute for the use of appropriate protective measures," Vander-Linden said.
At NBACC, according to Director Dr. Pat Fitch, vaccinations are regarded as an additional safeguard. Supervisors make a "very strong suggestion" that employees get vaccinated, he said. 
According to a document obtained by The Frederick News-Post via a Freedom of Information Act request, USAMRIID personnel may opt to be transferred to NIH's Special Clinical Studies Unit after they are potentially exposed to an agent.
USAMRIID previously had the ability to isolate and treat potentially exposed personnel on-site, but their medical containment suite, known colloquially as the "slammer" for the loud sound its doors make, became a Biosafety Level 4 training laboratory in recent years.
The memorandum of agreement between USAMRIID, NIAID, the Fort Detrick garrison and NIH states that potentially exposed personnel may be taken to Frederick Memorial Hospital "in the event of a simultaneous medical emergency requiring immediate life-saving treatment or stabilization."
According to a News-Post report in 2000, a USAMRIID microbiologist contracted the glanders disease while working on a vaccine for it. He was first admitted to Frederick Memorial Hospital but, after two days, went to Johns Hopkins Hospital in Baltimore, where he received antibiotics.
The microbiologist was not identified but was released.
In 2004, a USAMRIID researcher who was potentially exposed to the Ebola virus after grazing her finger with a needle was isolated in the building's medical containment suite. She was also released.
Potential exposures may or may not be verified through blood tests, according to Moss. If the risk of accidental exposure is "significant," clinicians may order diagnostic tests.
Joe Mangiafico, a member of the city of Frederick's Containment Lab Community Advisory Committee and retired USAMRIID researcher, spent much of his career working in biosafety level 3 labs.
Many guidelines present in today's labs were just being written when Mangiafico started as a microbiologist in 1974. He later became chief of research serology at USAMRIID.
Mangiafico said his lab was responsible for maintaining a repository of biological agents.
"As we progressed, we generally formed a culture among us of being super vigilant because none of us wanted to take this home to our families," he said.
USAMRIID Biosafety Officer Dr. David Harbourt said USAMRIID strives for vigilance when it comes to mishap reporting.
"Part of that culture has been imposed by the Army, but we also try to create a non-punitive environment for any reporting that occurs," he said.
But a mishap report filed from USAMRIID in 2013 suggests that a fear of reporting mistakes has not completely disappeared from the lab's safety culture.
In July of that year, a lab technician was working with the infectious anthrax bacteria under a microscope when the slide's cover slipped, all about a foot away from the technician's face.
The incident occurred in Building 1412, where the FBI searched the locker of the late USAMRIID researcher Dr. Bruce Ivins in relation to the anthrax letters of 2001.
On the mishap report for the potential exposure incident, a supervisor notes the technician's "fear of reporting." The incident was reported two days after it happened.
The technician was counseled about proper reporting procedures.
This year, NBACC added accountability as a competency its researchers will be evaluated against, which Fitch said is necessary for the lab. Part of its job is to collaborate with the FBI on bioforensic testing and analyze suspected bioterrorism evidence.
"We have all kinds of constraints that other labs don't," he said. "If we contaminate a sample, we might be sending someone to jail who shouldn't be in jail." 
Fitch said the lab's leadership worked to provide multiple avenues for employees to report incidents.
"We put a lot of energy into making sure the doors are open," Fitch said.
Follow Sylvia Carignan on Twitter: @SylviaCarignan.