A burst of several inches of rain fell in just a few hours Monday morning, causing flooding at Baker Park and several roads during morning commutes.
But all in all, flood-prone areas throughout the county avoided extensive damage, likely due to happenstance or measures taken in the last couple of years.
Rain totals
Some areas experienced locally higher amounts due to a variety of factors, with the highest amount coming from a measuring station about 2 miles south of Frederick for roughly 6.3 inches of rain, said Howard Silverman, a meteorologist with the National Weather Service in Sterling, Virginia. While such extreme amounts are worrisome, the concentration of rain was more concerning.
"A lot of this rain fell in a one- to two-hour period, and that is a torrential amount of rain," Silverman said. "Even up to 3 inches in a two-hour period would be considered a torrential amount of rainfall."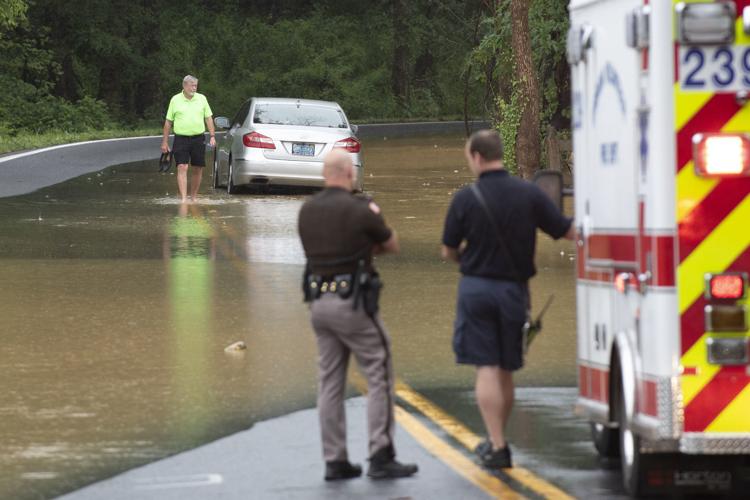 The YMCA on North Market Street, which sustained significant water damage in the previous floods, was relatively dry after Monday's rainfall. Only a small amount of water came up through a drain in the kitchen of the early learning center, which is in a low-lying area of the site, said Chris Colville, the president and CEO.
Many homes near the YMCA experienced flooding and the center would likely have flooded again if not for the preventive measures put in place after both the 2015 floods and the more recent flooding last year, Colville said.
"We've installed both exterior flood doors and a flood plank system that needs to be put in place, so early this morning, as we realized the alley was starting to fill up with water, we were able to put that in place," Colville said. "And you can see we had about 10 inches of water that came up on the flood plank system, so the flood planks and the flood walls did their jobs. If they hadn't been in place, then we would've had more damage."
Preventive measures, though, will only go so far in protecting the center, Colville said, adding that she hopes the city continues to shore up its own infrastructure to handle future flooding.
"I think there's still some concern though about just the stormwater management system that runs parallel to the Y, it was definitely surging and definitely over capacity. ... There's still some need for the city to continue to focus on this area, the problem is not solved, and we're still at risk," Colville said.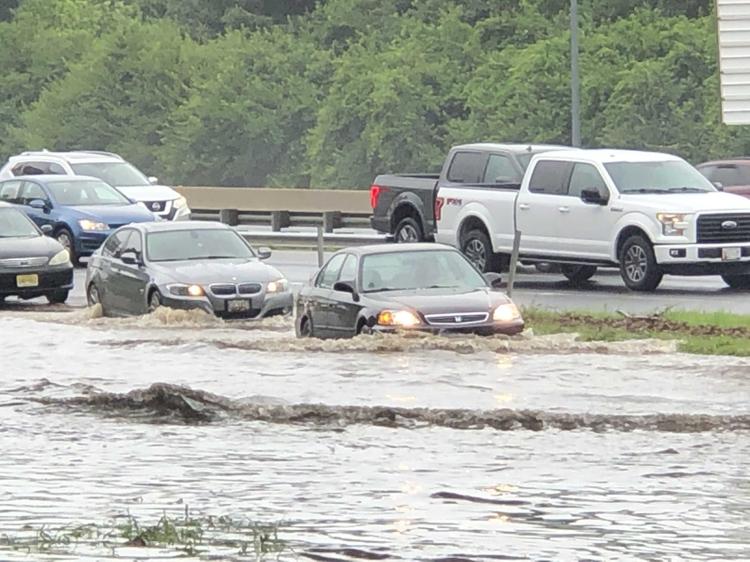 Rain in surrounding areas
Other areas, such as Brunswick, which experienced major flood damage in 2018, and Fort Detrick, reported no problems other than some pockets of water on fields and in drainage areas. In Buckeystown, issues with standing water were reported on Md. 85 just north of Manor Woods Road.
Nannette Jenkins, who has lived near Manor Woods Road for roughly four years, said she was preparing for summer camp with her daughter at around 7:30 a.m. when she noticed the area was flooded. Though she called the police to report the high waters, she felt the flooding wasn't as bad as in May 2018.
The only way to fix the frequent flooding, she said, would be to install a storm culvert in the area. But that would probably require a road closure.
"It's one or the other," Jenkins said with a laugh.
Paul Lebo, chief operating officer of Frederick County Public Schools, said in a prepared statement that the school system did not have any significant problems at any of its facilities.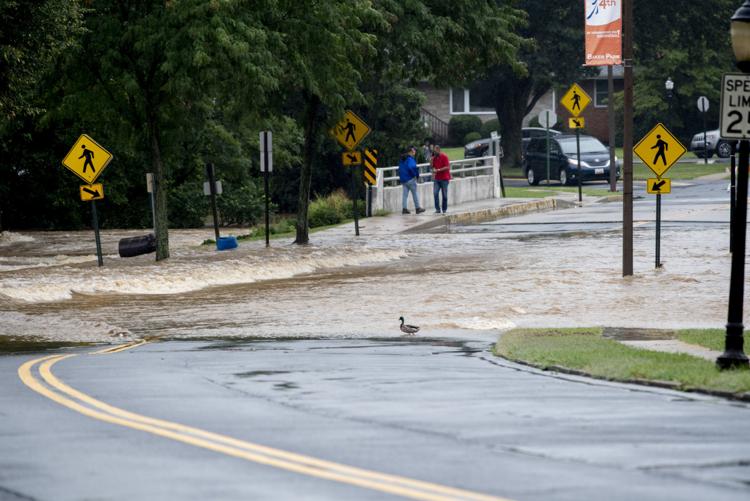 "Any minor issues were addressed by maintenance and custodial staff and all buildings are operational," said Lebo, who indicated that the system doesn't expect any Tuesday programming to be impacted.
But there were issues. A wastewater overflow began at the Frederick Wastewater Treatment Plant's capacity at around 8 a.m., the city said in a news release.
That overflow "is occurring in front of the Wastewater Treatment Plant into Carroll Creek, immediately upstream of the Monocacy River," the release stated. The city's drinking water supply is not affected by the overflow.
The Frederick County Division of Fire and Rescue Services responded to 16 calls for service thought to possibly involve water rescue, said Battalion Chief Dave Barnes. Emergency personnel rescued eight people from six vehicles on those calls with no injuries, Barnes said.
Most of the calls were in the city of Frederick, predominantly in the areas of Market Street, Patrick Street and Carroll Parkway, Barnes said.
While responding to swift water rescue call presents challenges, Monday's calls weren't more challenging than normal. Emergency personnel's biggest obstacle was finding access points from which to reach vehicles, Barnes said.
Much of the flooding receded by 2 p.m., Barnes said, much quicker than floodwater drained during the flood that occurred in May 2018. Floodwater lessened quicker this time because the storm moved faster, Barnes said.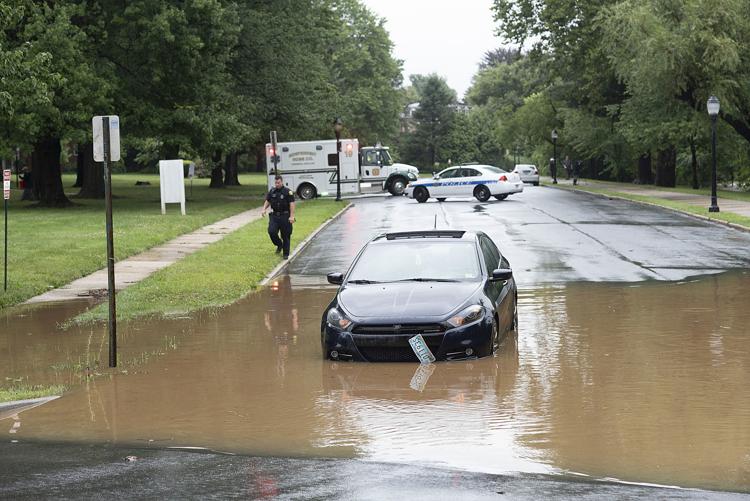 "It was a big difference. This storm dumped a lot of water quickly and then moved on," Barnes said. "Where as during last year's significant weather event stalled over the region, continuing to dump rain."
Moving forward
But just because the rain let up doesn't mean the swift water rescue team is out of the water. Now their attention turns to the rivers in the county.
Usually after heavy rain, the county's emergency personnel receives several calls for service on water for residents using rivers for recreation, Barnes said.
"People like being on that kind of water," Barnes said.
At about 2:15 p.m., the swift water rescue units responded to a call on the Monocacy River for a potential rescue near the boat ramp by At Home furniture store off Monocacy Boulevard. The team found only an empty raft.
Even though the heaviest rainfall was well south of Frederick County shortly before noon, water levels will likely remain high because of the amount of rain that fell in a relatively short amount of time.
The National Weather Service expects a much different day Tuesday when conditions were expected to be mostly sunny with a daytime high in the mid- to upper 80s. Sunny skies will continue Wednesday with temperatures in the upper 80s before the chance for more clouds and rainfall moves in Thursday.
Staff writer Katryna Perera contributed to this report.