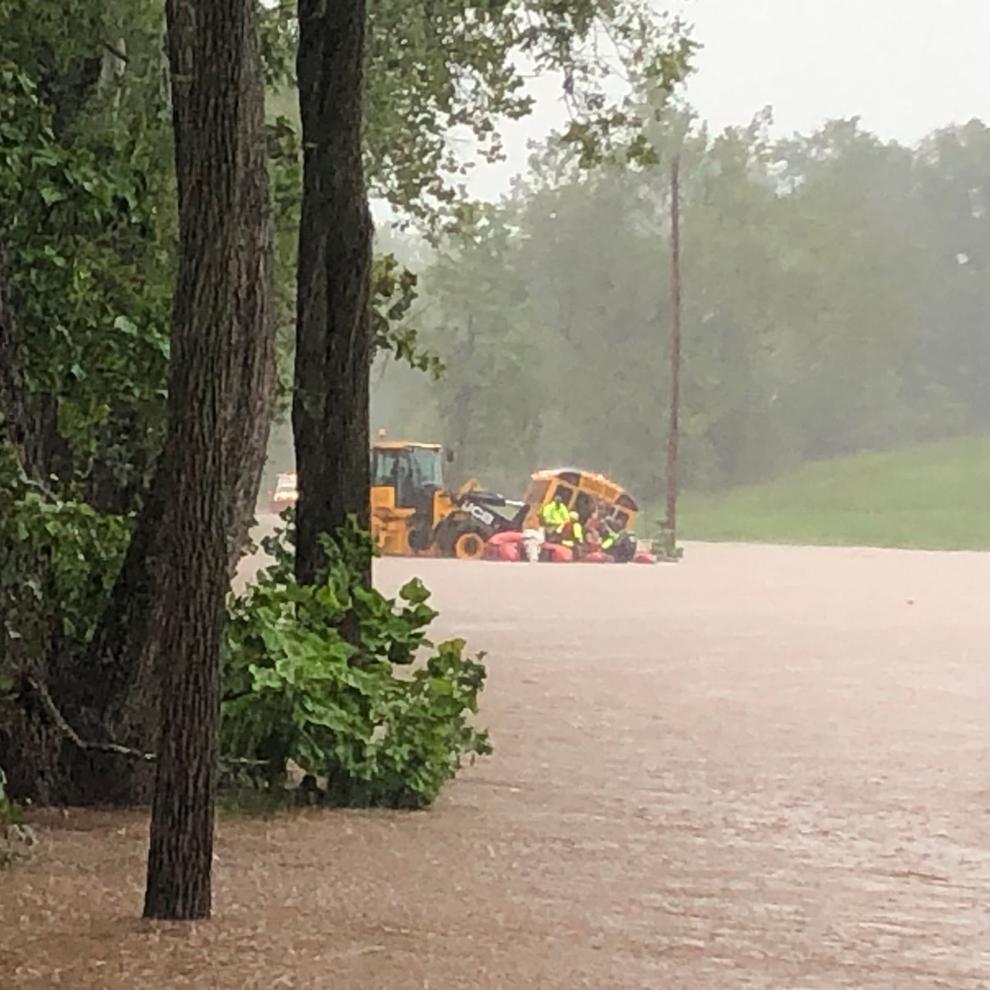 FCPS buses re-routed back to schools in afternoon
Frederick County school buses were told to turn around mid-route Wednesday afternoon, bringing children back to school buildings as heavy rains made many roads impassable.
The Frederick County Sheriff's Office made the call to take buses off the roads, said FCSO spokesman Todd Wivell. First responders had to use boats to evacuate the passengers off three buses stranded across the county, according to a press release from the Department of Fire and Rescue Services.
The school bus rescues occurred at Hessong Bridge and Blacks Mill roads near Thurmont, Hiney and Legore roads near New Midway, and New Design and Mountville roads near Adamstown. In total, more than 20 students had to be evacuated, the release said.
FCPS officials wrote in a Find out First email that all students and drivers were safe. Parents were being encouraged to pick their children up from school once it was safe for them to do so. But as of about 6 p.m., emails indicated that schools were still working to reunite students with their parents.
-Jillian Atelsek, 6:42 p.m.
---
Flood Warning into the evening
The National Weather Service has issued a flood warning for Frederick County until 7:30 p.m. Wednesday, citing heavy rains from thunderstorms caused by the remains of Tropical Storm Ida.
Flooding was ongoing or expected to begin shortly in an area that includes Frederick County, Washington County, western Carroll County, as well as parts of Loudoun County in Virginia and several counties in West Virginia.
Between 1 and 2 inches of rain had fallen by 1:30 p.m., with another one to two inches expected in the warning area, according to the weather service.
A flash flood watch remains in effect for much of the Washington, D.C. and Baltimore area until Thursday morning.
Frederick County Sheriff's Office spokesman Todd Wivell said deputies had responded to two accidents with injuries as of 2:40 p.m., as well as one report ofa tree in the roadway.
-Ryan Marshall, 3:30 p.m.
---
Here's a running list of road closures as they're being provided by local officials and weather alerts:
South Seton Ave is closed @ Cedar Ave. Do not attempt to drive through flooded areas. Vehicles are getting stuck.
The City of Frederick is experiencing high water on many roadways. To view a list of closures, please visit frederickmd.gov/highwater.
West College Terrace and Fleming Ave
Willowbrook Road at Willow Road
Westbound Rosemont Ave at Schley Ave
Franklin at South Street
Opposumtown Pike at Willow Road
Waverley Drive at Ford Motor Co
Hamilton Avenue
West Patrick Street at James Street
Schifferstadt Road from TJ Middle to North Market Street
Routzahn's Way at Schifferstadt Road
Huntingcorn Lane and Huntingcorn Court
N. East Street at N. Market Street
Dearbought and Cyril 

Per Frederick County, Community Center in Emmitsburg (including the Town office) will be closed tomorrow, Thursday September 2nd due to flooding in the basement. Town staff will be available via phone and email.

N HATCHER AVE AT HIRST RD BLOCKED DUE TO TREE DOWN.