Three men were hospitalized after a large truck hauling roofing materials overturned on Prices Distillery Road near Urbana late Tuesday morning, according to fire and rescue personnel.
The crash occurred at approximately 11:20 a.m. in the 3600 block of Prices Distillery Road when, for reasons still under investigation, the southbound vehicle veered off the left side of the road, then swerved back to the right and left the opposite side of the road as it overturned, said Deputy 1st Class Nathan Rector, an investigator with the Frederick County Sheriff's Office's Traffic Unit. The men were trapped inside the cab when part of the truck's moving apparatus swung around from behind the cab, Rector said.
"There's a boom that lifts the roofing materials off of the bed of the truck to either lift them up to a roof or otherwise move them off of the truck, so the boom rotates," Rector said. "During the crash, it actually rotated all the way around and crashed into the cab, it obliterated the cab, and that's what [was] pinning them inside."
The men were removed one at a time over the course of the next hour or so and taken to hospitals in separate ambulances, said Sarah Campbell, a spokeswoman for the Frederick County Division of Fire and Rescue Services. The first two men were taken to Suburban Hospital in Bethesda, and the third man was taken to R Adams Cowley Shock Trauma Center in Baltimore in a GO-Team vehicle sent from the trauma center, Campbell said.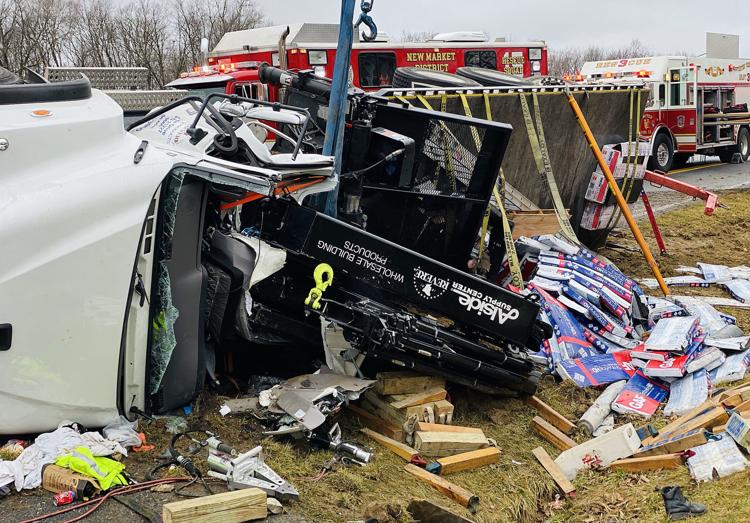 The GO-Team is designed to provide on-scene emergency care and is made up of a physician and certified registered nurse anesthetist. While the trauma center's website indicates the team is typically sent to transport patients who require advanced pre-hospital resuscitation, Campbell said the vehicle was dispatched once rescue personnel on scene had confirmed that heavy entrapment was involved.
Campbell confirmed that the second and third patients were both alert and conscious when they were removed from the truck, but she was not sure if the first man was, as well.
No other vehicles were involved in the crash, and, while sheriff's deputies were still investigating what led the truck to overturn, Tony Lapara, who has lived along the stretch of road for about 15 years, said he has his suspicions.
"These trucks, and cars, too, come down here going 50, 60 [mph] all the time, and the speed limit is 30 [mph], I can tell you for a fact," Lapara said. "I've asked the police to sit in my driveway, but they told me they don't do that."
The posted speed limit at Fingerboard Road about a mile north of the scene of the crash was 35 mph.