The Frederick County Farm Bureau and Frederick County Farm Safety Camp partnered with Dairy Maid Dairy to donate 1,500 gallons of milk to the Maryland Food Bank at the Frederick Rescue Mission Thursday.
The milk, which came from local area producers, was distributed to food banks and agencies in the county as well as directly to clients at the Rescue Mission.
"Whenever you can put milk on people's tables, particularly families with children, it definitely creates a healthier atmosphere in the household," said Guy Mutchler, director of food distribution and facilities at the Rescue Mission.
The idea to donate the milk came from a Frederick County Farm Bureau member who heard that something similar was being done in Washington County and asked if the farm bureau could do something.
"So we checked with our local co-ops, dairy cooperatives, and we were able to work things out with Dairy Maid here local," said Sam Roop, president of the Frederick County Farm Bureau. "It worked great because we had a local dairy right here in Frederick County."
Frederick County Farm Safety Camp typically gets funding from the farm bureau, but since they're not able to hold the camp this summer, the organization gave the funding back and it was used to help purchase the milk.
"So basically the safety kids that couldn't meet are actually doing something for the community as well," Roop said.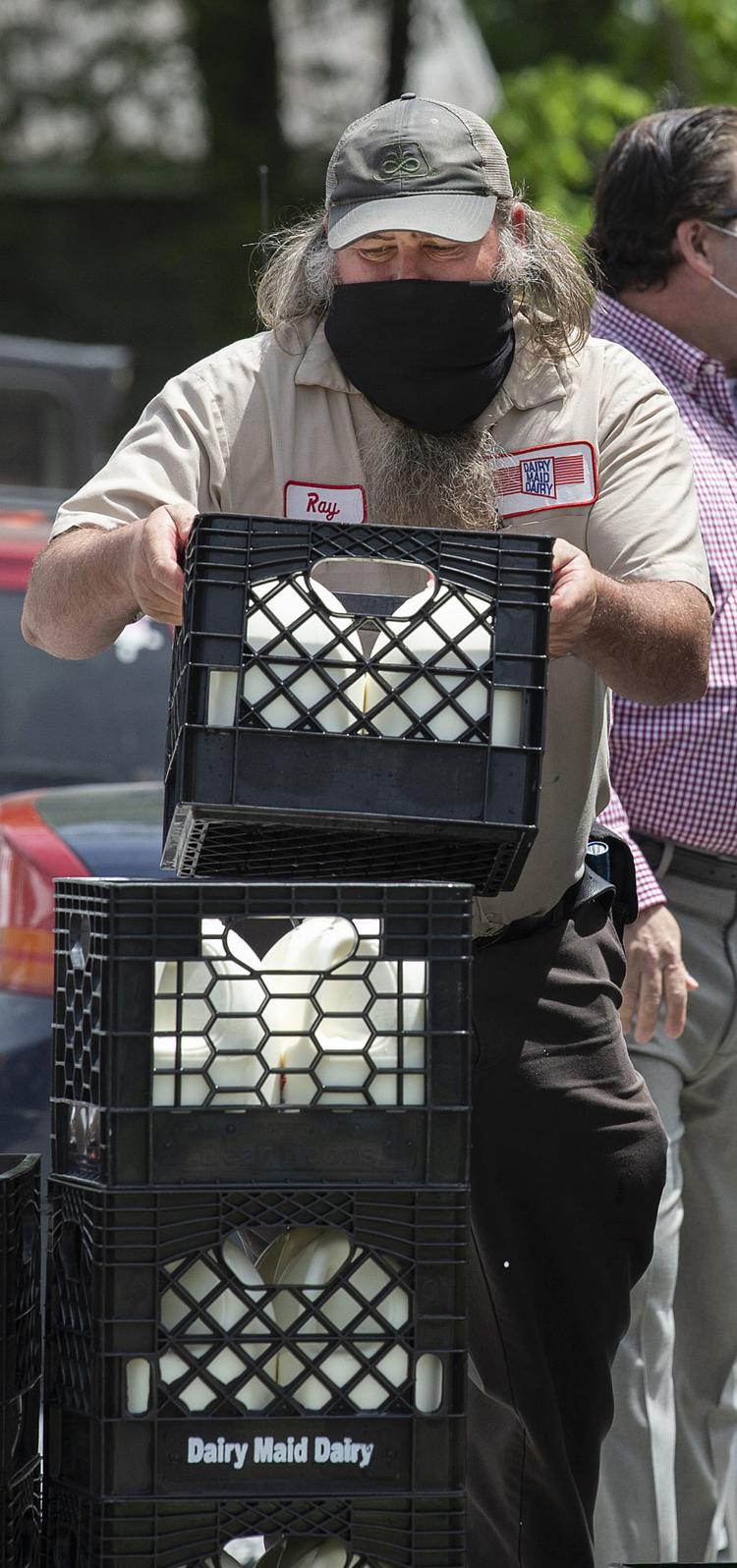 Kim Baker, of the Farm Safety Camp, said other agencies working together is what building a community is about.
"There are so many needs and our county is so big and a lot of us on the committee are teachers too, so we see that," she said. "Without the farmers, we would be really hard pressed to make sure that we could get food to where people need it."
Dairy Maid Dairy, headquartered in Frederick, has made donations throughout the state since COVID-19 started.
"We're fortunate because we're part of DFA, Dairy Farmers of America, and it is in our culture to help our communities out so it was a no-brainer when they called," said Dwayne McMahan, sales manager with Dairy Maid Dairy.
McMahan said there are a lot of Maryland families who go hungry.
"We're hearing the stories and we feel the pain," he said. "When you get calls about people being hungry, they hit home. So it's good to get this out. We're trying to do whole milk to fill the bellies and feed the families … We're part of this community and we want to make sure we take care of everybody."
Mutchler said milk is a special treat.
"We don't get it all the time and usually when we do get it, it's got a very quick expiration date so this milk is good until June 6th so it's going to allow us to be able to give families two to three gallons that will actually last them through that time so that they can use their resources to purchase other food to supplement their household food supply," he said.
The milk was distributed along with food from a Maryland Food Bank delivery.
"We partner with the county food banks and local churches that have small food banks within their walls and serve the communities where they're logistically located," Mutchler said. "We have approximately 13 different agencies that will be coming. They'll be getting the fresh produce and canned goods and other amenities that the food bank has sent up, which totaled 9, 856 pounds of food."
Roop said the hope is to feed the hungry, people who can't work and people that can't afford milk.
"It's just a good thing all the way around that we can actually help somebody at the same time with a donation, something we have plenty of," he said, emphasizing both that there is no shortage of milk and that the donation was a group effort.
Baker said she hopes the milk goes to the families that need it and that there aren't any children missing out on nutritious meals because schools are closed and their families might not have funding or access to good meals.
"It also brings awareness to the fact that farmers are out there working still and providing for our communities in a crisis or not crisis," she said.
Mutchler said donations like this from the farm bureau and Dairy Maid would be accepted at any time.
"Kids learn better when they're healthier, when they're drinking things other than soda and carbonated beverages and sweet stuff, so this makes a huge difference to a family that may not otherwise be able to get it," he said.