When children take off running through the corn maze at Winterbrook Farms near Thurmont this fall, they'll be winding their way through more than five miles of trails designed and cut by a small, family business from Idaho.
Winterbrook Farms has turned to maze cutting company MazePlay each year since 2001, a year after Taylor Huffman's father Jan Lawyer cut the farm's first maze — a wagon wheel — with his wife, who stood atop a skid loader directing her husband based on what she could see.
"There was this new idea out there to cut a design into a cornfield and that people would pay you to walk through it," Huffman said.
"It was kind of a weird concept in the early 2000s, but they jumped on board and decided to do it," she said.
With the help of GPS and computer software, MazePlay planned and executed the second year's maze and every year since.
"We've always hired them because we wanted intricate designs," she said. "Our designs are always very detailed."
The mazes are so detailed that one year the maze consisted of more than nine miles of trails, which Huffman said can sometimes deter people from entering.
"We try to walk that fine line of not so big that it scares people, but also big enough that it's still challenging and adults can enjoy it," she said.
This year's design features the logo of Platoon 22, a veterans support nonprofit, as well as two pairs of military boots and a service member kneeling at the base of a U.S. flag.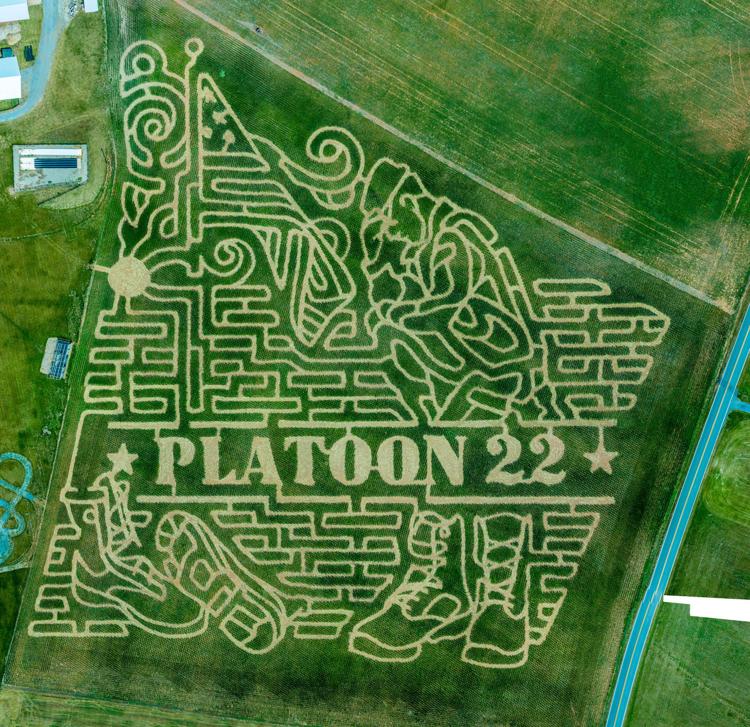 Huffman, who, along with her husband Brandon, took over operations at the farm after her father died in 2013, said the family partners with a nonprofit each year to help raise funds for an organization such as the American Cancer Society.
In the last seven years, Huffman said the farm was able to raise just over $45,000 from the agritourism events.
This year, $2 from every admission at an Oct. 24 fundraiser event will go to help open a veteran services center, a partnership between Platoon 22 and Goodwill Industries of Monocacy Valley.
Each donation will then be matched by a yet-to-be-announced business.
But long before anyone enters a trail flanked by stalks of sweet corn, the family was setting the groundwork for the maze.
In December, the couple settled on the partnership with Platoon 22. After that the folks at MazePlay took over designing the maze to fit within the field's boundaries.
Shawn Stolworthy, founder and president of MazePlay, said there are actually two methods the company uses to create corn mazes.
The first and most popular option the company employs involves an automated tractor that Stolworthy developed that uses GPS to tell the tractor exactly when and where to plant a seed.
Each maze produced with this method grows with its paths already predetermined.
The second method, which was used for the maze at Winterbrook Farms, involves a GPS-guided tractor to cut paths in an existing field of corn. Unlike the first method, a driver is still in control of the tractor when cutting paths.
MazePlay, which was founded at about the same time Taylor's parents were eye-balling that first wagon wheel maze, now creates about 100 mazes each year.
Designing and executing so many mazes across the country during the corn-growing season is a complicated task.
"A lot of it's timing and route," Stolworthy said. "When we're trying to do a hundred mazes during the summer months it limits where we can get [and when we can get there.]"
This year the Huffmans have had to contend with a new set of problems likely to affect fall agritourism businesses large and small.
The Huffmans didn't even know if they should invest the money in planting a maze because early in the spring they weren't even sure the state would allow amusement businesses like theirs to operate during a pandemic.
But with a green light from the state — at least for now — the couple is taking measures to prepare for a season unlike any other.
One of the first changes they made was to not offer hay rides out to the maze, despite how popular they are with visitors.
With social distancing guidelines, Huffman said it's not practical to pull the only two tractors away from where they are needed on what is still a working farm. And with so much uncertainty, they don't want to invest in a third tractor and wagon.
This year, visitors will be able to drive their cars directly to the maze.
They are also hiring more seasonal staff to make sure surfaces are wiped down and hand sanitizer stations are full.
Should the coronavirus infection curve climb back up to a level amusement operations are once again shuttered, Taylor and Brandon have a backup plan.
The two have built an indoor market, from which they can sell their produce, should the governor order another shutdown.
"We've had to diversify," she said. "That's the main reason my parents opened the agritourism business in 2000."
"Traditional farming can't pay for mortgages and crop input costs, so that's why we have other businesses we have to run," she said.
"We enjoy having the public come out, but it comes with challenges, obviously."