A partnership 10 years in the making between Frederick County Public Schools and Catoctin Mountain Orchard will deliver a hands-on learning experience to students this spring.
Classes will visit the operation as part of Frederick's Farm to School program to learn about how their food is grown.
Catoctin Mountain Orchard has been providing apples and other varieties of fruit to schools ever since Robert Black, co-owner of the orchard, came to school to eat lunch with his granddaughter Katlyn Robertson, now a fourth-generation farmer.
"We were going through the cafeteria line and … as with anywhere we go, whether it's the grocery store, any other farm market, Walmart, he'll go straight to the produce section and he'll just examine everything," Robertson said. "He wants to know where it comes from because what we really want to do is get more local fruits to our customers, to the community."  
As Robertson reached the part of the line where she could choose a fruit to go with her lunch, Black asked what kind of apples were provided.
"Turns out it was a Red Delicious apple," Robertson said. "His face was just, you know, disgust. He didn't really know what to think. He goes 'No wonder no one's eating these apples, because they're Red Delicious.'"
Red Delicious has a good "holding quality," meaning they can be stored for a long time but they can be considered bland.
"It's not what we would call a juicy, crunchy apple," Robertson said. "You want to be able to tell a story by eating an apple."
Soon after, they started working with Frederick County Public Schools to provide different kinds of apples to all schools.
One goal was to show students varieties of apples other than the classic Red Delicious and to educate them about where apples come from.
"We were starting what was going to be a huge movement for supporting local and getting the kids more educated about the farmers, the produce," Robertson said, adding that now other operations in the county also provide produce to all schools or just their local schools.
Today, crates of Catoctin Mountain Orchard apples are delivered to a warehouse about once a week, where they are stored until being delivered to schools as needed.
A few years after beginning to work with FCPS, the orchard began working with Alysia Feuer, director of Farm to School in Frederick County.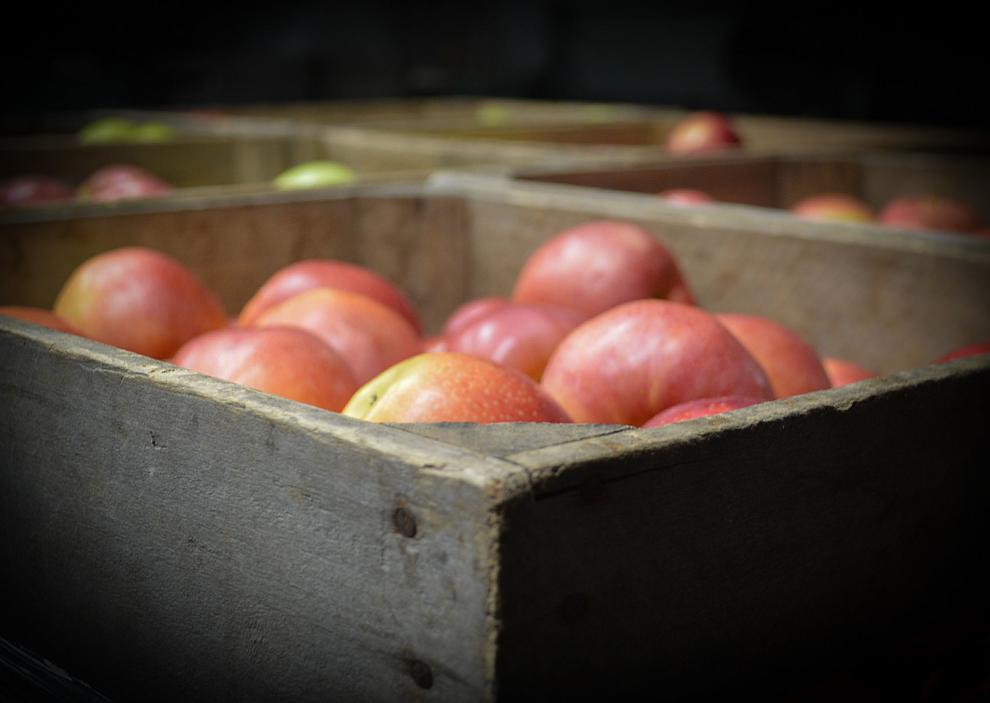 In Frederick County, the goal of Farm to School, a U.S. Department of Agriculture program, is to increase locally grown vegetables and fruits in schools and bolster student health and agricultural economic growth.
Feuer approached Robertson and Black about doing in-school demonstrations and a grant was provided to fund the demonstrations at five Title I schools in Frederick County.
At first, the demonstrations were mainly taste tests but they evolved to include a presentation about multi-generational farming, varieties of apples and the science behind tasting apples.
The demonstrations began with Robertson standing in front of the students in full gear — including bib and boots. She would show students a picture of her family and ask who they thought the farmers were, often sparking disbelief when it was revealed that she was the farmer.
"The next slide, I had all four of the seasons, winter, spring, summer and fall, and I had a picture of an apple tree to show all four of the seasons to talk to the kids about how the trees change," Robertson said.
She showed the students props, some cut straight from the orchard, that demonstrated the stages of an apple tree, starting with a bare branch and progressing through a blossom and then an apple.
Students were able to taste a variety of apples, including Pink Lady and EverCrisp, and decide which they enjoyed most.
Not liking one apple doesn't mean not liking any apples.
"They were just blown away by how many kids loved it," Robertson said, referring to school staff.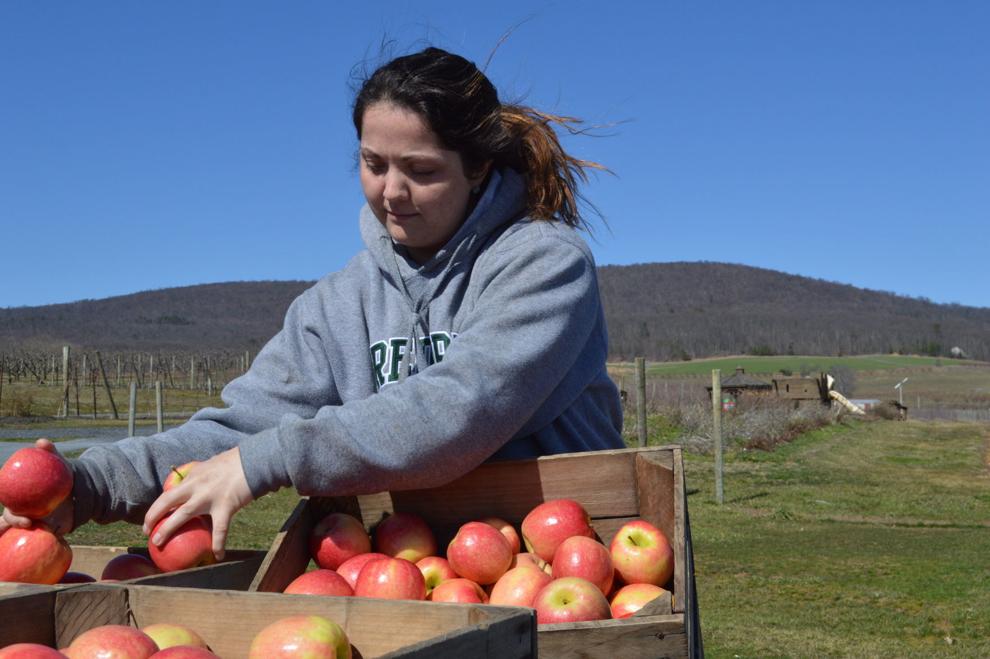 The demonstrations were such a success that the teachers asked for a follow-up.
The Farm to School program wrote for and received a grant from the Starbucks Foundation. 
This spring, 125 students from several Frederick County schools will visit Catoctin Mountain Orchard.
They'll learn about topics such as pollination, apple cleaning and apple selection while having the opportunity to smell and touch the apple blossoms and the apple trees.
The plan is that Starbucks employees will also be involved, for example manning stations where students learn about the difference between apple cider and apple juice (cider is pasteurized and juice is flash-pasteurized).
This isn't the first time school tours have come to the orchard, but those dwindled when Robertson went to college.
"This is going to be our start to get back into it," she said.
Robertson hopes that students who enjoyed the taste tests will remember what they learned and their excitement about learning it when they come to the orchard.
"Physically being on the farm is so much different than just seeing pictures of it, than just hearing about," she said. "They can say, 'Hey, Mom, I went to Catoctin Mountain Orchard and I got to smell blossoms on the trees,' and they're never going to forget that."