When a local horse rescue welcomed a lost gelding into its care, its staff had no idea the elderly fellow bore a hidden tattoo that would reveal a connection to the nonprofit's namesake.
The Foxie G Foundation in Union Bridge specializes in the rescue, rehabilitation and rehoming of thoroughbreds. Whether horses come from the slaughter pen or retire from an illustrious racing career, co-founder and director Laurie Calhoun said they're all embraced by the rescue. They have about 90 horses currently and average 44 adoptions per year, according to Calhoun. They also have a sanctuary for horses that aren't viable for adoption. The foundation offers equine assisted therapy and rescues cats, too.
Over the years, Calhoun said they've come to work with the Frederick County Division of Animal Control, so it wasn't unusual when Animal Control Deputy Director Dave Luckenbaugh contacted Foxie G last month asking the rescue to help spread the word about a stray horse.
Spotted wandering in the area of Md. 26 and 194 Oct. 14, the horse was caught by a good Samaritan and housed temporarily in Walkersville. Animal Control doesn't have a barn to keep horses at its own facility.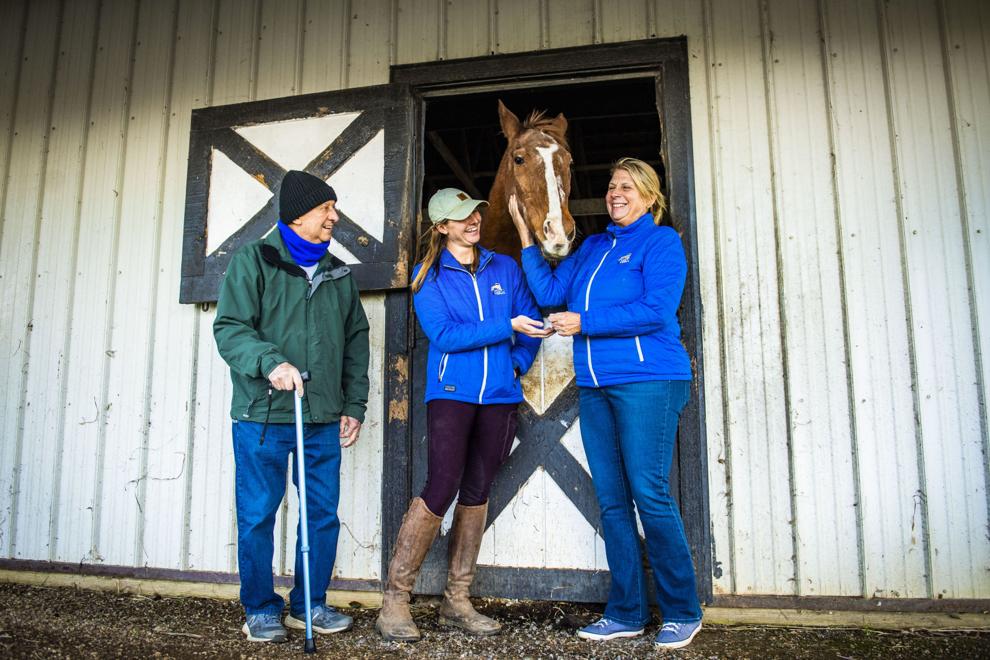 "He was sweaty, but he appeared to be fine," responding Animal Control Officer Charlotte Branham said. "You could tell he was a senior."
Branham said officers went door to door searching for the horse's owner, but didn't have any luck. Animal Control gets calls for loose horses from time to time, she said, but it's unusual for the owner not to turn up quickly.
Calhoun offered to house the horse at Foxie G since the community member who caught him couldn't keep him long term. Dubbed "Drifter," his rescuers thought he might be 29 or 30 years old, possibly a quarter horse or saddlebred from the look of him.
Then a veterinarian's discovery of a faded tattoo inside Drifter's upper lip blew that breed theory out the window.
"This has to be a thoroughbred," Calhoun recalled thinking once she saw the tattoo.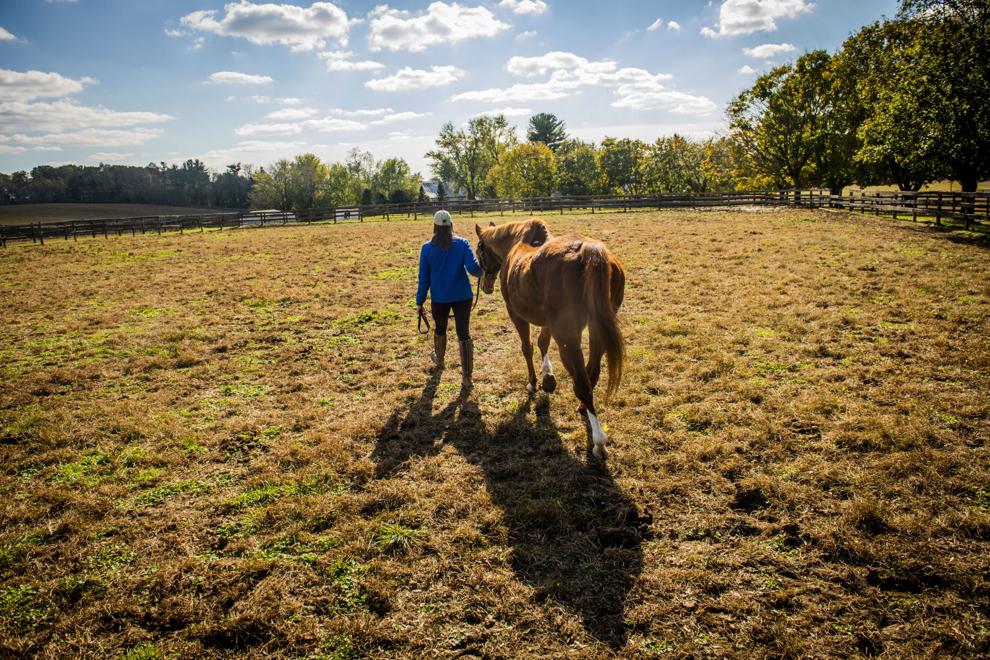 Only able to make out three of five tattooed numbers and unable to see the all-important letter, Calhoun said they started running random combinations through The Jockey Club online tattoo search. After 30 minutes or so, they found a horse's description that matched Drifter's markings.
He is a 30-year-old thoroughbred who never raced, and his name was Union Bridge — the very same name as the town where The Foxie G Foundation is located, and the horse's new home.
It was "coincidence after coincidence," Foxie G evaluation/adoption rider and longtime volunteer Grace Yingling said.
An online pedigree search revealed Union Bridge's sire was Horatius the racehorse, who also fathered Foxie G, the horse the foundation is named after.
"We were going to keep him anyhow" if the owner didn't claim him, Calhoun said. But with the discovery of his name, breed and parentage, it felt meant to be.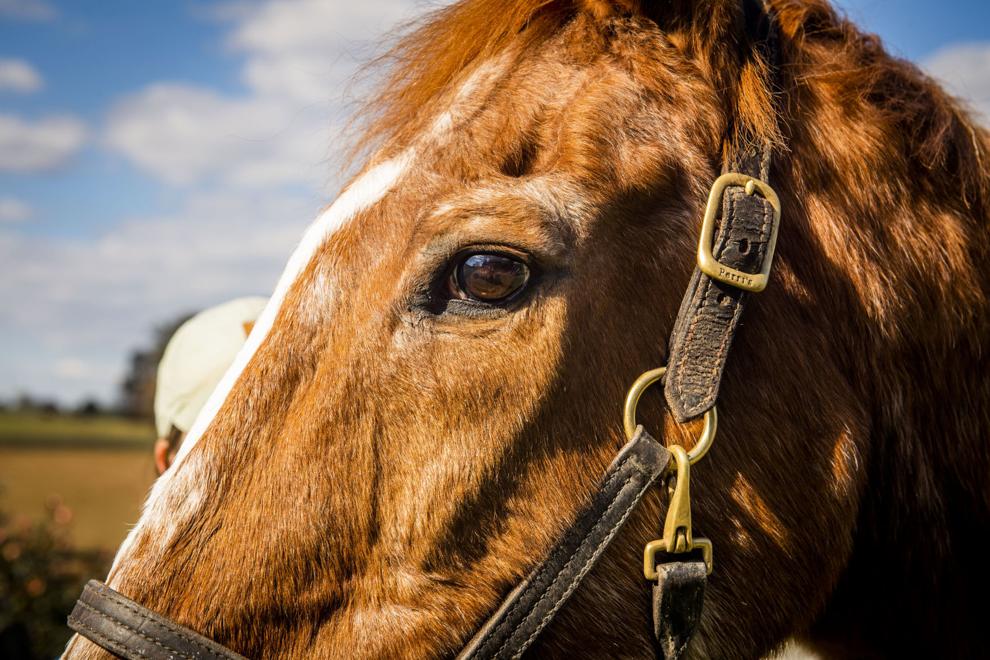 The owner came forward, Luckenbaugh said, but didn't reclaim Union Bridge. They said he'd escaped twice after a horse he was friends with died. 
"He was escaping, I guess, to find another friend," Calhoun hypothesized. "Horses are herd animals. They get very bonded."
Once the stray waiting period was over, Union Bridge became available for adoption. Luckenbaugh said they signed him over to The Foxie G Foundation Oct. 28.
Union Bridge the horse will get to live out his days in the rolling green fields of Union Bridge the town, eating warm mash and being hand-fed treats. He's affectionately called "U.B.," short for Union Bridge. Calhoun said it's also a way of signifying, "You be home."
On a chilly but sunny November day, Yingling walked U.B. from his stall into a large paddock. He clip-clopped toward a pair of horses on the other side of the fence, who turned away. Yingling watched from the center of the paddock while Calhoun and Foxie G board member Harry Loso looked on from the outside. Their next goal is to find their new resident a suitable horse to befriend.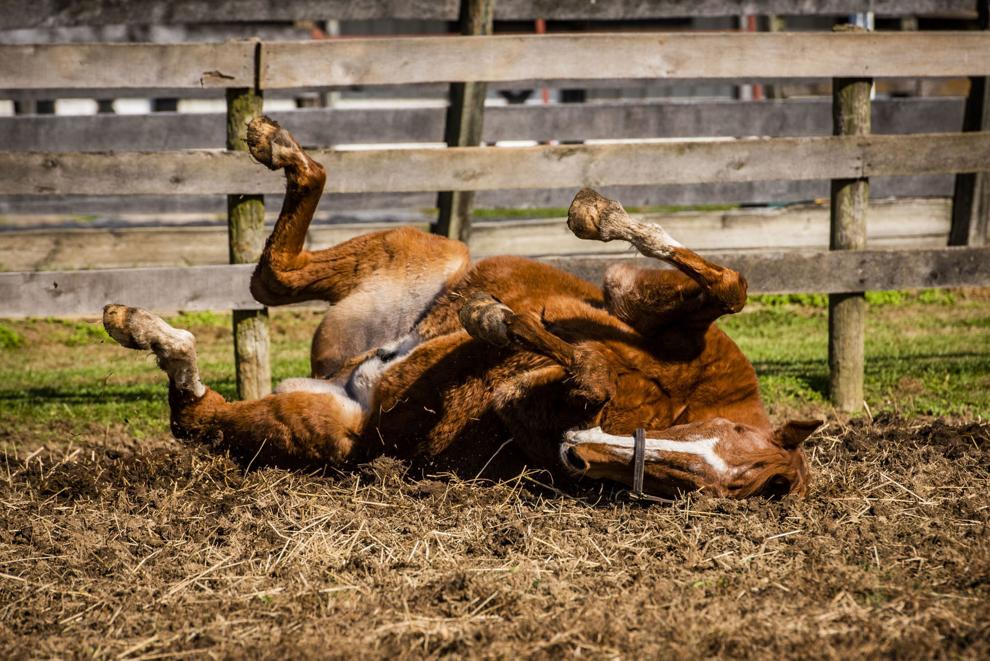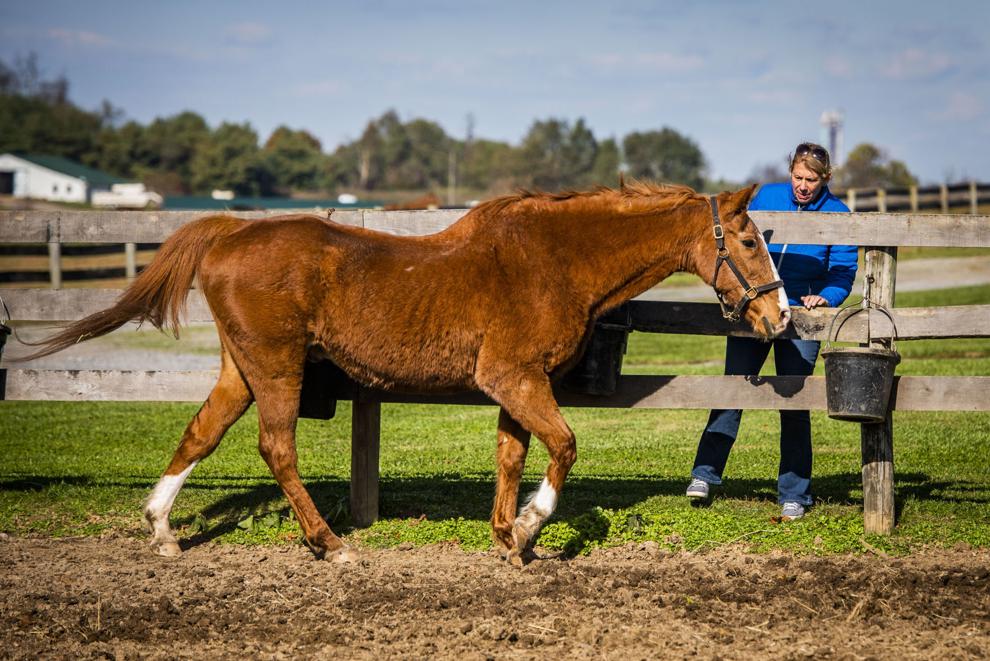 Just as Calhoun finished describing U.B. as a kind and quiet horse — not to mention the oldest in their care — he broke into a trot and rolled his thick chestnut coat in the dirt.
"Are you showing off?" Calhoun called.
U.B. responded with a snort. After gobbling a treat from outstretched hands, U.B. took off across the paddock with his head down and hooves pounding the earth. He loped back toward Calhoun and Loso for a few affectionate pats. As his burst of energy dissipated, Yingling attached a lead rope to his halter and guided him back to his warm stall. She's been helping care for him.
"He's really cuddly," Yingling remarked.
With Calhoun's back facing U.B.'s stall, the horse lifted his white-blazed head over her shoulder and slobbered all over her blue jacket.
"At 30 years old," Calhoun said, "he deserves all the TLC he can get."