After the last of 60 cows left the milking parlor following a recent afternoon milking, Greg Clabaugh began to ponder the future of his family-owned dairy farm in Keymar.
He still wakes up at 4:30 every morning and joins his brother Brian and son Dalton for the first of two milkings before tending to any of the myriad of tasks around the dairy and crop operation.
But with the disruptions caused by the COVID-19 pandemic, Clabaugh worries about the sustainability of the operation.
Standing next to a stainless steel tank holding milk just collected, he said his biggest concern is whether the farmers' co-op is going to keep picking up the milk.
"If they're going to have a market for it … what price are we going to get," he said.
To keep the operation sustainable, Clabaugh said he needs to make around $17 per hundred pounds of raw milk. The most recent check, however, was for $13 per hundred pounds.
Schools and restaurants are a big sector of where their milk products go, but they've either closed or cut back operations. Losing them hit the industry hard.
With the price of milk falling due to reduced demand, Clabaugh has looked at cost-cutting measures to stabilize his business, such as getting rid of cows that produce less milk and reducing the amount of feed the herd is given.
"We don't feed them for production, like we had been … because the protein that we were giving them, costs money," he said.
But they can't just stop milking the cows.
"It don't work that way," Clabaugh said.
Clabaugh's co-op, Dairy Farmers of America, recently sent him a letter saying in May they would be instituting a policy where farmers would be paid full price for 85% of what they produce, but the remainder of the milk could fetch less than $7 per hundred pounds.
The percentages are based on a farm's production levels in March.
At Ellerton View Farm near Myersville, fellow dairy farmer Donnie Grossnickle said he has not yet felt the effects of the change in the dairy market, but expects his next milk check to be smaller.
Some farmers in other states had to dump some of their milk, "not every day, but maybe once or twice a week," he said.
Donna Lee Grossnickle, Donnie's wife, said she's much more worried about breaking even than ever before after hearing the price for milk could drop 30% in May.
"I grew up on a dairy farm and there's always been ups and downs," she said. "This is a pretty big down, but I'm still going to hang on to that faith that we're going to come out of it and get good money for milk again."
Colby Ferguson, government relations director for the Maryland Farm Bureau, said milk prices have always ebbed and flowed.
"Farmers would absorb the down years, make money on the up years and make a living in the middle and that's kind of how dairy farmers lived," he said.
Operations also diversified and expanded to have things like cash crops.
But since a high in 2014, milk prices remained low for longer than usual.
This can be attributed to several factors, including supply and demand, tariffs and trade.
"We were starting to see a rebound in 2019," Ferguson said. "Personally, I think that was due to the assistance from the 2018 Farm Bill being put into effect that helped dairy farmers kind of level the boat, level the waters out there with more stabilized prices."
Some dairy farmers also went out of business, which helped bring production numbers closer to demand.
The Farm Bill is legislation passed by Congress every five years and the 2018 bill included many programs for farmers, including insurance.
When COVID-19 hit, Fergson said it "flip flopped the market again."
While milk prices can and do vary from state to state based on several factors, Ferguson said the Dairy Margin Coverage Program from the 2018 bill is "pretty much the saving grace for most [small farmers], particularly in our state."
"Our local dairies are still getting … a bump in the price of milk because they're local and not having to ship it very far," he said.
Farmers may be able to get a bonus of $1 to $3 per hundredweight of milk, which can be helpful but if the price per hundredweight is only $12, the bumped up price is still low at around $15.
Ferguson said the price needs to be about $17 to $20 per hundredweight to break even for most dairy farmers.
On a muggy, overcast day along Broad Run Road in Jefferson, Jill Allen begins her chores at about 3 p.m.
But he said that for farmers who enrolled in the program, the subsidies have helped offset the price reduction. Some farmers, though, did not.
"2020 should have been a great year," he said, adding that some farmers didn't think it was necessary to re-enroll in the insurance program for this reason.
In Maryland, "the vast majority of farmers" did enroll because the state covered the cost of premiums.
"In Maryland we've been very fortunate," Ferguson said. "Thank God [farmers did enroll] because literally two months later the market crashes and it's kind of bumped up their value."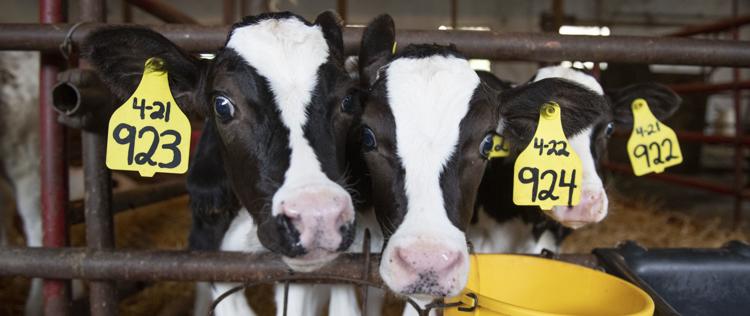 Ferguson also said the vast majority of the milk produced in Maryland goes to grocery stores where there is still a demand, versus the restaurant industry and schools where demand is significantly decreased.
Maryland also doesn't produce as much milk as states like New York.
"It just didn't hit us as hard as it would a state that is a major dairy producer state," he said.
Farmers with diversified operations are also able to continue making money by selling other products, like cheese and ice cream, and selling other places, like farmers markets.
Overall, Ferguson said the main priority is keeping people, both workers and consumers, healthy because farmers can't afford for people to be sick.
"These aren't big corporations," he said. "These run on a skeleton crew, which is made up of almost all family members."
And while "farmers have been social distancing forever," it's still necessary for them to get the supplies they need to run their operations and, sometimes, to interact with the public.
Ferguson said it's important that they take proper precautions and follow protocols.
Kelly Nichols, agricultural agent associate at the University of Maryland Extension's Frederick office, also said it's important for farmers to take care of themselves, not just by enrolling in programs to help them financially, but by taking care of themselves personally, too.
It's important to have a balanced diet, manage stress, drink enough water and get enough rest.
"To run yourself ragged is certainly not going to help anyone, especially you," she said.
In places where there's a demand for milk but it doesn't seem to be on store shelves, Nichols said changes need to take place.
For example, a production line might be equipped to package milk in eight ounce containers for schools. But now, with schools closed and requiring less milk, those production lines need to make changes that can require both time and money to package milk in containers people will purchase at the store.
"It's not that the milk isn't being produced," she said. "It's just having to get it to the grocery store."
Nichols is interested to see what creative solutions will be thought of during this time but is still concerned about the impact on dairy farmers and the industry.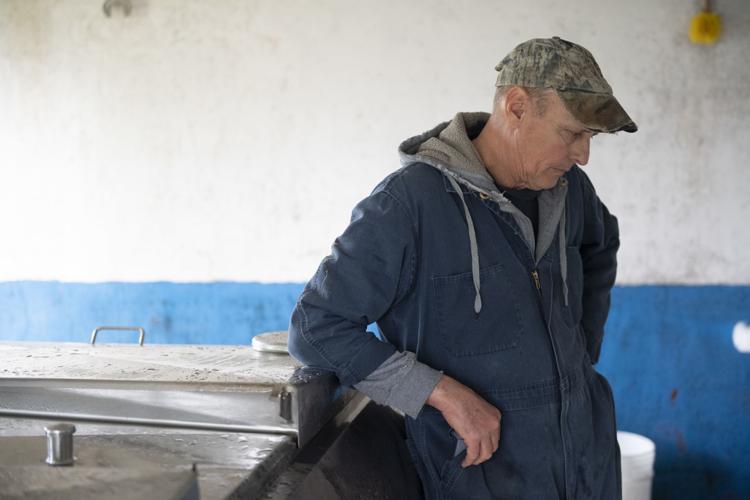 She said that she's heard from both farmers and colleagues that there's been a lot of support for local farms, farmers markets and Community Supported Agriculture.
"Those have been doing really well, so I'm glad to see that," she said.
For consumers, Nichols said she encourages them to understand that this is a difficult time for farmers.
"Farmers are adapting as quickly as they can," she said. "Farmers are engineers. They are adapters. They've been doing that for generations and so I'm confident that we'll get through this. It'll just look different when we come out of it."
With uncertainty about when the economy will fully reopen and demand for milk increase, Clabaugh will keep rising early each morning to milk cows.
"I don't know what the future holds. I really don't," he said. "And there's nothing. It's out of my hands. I can't do anything. All I can do is keep working."